The messages left by David Cameron, Ed Miliband and Prince Charles have been tweeted by Channel 4 News correspondent Ciaran Jenkins.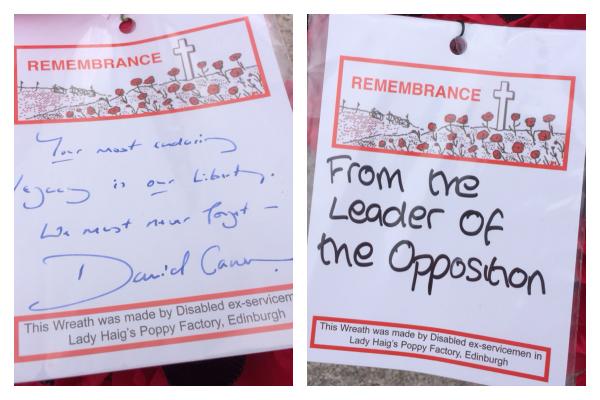 The Prime Minister's note reads: "Your most enduring legacy is our liberty - David Cameron."
Mr Miliband's says: "From the leader of the Opposition".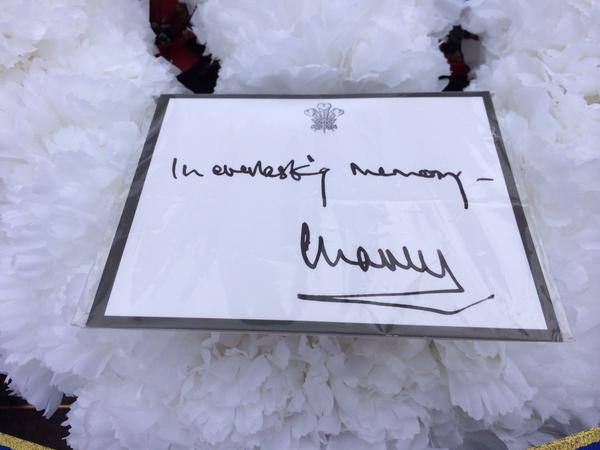 The note attached to the wreath laid by Prince Charles says: "In everlasting memory - Charles."
Liberal Democrat leader Nick Clegg's message on his wreath read: "From the Deputy Prime Minister".
Prince Charles is set to return to the flood-hit village of Muchelney in Somerset.
The visit comes five months after the Prince of Wales saw the impact of flooding on agriculture and the livelihoods of people on the Somerset Levels.
The Prince used the emergency boat service - the only means of travelling in and out of Muchelney at the time - and a tractor to meet people in their own homes.
He also criticised efforts to help those affected by the floods, saying: "The tragedy is that nothing happened for so long."
Advertisement
Former Prime Minister Sir John Major occasionally changed policy as a result of discussions with the Queen, a BBC documentary revealed.
Asked if he remembered being influenced by the Queen, Sir John said: "I think every prime minister can think that, and can think of occasions where that happened.
"But the answer is yes of course. It would be very foolish indeed not to be influenced."
Former Prime Minister Sir John Major supported Prince Charles' policy interventions, BBC documentary revealed.
I think it is encouraging that the Prince of Wales is entirely free from his unique perspective to write to ministers or the prime minister in a way that is invariably intended to be helpful, and I think to cut that off, or to make sure those letters are much more bland than they otherwise might be, would be a loss.
– John Major, former Prime Minister
The BBC documentary, The Royal Activist, revealed how Prince Charles tried to persuade Tony Blair's government to expand grammar schools in one of his bids to change the government's policies.
Prince Charles campaigned for more grammar schools during the time of Tony Blair's government, the former education secretary has said.
"He was very keen that we should go back to a different era where youngsters had what he would have seen as the opportunity to escape from their background, whereas I wanted to change their background," David Blunkett said.
The Prince of Wales didn't like" it when his request was refused, according to a BBC Radio 4 documentary.
"I would explain that our policy was not to expand grammar schools, and he didn't like that."
Mr Blunkett is one of three former cabinet ministers interviewed for the documentary, The Royal Activist, the BBC reported.
Mr Blunkett added: "I can see constitutionally that there's an argument that the heir to the throne should not get involved in controversy; the honest truth is I didn't mind."
Prince Charles has visited a power boat used during the Normandy landings as part of the D-Day 70th anniversary commemorations.
Advertisement
The Prince of Wales and Duchess of Cornwall have spent the second day of their royal tour in Canada at a Military Families Resource Centre.
Charles and Camilla were introduced to one of the most unusual line-ups of their royal careers at the centre in Halifax, meeting volunteers dressed up as a banana, a carrot and a bunch of grapes.
The volunteers' costumes were designed to promote healthy eating among children.
The Prince of Wales was described as "gorgeous" by a woman during a visit to Cumbria.
Prince Charles admitted he was "flattered" by the compliment when he met young farmers and volunteers.
A spokeswoman for the Palace said the woman shouted out: "We think you're gorgeous, Charles."
The Prince replied: "Flattery will get you everywhere," the spokeswoman added.
Prince Charles was in Cumbria to launch a pilot scheme to encourage tourists to donate to The Prince's Countryside Fund, which helps people in rural areas.
Princess Anne has explained why she supports genetically modified crops - despite her brother Charles being an outspoken opponent of them.
"They do add to our ability to perhaps be more efficient users of the land," she told BBC One's Countryfile.
"I think in the long-term, when you've got the prospect of nine billion [people] to feed, you are going to need some help in doing that."
Prince Charles once warned that the development of GM crops risked creating "the biggest disaster environmentally of all time" and accused multinational corporations of conducting an experiment with nature which had gone "seriously wrong".
Prince Charles arrives for memorial for Sir David Frost at Westminster Abbey, names from 50 years of TV there http://t.co/9eir1doVuI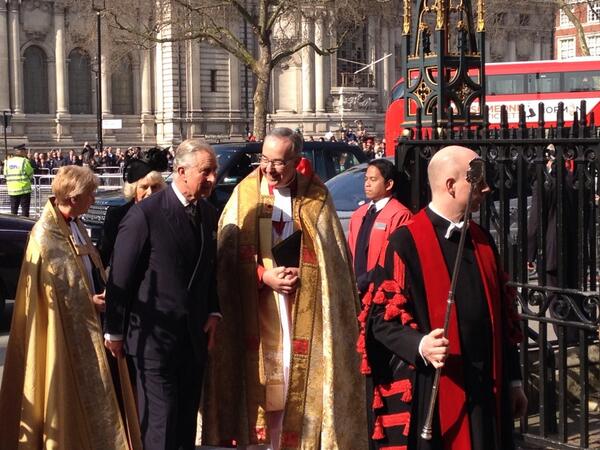 Load more updates