David Cameron has said the Duke and Duchess of Cambridge deserve "some privacy and some space" to bring up their children.
Kensington Palace has accused paparazzi photographers of harassing Prince George to gain lucrative photographs.
I am concerned and I have every sympathy with the royal couple. They very generously have made available pictures of their wonderful children to the British press and the British press have behaved, frankly, very well because they printed those pictures. But they haven't been, as I understand it, printing paparazzi pictures and it's very important they don't because if you start printing the paparazzi pictures, the paparazzi go further and further in trying to get pictures of the royal family.

What we need to do now is to persuade some of these foreign publications not to use these pictures. I do think William and Kate deserve some privacy and some space as they bring up their children. They do make available some pictures so we can all see and share in the joy they've got with their children but they should not be harassed by paparazzi.
– David Cameron, speaking to BBC Breakfast
Here is the letter from the Duke of Duchess of Cambridge's communications secretary about the "harassment" of Prince George.
Read the full story ›
Advertisement
Duke and Duchess of Cambridge complain about "extreme" and "increasingly dangerous" tactics used by paparazzi to photograph Prince George.
Read the full story ›
The young prince turned two today and his parents are thought to have thrown a private family party to mark the occasion.
Read the full story ›
As Prince George turns two years old, we take a look back at the young royal's most memorable moments so far.
Read the full story ›
Kensington Palace has released a new photo of Prince George to mark his second birthday tomorrow.
The photo was taken by Mario Testino after the christening of Princess Charlotte earlier this month.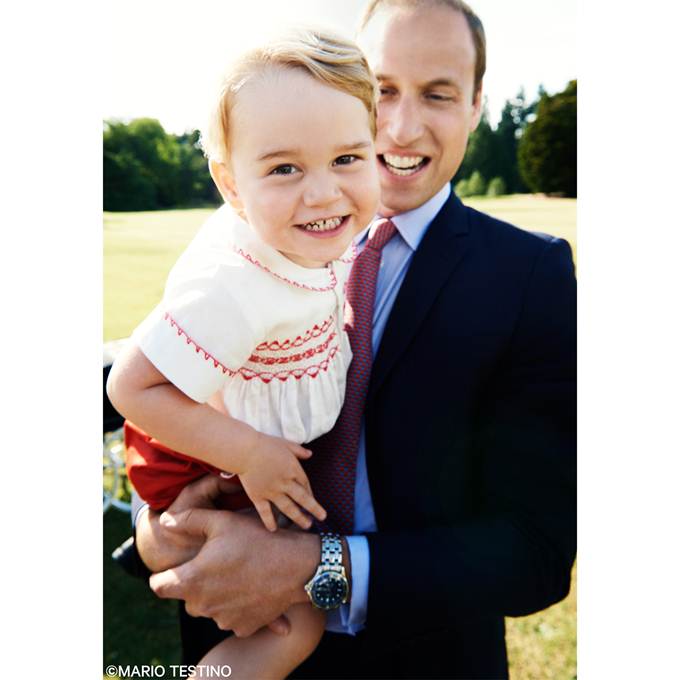 The photograph shows The Duke of Cambridge holding Prince George in the gardens at Sandringham House.
It was part of the series of official photographs taken by Mario Testino following Princess Charlotte's baptism on Sunday 5th July.
"This photograph captures a very happy moment on what was a special day for The Duke and Duchess and their family. They are very pleased to share this picture as they celebrate Prince George's second birthday."
– Kensington Palace spokesman
Advertisement
Prince George stole the limelight again after being spotted rolling around in the grass playing with his mum during a charity polo match.
Read the full story ›
Prince George has made his first appearance on the balcony at Buckingham Palace to honour the Queen's official birthday.
The prince wore the same outfit his father, Prince William, wore for Trooping the Colour in 1984, Kensington Palace revealed.
Prince William says he would love to take Prince George to football matches, but he will have to "pass that by the missus".
Read the full story ›
The Duchess of Cambridge has apologised for not bringing Prince George to the Royal Family's traditional Christmas Day church service.
William and Kate joined the Queen, Duke of Edinburgh and others for the religious gathering near the private Sandringham estate in Norfolk.
After the service the Duchess apologised to a mother and her young daughter, who were among 2,000 wellwishers outside the church, for not bringing her son. When Maddison Neal, aged eight from nearby Dersingham, gave Kate a Milky Bar selection box for George, she replied: "I'm sorry we didn't bring George but you would have heard him in the church."
Maddison's mother Sarah, 37, said: "We were hoping Kate would take the present but we didn't know if we'd be lucky enough to meet her. "Maddison met George on Sunday at the service at Anmer church. She helped him with his lantern and he blew her a kiss."
Load more updates