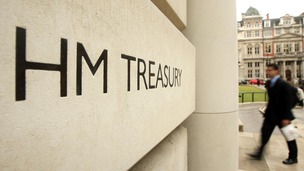 The Chief Secretary to the Treasury has written to almost all Whitehall departments asking them to make savings of 10%.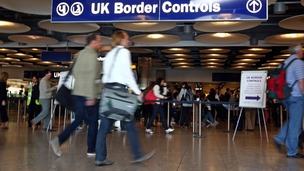 Have today's public sector strikes had the desired impact or did they simply fall short?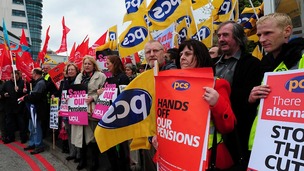 Unions have warned that strikes by public sector workers in the row over pensions will continue following a day of walkouts and protests.
Live updates
Public sector 1% pay rise
The Government has announced that almost 1.4 million public sector employees will receive a 1% pay rise from next month.
The Treasury said recommendations from a number of pay review bodies had been accepted, sparking anger from unions.
Unison, which represents 450,000 NHS workers including nurses, paramedics, therapists and midwives, said staff face another year of financial hardship.
The union condemned the second successive 1% annual increase as a "squeeze" on pay, which officials warned would leave many health workers and their families struggling to make ends meet.
Public sector 1% pay rise
Almost 1.4 million public sector employees, including nurses, doctors, dentists and the armed forces, will receive a 1% pay rise from April, the Government announced.
Advertisement
Public sector borrowing falls
Britain's public finances deteriorated less than feared during the first six months of 2012, but it looks like Chancellor George Osborne will still be forced to announce in his Autumn Statement that the Government will miss its target to bring down debt as a percentage of GDP by 2015 / 2016.
Public sector debt was at £1.1 trillion at the end of September 2012, or 67.9% of GDP
Public sector debt was at £972.5 billion at the end of September 2011, or 63.6% of GDP
Brian Hilliard, economist at Societe Generale, said the figures for September "will make life a bit easier" for the Government:
This is much, much better than they would have thought only a month ago. It's still an overshoot compared to the plans but it does make their life a bit easier.
Public sector borrowing falls
A slight improvement in overall economic activity pushed tax receipts up by 3.7% to £42 billion in September, but this was mitigated by government spending rising 3.7% to £52.5 billion.
Taking away the impact of the one-off transfer of £28 billion of Royal Mail pension funds, public borrowing increased compared to last year.
The cost of social benefits, including unemployment claims, rose 1.6%
Public borrowing was at £65.1 billion, compared to £62.4 billion last year
Public sector borrowing falls
Government borrowing fell last month according to official figures from the Office of National Statistics.
Public sector borrowing fell to £12.8 billion, compared with £13.5 billion from the same month last year. It is the lowest level of borrowing for a September since 2008.
The improvement was partly driven by a 4.5% fall in central government net investment to £2.4 billion.
Unions warn of more strikes
Today has been a fantastic success and there will be more strikes in June, at the end of the summer, the winter, next spring and on and on and on.

We need to make it clear that the coalition of resistence we have with groups such as students and senior citizens is generating momentum.
– General Secretary of Unite Len McCluskey
Advertisement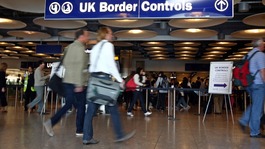 Have today's public sector strikes had the desired impact or did they simply fall short?
Read the full story
Unions warn of more strikes
The PM's spokesman said: "Clearly, we think the industrial action is unnecessary. We have set out our proposals for reforming public sector pensions.
"We think they are fair, we think they ensure that public sector pensions remain among the very best available and they mean we can sustain that system into the future.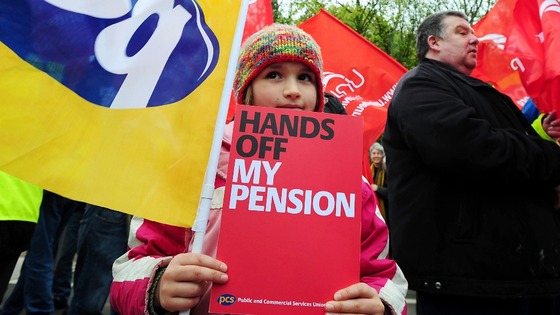 "I think most people recognise that the Government has to deal with the financial situation it is faced with and that that means taking some difficult decisions to cut public spending."
Unions warn of more strikes
Prime Minister David Cameron's official spokesman said Downing Street believed the impact of today's strikes to have been limited, thanks in part to "robust" contingency plans.
"My information is that the impact of the strike has been quite limited."
"The situation on the borders has been managed well and without delays and the vast majority of Job Centres have remained open, so the contingency plans have been working."
Contingency plans have involved drafting in additional people to man border posts, including some who have been trained up to work in the busy periods expected during the Olympics.
Unions warn of more strikes
Minister for the Cabinet Office, Francis Maude, said: "The dedicated majority of public sector workers are working normally today and rigorous contingency plans are ensuring that nearly all key public services remain open as usual.
"We can now confirm that:
Just 102,244 civil servants are on strike – down from 146,000 in November and dramatically lower than union claims;
Our borders have been managed without delays and staff in northern France have prevented 25 people attempting to evade our border controls;
This morning's industrial action by prison officers is now over, staff are returning to work and our contingency measures were effective."
Load more updates
Back to top