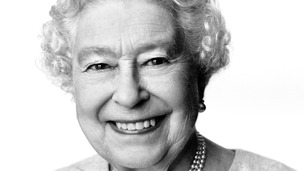 A portrait of the Queen by the renowned British photographer David Bailey is released to mark her 88th birthday tomorrow.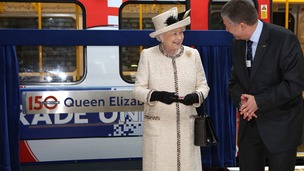 The Queen received a plethora of presents during royal engagements in 2013 including a commemorative Oyster card.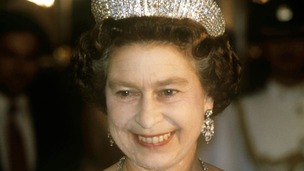 The Queen used the wrong name for the Republic of Ireland when writing to president Patrick Hillery.
Live updates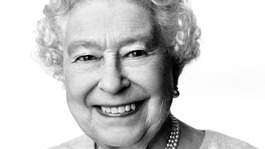 A portrait of the Queen by the renowned British photographer David Bailey is released to mark her 88th birthday tomorrow.
Read the full story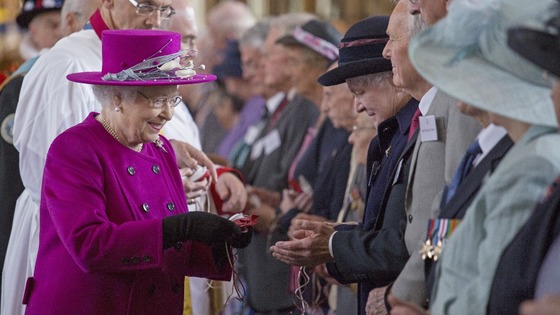 The Queen, joined by the Duke Edinburgh, has presented money to pensioners at the traditional Royal Maundy Thursday service.
Hundreds of well-wishers lined the streets outside Blackburn Cathedral in Lancashire to welcome the royal party to the service which dates back to the 13th century.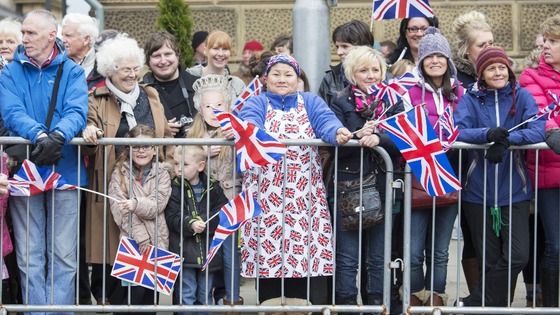 The Queen distributed Maundy money to senior citizens, including retired pensioners who have been recognised by the clergy and ministers for their service to the church and local authority.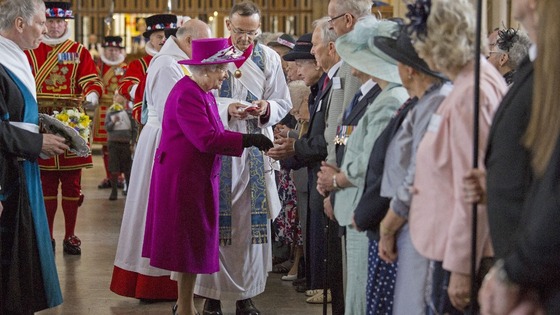 During the service 88 men and 88 women received a coin for each of the Queen's 88 years of reigning. Each pensioner was also given a white purse and red purse to mark the celebration.
Advertisement
Hollywood legend Mickey Rooney dies aged 93
Legendary actor Mickey Rooney broke royal protocol in 2007 during the Queen's visit to the US in 2007.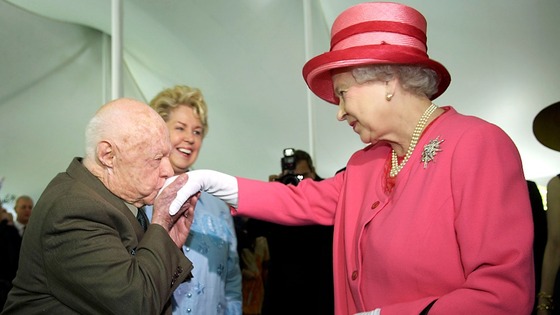 During a garden party at the British Embassy in Washington, Rooney greeted Queen Elizabeth with a kiss on the hand.
McGuinness hails 'important' visit to Queen's home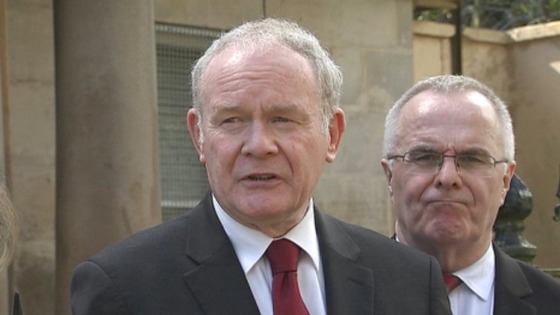 Martin McGuinness has described his decision to attend a banquet hosted by the Queen as "an important thing to do" that sends "a message to everybody about how things have changed".
Speaking today, the Northern Irish Deputy First Minister and former IRA commander said that "both governments, who have been rather sluggish over the course of recent times, would do well to learn the lessons of what is happening here in the course of next week".
"They have a huge responsibility to play and unfortunately they haven't been playing it in the last number of months," he added.
Mr McGuinness, who shook the Queen's hand in an historic first meeting in June 2012, said: "We're not just involved in a peace process - we're also involved in a change process.
He added that his acceptance was "an attempt by me to stretch out the hand of friendship" to the unionist and loyalist communities of Northern Ireland.
Read: Martin McGuinness to attend banquet hosted by the Queen
McGuinness hails 'important' visit to Queen's home
Irish Taoiseach Enda Kenny welcomed the decision to invite Northern Ireland deputy Prime Minister Martin McGuinness as a special guest of the Queen during the first official state visit of the President of Ireland to England.
Read: Palace 'looks forward' to McGuinness visit
The former MP, who refused to sit in the House of Commons because he would have had to swear an oath of allegiance to the Queen, previously did not attend a banquet in the Queen's honour at Dublin Castle in 2011.
Speaking on the BBC's Andrew Marr programmes, Mr Kenny said he did not see why the former IRA commander would not attend.
Mr Kenny also raised the prospect of a royal visit to Ireland during the centenary of the 1916 Easter Rising, when Ireland declared its independence and revolted against British rule.
The Queen met and shook hands with Martin McGuinness in Belfast two years ago, in what was a historic step forward in Anglo-Irish relations.
McGuinness hails 'important' visit to Queen's home
A Conservative MP has said he would feel "uncomfortable" sitting next to Northern Ireland Deputy First Minister Martin McGuinness, after it was announced that he would be a special guest of the Queen during a state banquet at Windsor Castle.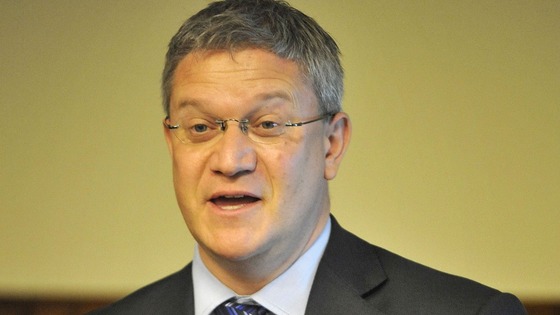 Andrew Rosindell said: "Whilst the man concerned has engaged in things in the past which have created appalling mayhem and tragedy, today we are looking at healing those rifts.
"I would feel very uncomfortable sitting beside him at dinner. I would have great difficulty doing that myself, but in terms of building a democratic foundation in Northern Ireland, I can understand why people feel this is what we need to do.
"But would I want to sit beside him at dinner? No, I certainly would not."
Advertisement
McGuinness hails 'important' visit to Queen's home
The Queen is "looking forward" to an historic state visit by Northern Ireland Deputy First Minister Martin McGuinness at Windsor Castle, Buckingham Palace has said.
A spokesman added: "There is a long-standing practice of not commenting in individual invitations. That said, Her Majesty is greatly looking forward to this historic state visit and welcoming all guests to Windsor Castle."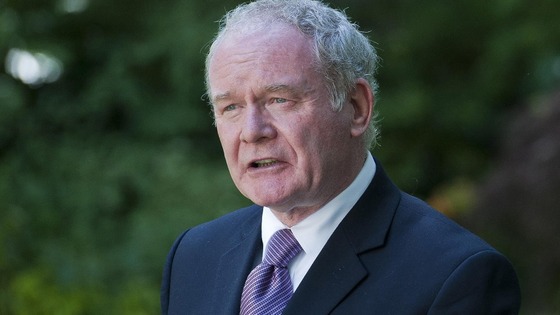 McGuinness hails 'important' visit to Queen's home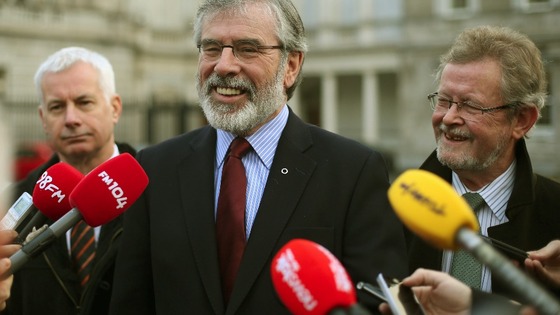 Sinn Fein President Gerry Adams has hailed a "new and positive relationship" between "all of Ireland and Britain" as it was announced that Martin McGuinness would attend an Irish state banquet hosted by the Queen.
"While Martin McGuinness's involvement in President Higgins's state visit may not be welcome by opponents of change, it is yet another example of Sinn Fein's commitment to an inclusive future based on tolerance and equality," he said.
He continued: "This decision may cause difficulty for some Irish republicans in light of ongoing difficulties in the north (of Ireland) but I would appeal to them to view this positively in the context of republican and democratic objectives and the interests of unity and peace on this island."
The banquet, in honour of Irish President Michael D Higgins, will be hosted at Windsor castle next week.
McGuinness hails 'important' visit to Queen's home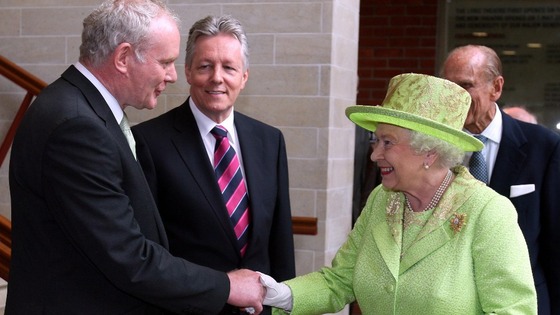 Northern Ireland's Deputy First Minister and ex-IRA commander Martin McGuinness will attend a state banquet at Windsor Castle in honour of the Irish president hosted by the Queen, it has been confirmed.
Pope gives Queen an orb gift for Prince George on Vatican trip
The Queen exchanged gifts with Pope Francis at the Vatican today, with the head of the Catholic Church giving Her Majesty an ornamental orb for her great-grandson, Prince George.
"He will be thrilled with that - when he is a little older!", the Queen joked.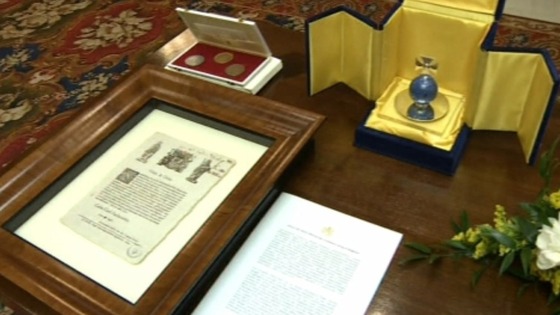 Pope Francis also gave the Duke of Edinburgh a set of papal medals, prompting the Duke to joke that it was "the only gold medal I have ever won".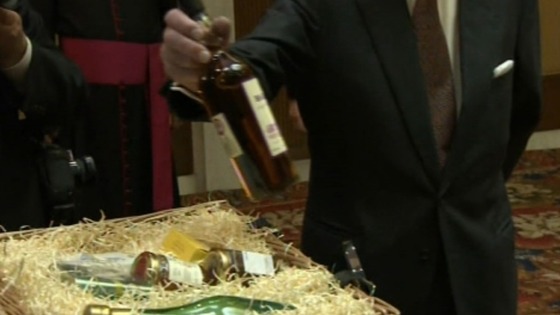 The Queen gave the pontiff a selection of British produce from the royal estates, including a bottle of whiskey from Balmoral and honey from Buckingham Palace.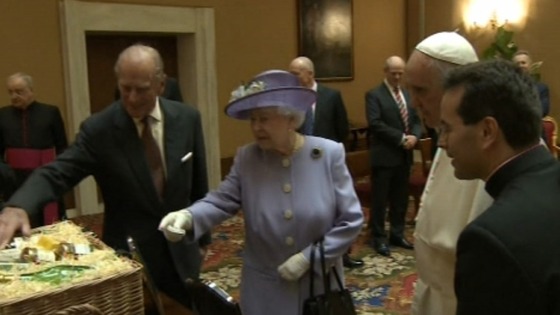 Load more updates
Back to top