Buster, a 13-year-old springer spaniel, completed five tours of duty in Afghanistan, Bosnia and Iraq.
Read the full story ›
An RAF Typhoon will fly with a Spitfire in a special WWII paint job as part of the 75th anniversary of the Battle of Britain commemorations.
Read the full story ›
Advertisement
RAF Tornado and Reaper aircraft have carried out air strikes in the Iraqi city of Mosul against Islamic State (IS) targets.
In a press release the Ministry of Defence (MoD) said an RAF patrol assisted Peshmerga forces fighting in north-east Mosul on March 19th / 20th by conducting "precision attacks against an IS heavy machine gun and weapon positions".
The statement added that a British military team is also currently based in Baghdad to "train and equip the Iraqi forces to deal more effectively with improvised explosive devices, increasingly left behind by ISIL as they are forced back by government troops."
The Ministry of Defence has released a video showing an attack on Islamic State in Iraq.
The text accompanying the video said: "In the early hours of Friday 27 February, an RAF Tornado GR4 patrol conducted reconnaissance to the north-west of Haditha. An ISIL armoured personnel carrier was located, and destroyed with a Brimstone missile."
Families and pets were reunited at RAF Marham as Tornado bomber pilots returned home from serving in Afghanistan.
Read the full story ›
Jets were scrambled to intercept a cargo plane south of London today as part of the RAF's Quick Reaction Alert system, which has been tasked with defending British airspace since 1940.
Two air bases share this duty: RAF Coningsby in Lincolnshire generally covers the south, and RAF Leuchars in Fife looks after the north.
The procedure that would lead to Typhoon jets being scrambled is described here by Flight Lieutenant Noel Rees:
At the start of the scaled QRA response, civilian air traffic controllers might see on their screens an aircraft behaving erratically, not responding to their radio calls, or note that it's transmitting a distress signal through its transponder.

Rather than scramble Typhoons at the first hint of something abnormal, a controller has the option to put them on a higher level of alert, 'a call to cockpit'. In this scenario the pilot races to the hardened aircraft shelter and does everything short of starting his engines. From this posture a controller can monitor a situation knowing that a scramble can be conducted in moments.
– Flt Lt Rees
Advertisement
Stansted Airport has confirmed to ITV News that two RAF jets have accompanied a plane, which has now landed at the airport.
It follows earlier reports of a loud bang heard in the Kent area around 4:40pm today.
The Ministry of Defence has confirmed that the RAF will fly surveillance drones over Syria as part of their efforts to defeat Islamic State fighters in the area.
The MoD said the missions will be for intelligence gathering.
UK Reaper remotely piloted aircraft systems and Rivet Joint aircraft will be authorised to fly surveillance missions over Syria.

The deployment will see the Royal Air Force aircraft gathering intelligence as the UK ramps up efforts to protect our national interests from the terrorist threat emanating the country.

Reapers are not authorised to use weapons in Syria and, alongside Rivet Joint, will provide vital situational awareness making it an invaluable asset to the coalition allies who are combating ISIL.
– Ministry of Defence
The RAF has said its Tornado jets are flying "ready for attack role" over Iraq: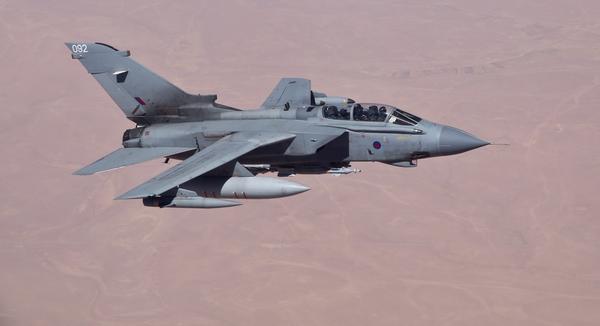 The Ministry of Defence has released video footage of two RAF Tornados taking off from Cyprus as they began their first combat mission against Islamic State militants in Iraq.
Load more updates