The Ministry of Defence has confirmed that the RAF will fly surveillance drones over Syria as part of their efforts to defeat Islamic State fighters in the area.
The MoD said the missions will be for intelligence gathering.
UK Reaper remotely piloted aircraft systems and Rivet Joint aircraft will be authorised to fly surveillance missions over Syria.

The deployment will see the Royal Air Force aircraft gathering intelligence as the UK ramps up efforts to protect our national interests from the terrorist threat emanating the country.

Reapers are not authorised to use weapons in Syria and, alongside Rivet Joint, will provide vital situational awareness making it an invaluable asset to the coalition allies who are combating ISIL.
– Ministry of Defence
The RAF has said its Tornado jets are flying "ready for attack role" over Iraq: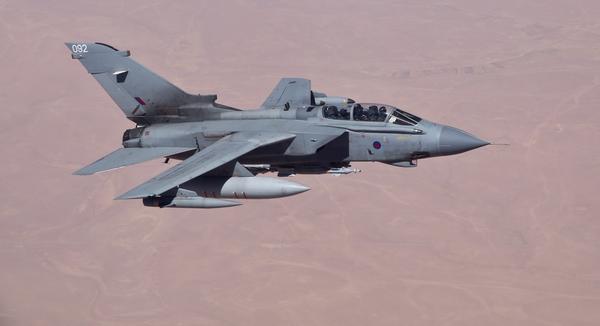 Advertisement
The Ministry of Defence has released video footage of two RAF Tornados taking off from Cyprus as they began their first combat mission against Islamic State militants in Iraq.
Six fully-armed Tornado fighter jets stand primed and ready for action against Islamic State militants in Iraq this evening.
Yet the foe they seek to destroy has few bases and the challenge for RAF pilots could be finding something to hit, while avoiding civilian casualties.
ITV News' International Affairs Editor Rageh Omaar reports:
If the Commons votes for airstrikes against IS in northern Iraq later today, the RAF in Cyprus will be ready.
Read the full story ›
South Wales residents will be treated to a display of "Nato airpower" this morning when a range military planes join the RAF Red Arrows in a flypast.
Aircraft from the US, Canada, Denmark, France, Germany, Poland, Portugal and the Netherlands will feature along side the aerobatic display team.
Anyone wishing to see the flypast should be in Cardiff Bay for 8.30am, or the Spytty Park, Beechwood and Lliswerry areas of Newport for 8.45am. The jets will then continue to the Celtic Manor Resort for around 9am.
Advertisement
The Royal Air Force has tweeted this graphic showing the aircraft that will take part in a flypast over the Nato summit in Wales at 9am on Friday.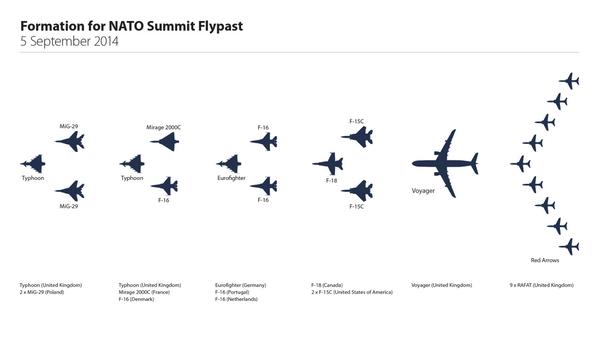 The RAF Red Arrows will fly alongside aircraft from the US, Canada, Denmark, France, Germany, Poland, Portugal and the Netherlands.
RAF Tornado jets have landed in Cyprus overnight where they are on standby for possible surveillance missions over northern Iraq.
Four RAF Chinooks are also due to arrive at the British airbase on the island later today, although it is not clear what their role in Iraq would be.
Chinooks are the most versatile transport helicopters we have. So why isn't the UK using them to evacuate thousands of desperate Iraqis?
Read the full story ›
The RAF has released night vision footage of last night's successful humanitarian airdrop over northern Iraq.
Airmen can be seen preparing bundles of aid before pushing them out of the rear of a C130 Hercules transport aircraft.
Load more updates