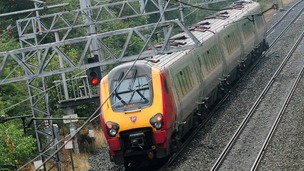 Remember the Virgin Trains mess? Later an official report into what went wrong will be made public.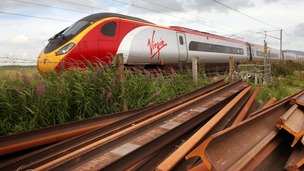 Rail operator Virgin has been asked to continue running the West Coast mainline for another few months after a Government U-turn.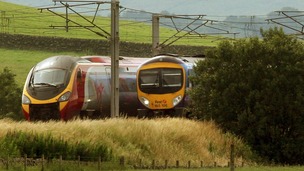 One railway line, one fudged bid, three more sets of negotations and three years to put it right.
Live updates
Rail chiefs warn against trespass
Video of a near-death attempt to cross the tracks has been released by Network Rail.
The footage shows a 14-year-old boy at Cross Keys station in Wales from May this year running in front of a train and jumping on to a platform and trying to board it.
The angry driver leaves the station without him. He was cautioned by police.
Rail chiefs warn against trespass
Newtork Rail have released video of young boys running across the railways a bid to keep passengers on the platform and off the tracks.
The video shows a group of youngsters at Mill Hill station in North London running from a train onto a platform and then across two railway lines onto another platform.
One youth drops his bag on the track and returns to retrieve it. The group was never caught.
Advertisement
Rail chiefs warn against trespass
Modern trains are "very fast" and "often surprisingly silent" warned the British Transport Police.
Chief Superintendent Miles Flood was speaking as part of a campaign to prevent people from crossing the tracks, after 41 people died trespassing on Britain's railways last year.
Billions of pounds have been invested to give us a fast, modern rail network. Trains are very fast and often surprisingly silent, particularly if you are not paying attention.

We spend thousands of police hours combating trespass to keep people safe and minimise disruption to the network. If this campaign can prevent one British Transport Police officer having to tell someone that their loved one has been killed or maimed, it will be worth it.
– Detective Chief Superintendent Miles Flood, British Transport Police
Rail chiefs warn against trespass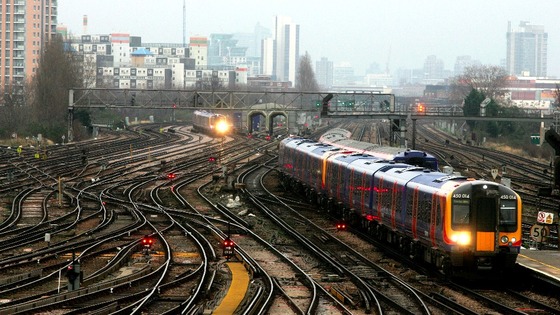 Rail chiefs are pleading with young people - particularly men - not to cross the tracks at stations, after 41 people died last year trespassing on the railway.
Over the last year 270 people have lost their lives crossing the railways tracks, with 16-24 year old males making up four out of 10 fatalities.
Fatalities occurred at both railways and stations.
A survey carried out as part of the campaign to keep people from trespassing, called Track Tests, revealed even though most people agree it is dangerous to cross the tracks, a third (32%) think they would hear an oncoming train in time.
However, 16-24 year old males were more confident and just over half (51%) thought they would hear the train coming if they were on the tracks.
Taxpayers' £50m West Coast bill
The government's transport secretary has said that his department is taking "swift action" regarding the controversy surrounding the West Coast rail franchise.
Transport Secretary Patrick McLoughlin said:
"The NAO has made a number of recommendations that mirror many of the findings of the Laidlaw Inquiry in terms of the work we need to do to strengthen our organisation and the structures within it.
"We are already taking swift action on this front and I believe the plans we are putting in place to ensure future franchise competitions are conducted on the basis of sound planning, the rigorous identification and oversight of risk, will prevent a repeat of these lamentable failures."
Taxpayers' £50m West Coast bill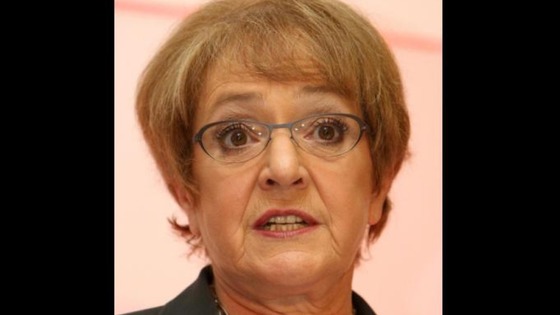 The House of Commons Public Accounts chairman has called the government's handling of the West Coast franchise a "fiasco."
Margaret Hodge, Labour MP for Barking, said: "The DfT's handling of the West Coast franchise was a first-class fiasco."
"It has left the Government's entire policy on rail franchising in disarray, as a further three competitions have had to be put on hold.
"The total cost to the taxpayer of putting it right is currently unknown but is likely to be significant."
Ms Hodge said the Dft had "blundered into this major and complex competition for one of the biggest franchises in the country without even knowing how key parts of its policy were to be implemented".
Advertisement
Taxpayers' £50m West Coast bill
The head of a report that stated that taxpayers were likely to incur a significant bill over the West Coast rail franchise has said that there are "serious problems."
National Audit Office (NAO) head, Amyas Morse, said: "Cancelling a major rail franchise competition at such a late stage is a clear sign of serious problems.
"The result is likely to be a significant cost to the taxpayer."
Taxpayers' £50m West Coast bill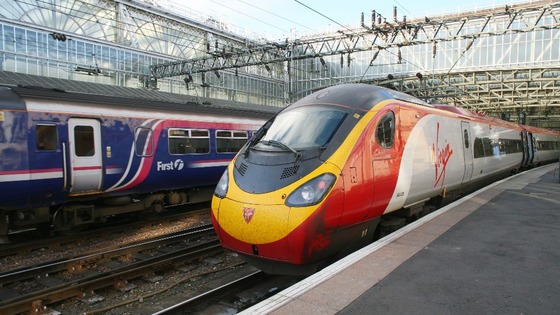 Taxpayers will face a "significant" bill over the West Coast rail franchise process, a report from a Government spending watchdog has said.
The Department for Transport's (DfT) running of the West Coast bidding process lacked management oversight, with some staff "confused" by the system, the National Audit Office (NAO) report said.
The Government has already indicated that repaying bidding costs to the companies competing for the franchise is likely to land taxpayers with a bill of around £40 million.
In its report, the NAO said staff and adviser costs, legal costs and money for the two reviews set up by the Government following abandonment of the West Coast bidding amounted to £8.9 million.
Taxpayers' £50m West Coast bill
Central
The Transport Secretary Patrick McLoughlin has announced Virgin are to operate the West Coast Mainline until November 2014.
Virgin had been set to lose the West Coast contract which it has been operating since 1997 but the Government scrapped the bidding after faults by the Department for Transport were found with the bidding process.
Taxpayers' £50m West Coast bill
As the report from Sam Laidlaw into the cancellation of the InterCity West Coast franchise competition confirms, we bid entirely in accordance with the Department for Transport's process throughout and the Secretary of State has repeatedly confirmed that FirstGroup is in no way at fault.

It is especially disappointing that passengers and taxpayers will not see the benefits that our successful bid would have delivered.

We maintain that the private sector provides the most effective and efficient way to deliver passenger rail services in the UK.
We now await the outcome of the independent review being carried out by Richard Brown and hope this will provide certainty and confidence in the future of rail franchising.
– First Group spokesman
Load more updates
Back to top