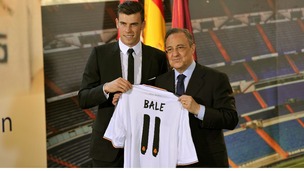 Gareth Bale has been presented as a Real Madrid player after completing his record-breaking £85.3m move from Tottenham.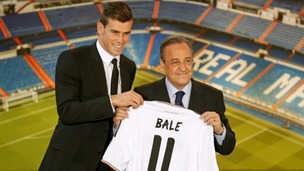 As footballer Gareth Bale prepares for his new life in the Spanish capital Madrid, here are a few tips to help him get settled.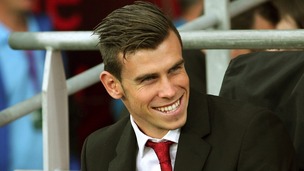 Gareth Bale will reportedly earn £300,000 a week at Real Madrid but where would that put him in a list of the highest paid athletes?
Live updates
Real Madrid's news conference ahead of their Champions League game against FC Copenhagen was briefly interrupted on Monday after a Greenpeace anti-Gazprom poster was lowered onto a screen.
The poster, which read "Save the Arctic" and "Show Gazprom the red card" and featured the logo of the environmental protest group, appeared behind Madrid manager Carlo Ancellotti before an official swiftly removed it.
Gazprom are one of the sponsors of Europe's elite club competition.
Swiss club Basel were fined €30,000 (£25,000) by Uefa in October after Greenpeace activists abseiled from the stadium roof and unveiled a banner reading "Gazprom, don't foul the Arctic".
Real Madrid football star Cristiano Ronaldo is appealing to Florida officials to drop charges against an over-enthusiastic fan who was arrested during a match after rushing the field to embrace him.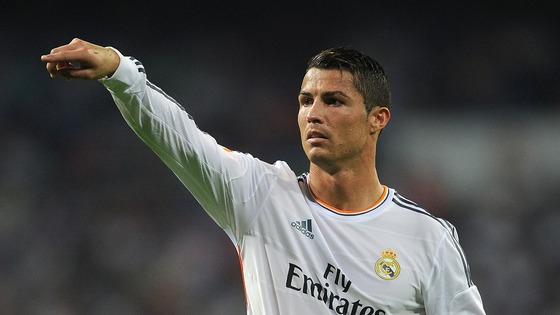 The Portuguese striker is asking prosecutors to drop charges against Ronald Gjoka, a Canadian student who faces two counts of disorderly conduct and trespassing as a result of the incident in front of 70,000 fans during an International Champions Cup match in Miami between Real Madrid and Chelsea.
"I understand your position and the importance of enforcing rules and laws. However, I respectfully request that you and your office reconsider this decision and dismiss the two criminal charges this young man faces", Ronaldo wrote in a hand-signed letter sent to the prosecutor.
Advertisement
Cristiano Ronaldo has signed a new deal with Real Madrid that ties him to the club for the next five years.
Ronaldo was pictured on Real Madrid TV today signing his new deal alongside president Florentino Perez, before fronting a press conference at the Bernabeu.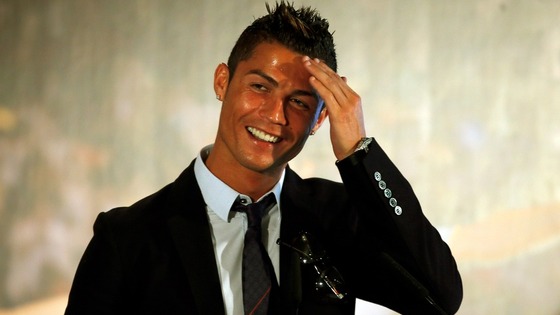 The 28-year-old Portuguese forward, whose previous deal had been due to run out in 2015, expressed delight at agreeing terms after speculation in the summer he could be tempted back to Manchester United.
"Manchester is in the past," Ronaldo said. "Now my club is Real Madrid. This is my home, my family is here and I'm really happy here."
Bale scores on Madrid debut
Football star Gareth Bale has said he is "proud" to have scored his first goal in his debut match at Real Madrid, following a world record transfer to the team.
Proud to score on my debut and pleased to get 60 minutes tonight, just disappointed not to get the result. Looking forward to Tuesday now.
Bale scores on Madrid debut
Real Madrid coach Carlo Ancelotti praised football star Gareth Bale today, after he scored his first goal in his match against Villarreal.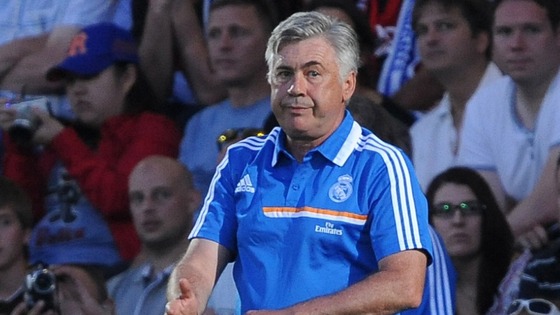 The Welshman made his debut in the white shirt, and following the match the Madrid said: "I think he's happy to score his first goal for Real Madrid. He played in a difficult match and he played well, showing his good attitude. It was a hard match for everyone"
"They played well. Their performances were good. I didn't play them for the full 90 minutes because in the first match it isn't a good idea, so after an hour I took them off".
Bale scores on Madrid debut
Manchester United's Rio Ferdinand and former Real Madrid footballer Michael Owen have hailed Gareth Bale's debut for the Spanish side against Villarreal, following his world record transfer.
#BaleWatch 1game - 1goal....tap in, they all count! Hasn't had a kick up until then. Decisive
Not his greatest performance ever but @garethbale11 is off and running with a goal and an hour under his belt. #goodstart
Advertisement
Bale scores on Madrid debut
Gareth Bale's goal-scoring debut for Real Madrid has ended after an hour with the Welshman substituted for Angel Di Maria with the score still 1-1 against Villarreal.
60' Di María and Khedira come on for Bale and Illarramendi #halamadrid
Minutes later, though, he celebrated from the bench as Cristiano Ronaldo scored a deflected goal to put Madrid in front at the Madrigal.
Bale scores on Madrid debut
Gareth Bale has celebrated his first goal in a Real Madrid shirt after equalising against Villarreal to ensure his team went into half-time level at the Madrigal stadium.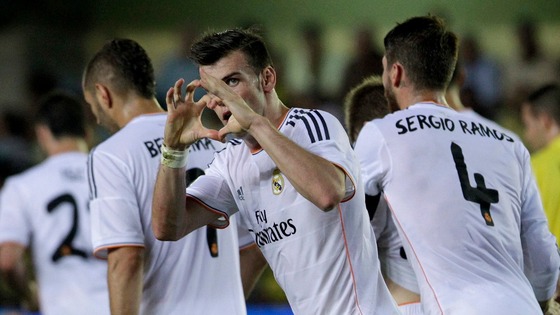 Bale scores on Madrid debut
Gareth Bale has marked his debut for Real Madrid with an equalising goal against Villarreal following his world record transfer.
The strike was celebrated emphatically by the Spanish giant's Twitter feed:
GOAAAAAAAAAAL!!!! BALE!!!!
The Welshman tapped home a cross with his less favourable right foot in the 38th minute to draw Real level after Villarreal had taken a 20th minute lead.
Bale scores on Madrid debut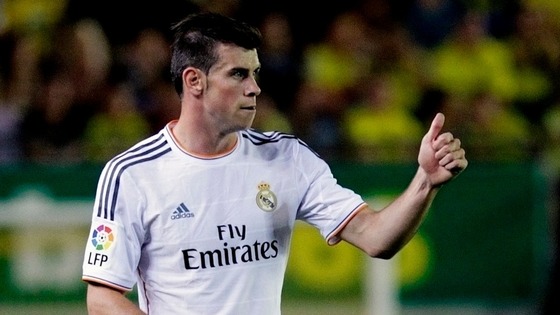 Gareth Bale's first appearance in a Real Madrid shirt has not started well after his new side conceded an early goal away at unbeaten Villarreal in the Spanish league.
Load more updates
Back to top