Cristiano Ronaldo has confirmed his split with Russian model Irina Shayk with rumours he is now dating Real Madrid TV journalist Lucia Villalon.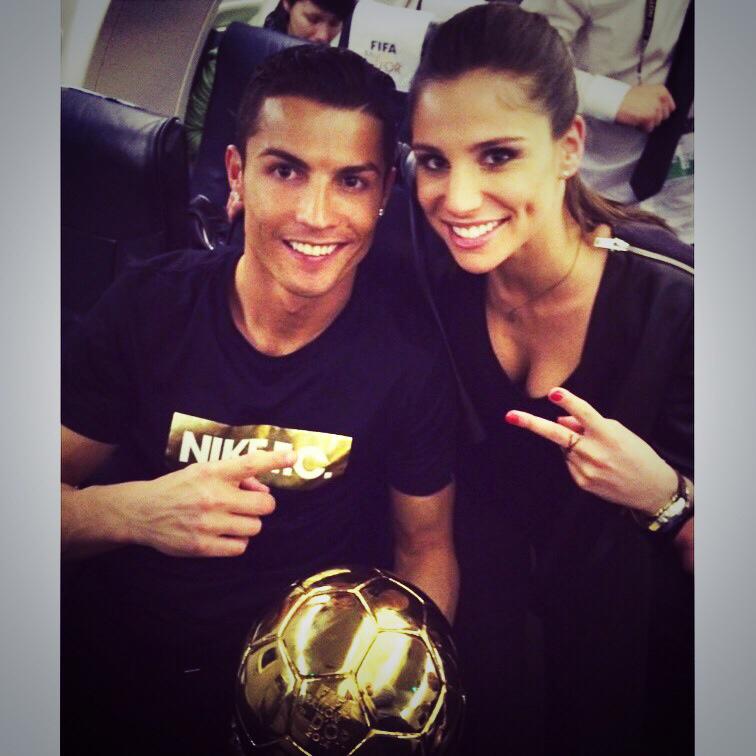 "After dating for five years, my relationship with Irina Shayk has come to an end," Ronaldo told the Associated Press. "We believed it would be best for both of us to take this step now."
He also wished his former lover Shayk "the greatest happiness" in the future.
Real Madrid TV journalist Villalon, 22, posted the selfie above with Ronaldo after last week's Ballon d'Or ceremony in Zurich, where the Portuguese forward celebrated his third world player of the year award.
Cristiano Ronaldo has urged Real Madrid fans to get behind "key player" Gareth Bale after the Wales international came under fire for going for goal instead of passing during Saturday's Primera Division win over Espanyol.
Bale was jeered by some Madrid supporters at the Bernabeu when, instead of laying up what could have been a tap-in for Ronaldo inside him, he opted to go for goal himself following a breakaway and ended up shooting wide.
"Madrid fans are always the same, they are very intense, they show what they feel, they aren't liars.
"But I think the things with Gaz are normal because they know that Gaz is a very important player for us, a key player.
"What happened on Saturday is in the past, sometimes I make mistakes too so it's part of the business, part of football. I think the people will be nice with him and they should be nice with him."
Advertisement
Liverpool and Man United are set to miss out on Martin Odegaard, with the Norwegian teenage sensation nearing a move to Real Madrid.
The 16 year-old trained with the Spanish giants for a third and final time this week before making a final decision on his future.
He is expected to agree terms with the European Champions this month.
On Saturday evening in the Basque hills, Real Madrid will play in front of a capacity 6,000 crowd, as David takes on Goliath.
Read the full story ›
Real Madrid president Florentino Perez has been caught on camera apparently revealing the future name of the club's revamped stadium as either 'IPIC Bernabeu' or 'CEPSA Bernabeu'.
Real last month agreed a strategic partnership with Abu Dhabi fund International Petroleum Investment Co (IPIC) that will help finance a planned stadium overhaul costing around 400 million euros (501.5 million US dollars) and due to be completed by 2017.
IPIC's holdings include Spanish energy firm Compania Espanola de Petroleos (CEPSA) and Perez was captured on the sidelines of an event on Tuesday by a camera from television show 'El Chiringuito de Neox' saying: "We are going to put IPIC Bernabeu or whatever they want or CEPSA Bernabeu."
Real Madrid boss Carlo Ancelotti has stood up for Liverpool's much-maligned striker Mario Balotelli over his recent shirt-swapping incident.
Balotelli caused an outcry among some supporters by changing shirts with Real defender Pepe as they headed down the tunnel at half-time when the two sides last met.
"Balotelli is spoken of a lot, maybe too much," said Ancelotti.
"They need another solution but I don't think all of Liverprool's problems are Balotelli.
"He needs to do his work for the side, that's all that can be asked of him - and I don't have problem with shirt-changing."
You can watch Liverpool take on Real Madrid at the Bernabeu tomorrow night live on ITV.
Advertisement
Carlo Ancelotti and Luis Enrique are putting the final touches to their sides ahead of El Clasico on Saturday.
Real Madrid and Barcelona will face off in one of the biggest games in world football at the Santiago Bernabeu.
There will be some added spice as Barcelona striker Luis Suarez is set to return from his latest ban in the game.
Madrid boss Ancelotti said in the build up to the game: "There isn't a game in world football with this quality on show."
The match will see the world's two best players Cristiano Ronaldo - who already has 20 goals to his name this season - and Leo Messi face each other once more.
Liverpool manager Brendan Rodgers is neither surprised nor alarmed at reports linking Real Madrid with a bid for Raheem Sterling
Read the full story ›
Former Manchester United manager Sir Alex Ferguson recalled Alfredo Di Stefano's "wonderful balance and poise" as he paid tribute to the Real Madrid legend following his death.
Sir Alex told BBC Radio 5 live that Di Stefano "was without question in that group of great, great players".
"I had the pleasure as a young man of being influenced by the great Real Madrid and Di Stefano. His head was up all the time - he was a fantastic footballer", he said.
"For Real Madrid it is a terrible loss because his presence was always there."
Former Real Madrid player David Beckham has paid tribute to Alfredo Di Stefano following news of his death, aged 88.
In a statement posted on his Facebook page, Beckham said: "Sad to hear of the passing of Alfredo Di Stefano. I was fortunate to get to know him, he was a true gentlemen and Real Madrid legend.
"For every player, it was not only a privilege to play for the club but it was made even more especial as he was part of the family and its history. He was one of the real greats in football."
Load more updates