Sir Bobby Charlton has paid tribute to Real Madrid legend Alfredo Di Stefano who passed away today, calling him "an extremely intelligent footballer."
Speaking to the Manchester United website he said: "As one of the stars of the legendary Real Madrid team, I think Alfredo was one of the best players I ever came across and an extremely intelligent footballer."
He added: "He was somebody I really respected, having watched him from the stands at the Bernabeu and then played against him..... The footballing world has lost a great player and a great man."
Footballing legend and the man Real Madrid describe as their greatest ever player, Alfredo Di Stefano, has died aged 88.
Read the full story ›
Advertisement
Jose Mourinho has paid tribute to Alfredo Di Stefano, following the Real Madrid legend's death at the age of 88.
"It was with immense sadness I learned of the death of Alfredo Di Stefano, a wonderful man I had the fortune to know during my time in Madrid," former Real Madrid manager Mourinho said in a statement.
"Of course I first send my thoughts to his family and friends, but also this is a very sad day for football and football fans, which we all are, when we lose a special person like this.
"Alfredo was the best Real Madrid player in history - winning five consecutive European Cups - and one of the greatest of all time.
"Rest in peace Alfredo."
Cristiano Ronaldo has said the death of Alfredo Di Stefano is a sad day for the world of football.
Real Madrid's honorary president died aged 88, two days after suffering a heart attack.
Ronaldo said Di Stefano's memory will "last forever in our hearts".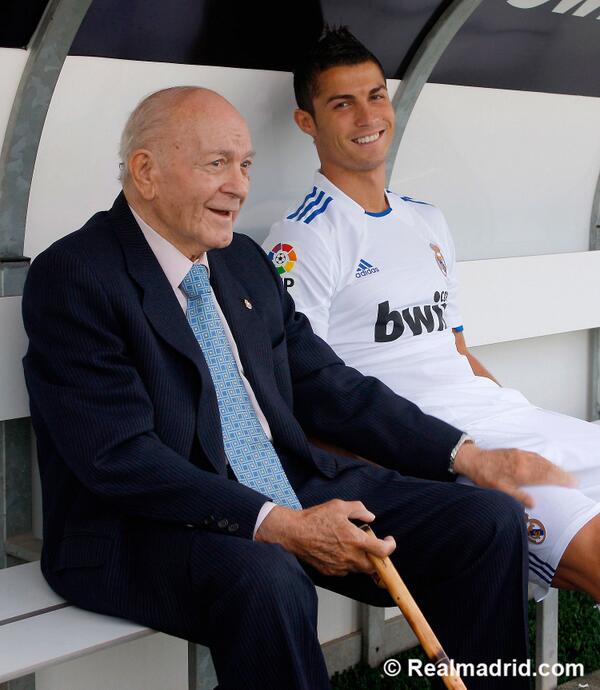 Don Alfredo leaves us, but his memory will last forever in our hearts. Legends never die. Thanks for everything Maestro. #EternoAlfredo
Real Madrid expressed their "deepest condolences" to the children, family and friends of footballing legend Alfredo Di Stefano, following his death earlier today,
They said in statement on their website: "President Alfredo Di Stéfano, died today at 17:15 at the Hospital General Universitario Gregorio Marañón in Madrid."
They added: "Real Madrid CF extends condolences to those Madridistas around the world."
The club's current president Florentino Perez and the board also expressed their "deepest condolences" and love to Di Stefano's children family and friends.
Di Stefano helped turn Real Madrid into a leading side in the 1950s, winning the European Cup five times between 1956 and 1960.
The success led to Di Stéfano being awarded the Ballon d'Or in 1957 and 1959.
The Real Madrid football legend Alfredo Di Stefano has died, according to media reports.
Di Stefano, who turned 88 this week, was being kept in an induced coma in the Gregorio Maranon hospital in Madrid after having a heart attack on Saturday.
On their website Real Madrid describe Di Stefano, who had a prodigious 11-year spell at the club, as "the greatest footballer of all time".
After joining Real in 1953, he helped turn them into one of the world's leading sides.
Advertisement
Real Madrid's news conference ahead of their Champions League game against FC Copenhagen was briefly interrupted on Monday after a Greenpeace anti-Gazprom poster was lowered onto a screen.
The poster, which read "Save the Arctic" and "Show Gazprom the red card" and featured the logo of the environmental protest group, appeared behind Madrid manager Carlo Ancellotti before an official swiftly removed it.
Gazprom are one of the sponsors of Europe's elite club competition.
Real Madrid football star Cristiano Ronaldo is appealing to Florida officials to drop charges against an over-enthusiastic fan who was arrested during a match after rushing the field to embrace him.
The Portuguese striker is asking prosecutors to drop charges against Ronald Gjoka, a Canadian student who faces two counts of disorderly conduct and trespassing as a result of the incident in front of 70,000 fans during an International Champions Cup match in Miami between Real Madrid and Chelsea.
"I understand your position and the importance of enforcing rules and laws. However, I respectfully request that you and your office reconsider this decision and dismiss the two criminal charges this young man faces", Ronaldo wrote in a hand-signed letter sent to the prosecutor.
Cristiano Ronaldo has signed a new deal with Real Madrid that ties him to the club for the next five years.
Ronaldo was pictured on Real Madrid TV today signing his new deal alongside president Florentino Perez, before fronting a press conference at the Bernabeu.
The 28-year-old Portuguese forward, whose previous deal had been due to run out in 2015, expressed delight at agreeing terms after speculation in the summer he could be tempted back to Manchester United.
"Manchester is in the past," Ronaldo said. "Now my club is Real Madrid. This is my home, my family is here and I'm really happy here."
Football star Gareth Bale has said he is "proud" to have scored his first goal in his debut match at Real Madrid, following a world record transfer to the team.
Proud to score on my debut and pleased to get 60 minutes tonight, just disappointed not to get the result. Looking forward to Tuesday now.
Load more updates