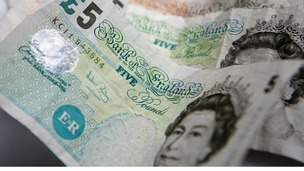 Britain's double-dip recession was erased from history after widespread revisions to official data.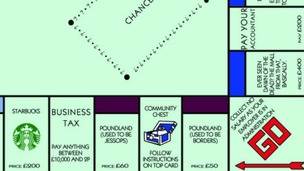 Tough economic times mean a lot has changed on the high street, and now there's a Monopoly board to match.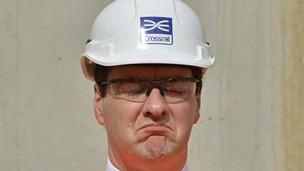 Will the public accept Chancellor George Osborne's explanation on why the British economy is stalling?
Live updates
Fears Britain is heading for a triple-dip recession have been fuelled by figures showing manufacturing output shrinking unexpectedly in November.
Factory output fell 0.3% month-on-month on the back of a 1.3% decline in October, the Office for National Statistics (ONS) said.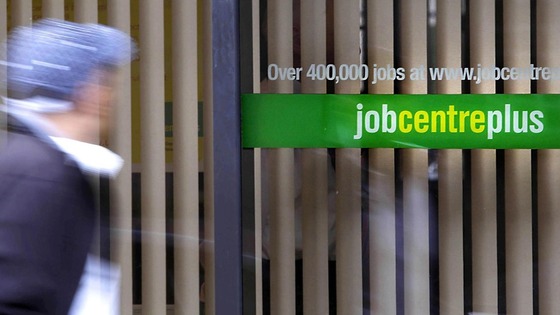 The wider measure of industrial production edged up 0.3% but was below forecasts for a 0.8% rise.
The numbers add to a recent flow of disappointing economic data, stoking concerns of a fresh contraction in the fourth quarter and that the UK economy could be on the verge of recession again if activity remains under pressure in the first quarter of the year.
The pain of recession in Spain has persuaded the people of its Catalan region to edge ever closer to independence.
Elections for its local Parliament gave almost two-thirds of the seats to parties who want a referendum on breaking away.
Catalonia in northeastern Spain has a population of 7.5 million and includes Barcelona, Spain's second biggest city.
Catalonia also produces 20 percent of Spain's GDP and its economy matches Portugal's.
From Barcelona, our Europe Editor James Mates reports.
Advertisement
Double-dip not as deep as feared
The economy should reboundin quarter three as the bank holiday effect unwinds and any Olympics boost comes through.

But we still expect the underlying performance of the economy to remain weakand GDP may even contract again in quarter four.
– Capital Economics
Double-dip not as deep as feared
The volume of household spending fell by 0.2% between Q1 and Q2 2012, but grew by 0.2% between Q2 2011 and Q2 2012: http://t.co/b86ITD3k
Double-dip not as deep as feared
An initial estimate of a 0.7% contraction shocked the City in July, but smaller than previously thought falls in the production, manufacturing and construction sectors improved the decline to 0.5% last month and now 0.4%.
Double-dip not as deep as feared
The UK's double-dip recession is not as deep as previously feared after revised figures showed a smaller contraction in the second quarter of the year.
The Office for National Statistics (ONS) said gross domestic product (GDP) fell 0.4% between April and June in the second upward revision.
Advertisement
UK GDP shrank by 0.5%
Shadow Financial Secretary to the Treasury Chris Leslie has told ITV News that the UK economy is in a "vulnerable positions and that Chancellor George Osborne, is "stubbornly refusing to take any action and what we've got to have some help."
UK GDP shrank by 0.5%
Shadow Financial Secretary to the Treasury Chris Leslie has told ITV News that the Chancellor can take no comfort from the revised GDP figures. Given that the UK's trade deficit has increased from £3.7 billion to £7.3 billion.
Mr Leslie warns George Osborne that he should have been doing more to protect our economy.
UK GDP shrank by 0.5%
Rachel Reeves MP, Labour's Shadow Chief Secretary to the Treasury, responding to the revised GDP figures, said:
Any small upward revision in growth figures is welcome, but our economy is still in the longest double-dip recession since the Second World War and that's why borrowing so far this year has risen by a quarter compared to last year.

David Cameron and George Osborne's plan has badly failed. Since the spending review our economy has shrunk by 0.6%. And with Britain just one of two G20 countries in a double-dip it is clear that this is a recession made in Downing Street.
Thank goodness the Olympics will have a positive effect on the next quarter's growth figures, but this short term boost is not the long-term strategy we need. We urgently need a change of course and a plan for jobs and growth to stop permanent damage being done, as the IMF has warned. The longer this complacent Chancellor clings on to his failed plan, the heavier the price our country will pay.
UK GDP shrank by 0.5%
The GDP figures released today suggest that the extra bank holiday for the Queen's Diamond Jubilee and the washout start to the summer did not have as much of an effect as previously feared.
Economists believe the extra bank holiday may have knocked as much as 0.5% off GDP, but the ONS said it was too early to measure the effect.
There are fears that the economy will struggle to pull out of its double-dip recession in the current quarter as the eurozone debt crisis slows global growth.
Load more updates
Back to top