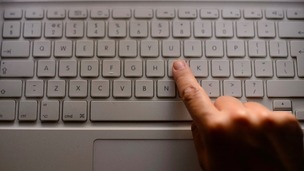 The Metropolitan Police's new cyber crime unit have put together a check-list for online shoppers looking to avoid online fraudsters.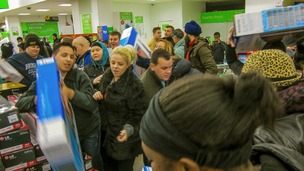 Customers scrambled and pushed to snatch cut-price deals as part of "Black Friday" in frenzied scenes seen across the UK.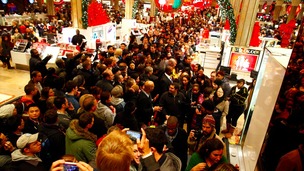 Shoppers expected to storm the High Street in search of bargains.
Live updates
Discount chain 99p Stores are planning to expand by another 70 shops in a move set to create over 2,000 jobs.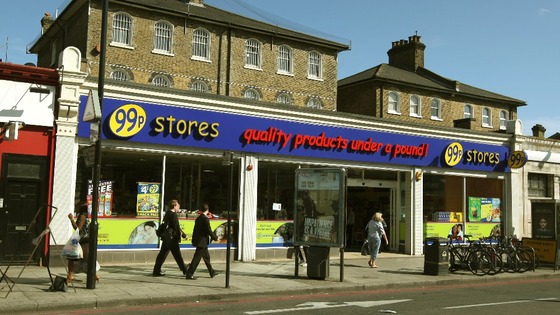 The group wants to go from 240 shops to 310 by the end of 2015 after securing £25 million from lender Barclays.
Around 2,100 workers will be taken on in the expansion - with each new store needing around 30 staff.
The chain has grown rapidly since the demise of Woolworths in 2008, with bargain retailers 99p Stores and Poundland now regular fixtures of high streets across the UK.
Poundland is also said to be planning on expanding - the chain is reportedly aiming to list on the stock market next year to raise cash to double its UK stores to around 1,000.
A five-year-old girl who wrote a letter of apology to department store John Lewis after she broke a bauble has been found following a social media campaign.
The girl, who signed her name as Faith, sent the letter after she accidentally broke the decoration while visiting a shop in Cambridge.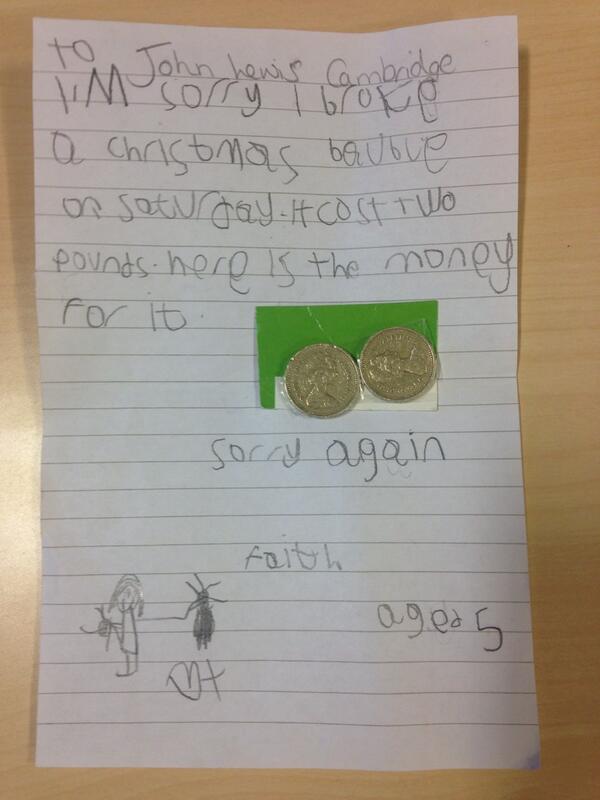 Branch manager Dominic Joyce launched a bid to find the girl on Twitter using the tag #findfaith, saying he would like to thank her for the "adorable gesture".
John Lewis confirmed that the girl's parents had been in touch this morning but had indicated that no further thanks was needed.
Read: Five-year-old confesses to John Lewis, 'I broke a bauble'
Advertisement
John Lewis has launched an appeal to find a five-year-old girl who wrote to the retailer apologising for breaking a Christmas bauble.
The girl, known only as Faith, sent a handwritten apology to her local store in Cambridge after she said she accidentally broke the decoration on a visit to the shop.
Staff at John Lewis are keen to meet the youngster but baffled as to who she could be.
Store manager Dominic Joyce posted the letter and the appeal on Twitter: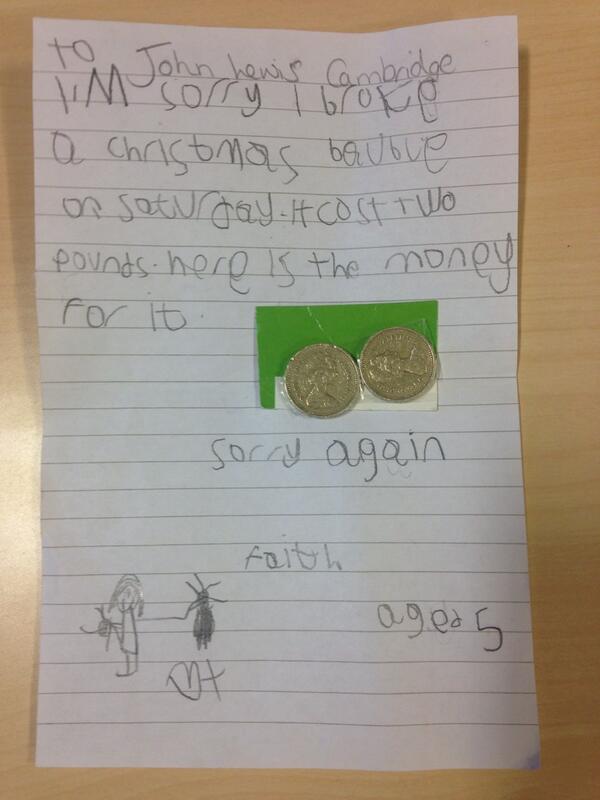 He told the Daily Mail: "We'd like to thank her and because of her adorable letter maybe give her something from the store she would like."
Online sales up 16% last month
Online sales figures in November represented 19.9% of total non-food sales in the British Retail Consortium's survey - which is a record proportion for digital sales.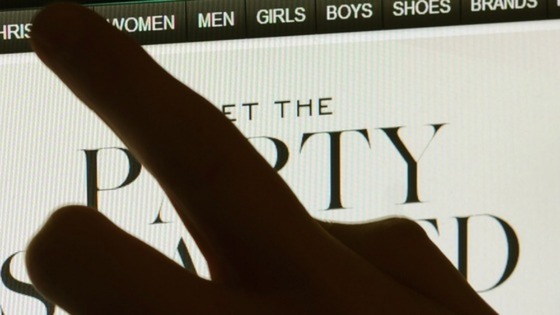 Read: Cyber Monday - the 'busiest day for online sales'
The online growth was the best this year and, excluding December months, the best in three years.
The BRC said November's sales got off to a slow start but picked up in a big way in the final week.
Online sales up 16% last month
Online sales increased by 16% last month as retailers get ready for a festive season in which one in five non-food products will be sold over the internet.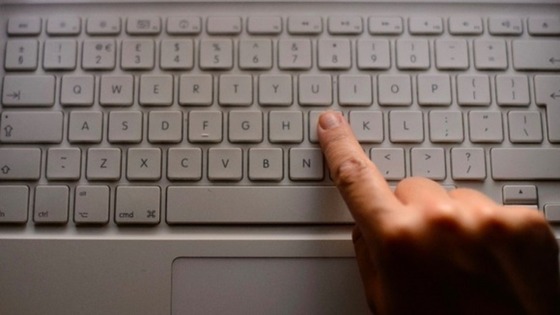 Read: Cyber Monday - the 'busiest day for online sales'
Faster delivery times and the popularity of click and collect services mean shoppers will be more prepared to leave ordering online closer to Christmas, the British Retail Consortium said.
The whole retail sector reported sales growth of 2.3% in November compared with a year earlier.
Fashion categories performed best as a period of colder weather at the end of the month finally triggered spending on winter clothes and footwear.
Homeware also produced a strong showing, especially on the dining and decorative side, as thoughts turned to giving homes a festive refresh.
Today 'busiest for online sales'
Payday and the arrival of December are the driving factors behind today's expected cyber shopping surge, according to Sage Pay, which has predicted spending of more than £500 million.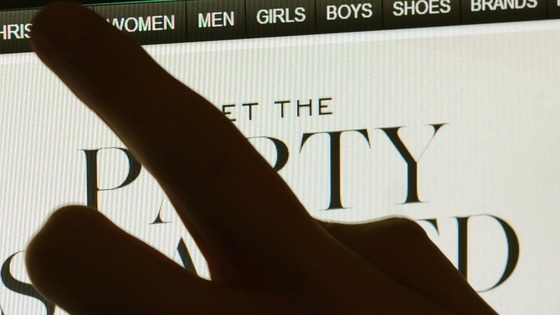 "With just four weeks until Christmas, most of us will just have been paid, so Cyber Monday is traditionally the day when consumers rush online to do their Christmas shopping, said Simon Black, chief executive at Sage Pay.
"Given the breadth of shopping and payment options available to consumers, competition between retailers is greater than it's ever been.
"Plus, with an emphasis on omnichannel and a host of newer payment technologies beginning to make their mark, retailers can find it difficult to stay that one crucial step ahead of the trends."
Advertisement
Today 'busiest for online sales'
Online retailer Amazon is testing unmanned drones called Octocopters in a bid to deliver packages to customers within 30 minutes.
The drones could deliver packages that weigh up to 2.3kg but the service is not expected to start for at least five years, the company's chief executive Jeff Bezos claimed.
Mr Bezos told CBS television's 60 Minutes programme: "These are effectively drones but there's no reason that they can't be used as delivery vehicles...I know this looks like science fiction. It's not."
"We can carry objects, we think, up to five pounds, which covers 86 per cent of the items that we deliver...These are electric motors, so this is all electric; it's very green, it's better than driving trucks around," he added.
The service will be called Prime Air but US aviation officials have not approved use of the drones.
Read more: 'Cyber Monday' set to be the busiest for online sales
Today 'busiest for online sales'
As shoppers gear up for Cyber Monday, retail expert Kate Hardcastle says consumers can avoid Christmas shopping delivery issues by making themselves aware of retailers' delivery and dispatch policies before they buy.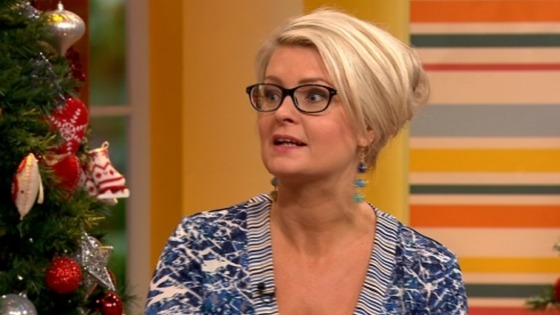 "Make sure you look for things like 'dispatch on' and 'delivery by' - two very different things," the retail expert told ITV Daybreak.
Read: Police issue 10 simple tips to help online shoppers beat scams
Today 'busiest for online sales'
Online shopping is up 10.1% in 2013 compared to 2012, according to Barclaycard
The first Monday in December last year was the highest day of online spend in Barclaycard's history - consumers spent an average of £57 per transaction
Online electronic stores - up 66.5%, online family clothing stores - up 35.4% and online department stores - up 31.5%, saw the biggest increases in spending
Visa Europe predicts £450 million will be spent on its cards alone
Online transactions could top 7.7 million, an increase of 16% on last year
An average of £312,500 is expected to be spent every minute, Visa said
UK consumers will make 113 million visits to online retail sites today, online analyst Experian claims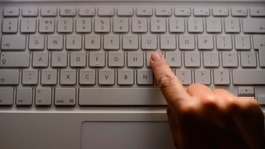 The Metropolitan Police's new cyber crime unit have put together a check-list for online shoppers looking to avoid online fraudsters.
Read the full story
Load more updates
Back to top