Poundland has announced mega sales figures topping almost £1bn this year, resulting in record profits.
The discount store says it plans to expand by opening 60 extra shops, which will create another 1,000 jobs over the next financial year.
Profits were up by 23.5% to a record £36.8 million, the retailer said, adding that it planned to open stores in Europe - first targeting the Spanish market.
Poundland opened 70 new stores in the UK this year, taking its total number of shops to 528.
The latest measure of retail sales is up 1.7%, more than treble the rise economists were expecting, but the spending spree may not last.
Read the full story ›
Advertisement
The British High Street has "the most competitive food landscape for some time," according to retail mogul Sir Philip Green.
The businessman was under no illusions about how competitive food retail had become in the UK.
There's no point in opening up and getting torn apart because we haven't got competitive prices.

We know what we're going into - the most competitive food landscape for some time.

On the basis that everyone is going into the high street and convenience, maybe it's an opportunity. If you don't buy a ticket, you can't win the lottery.
– Sir Philip Green
Billionaire Sir Philip Green will reportedly use BHS to start selling discounted food in a bid to join the supermarket price wars.
The retail mogul told the Sunday Times the branded goods sold at BHS department stores would be around 10% cheaper than those from Tesco, Asda, Sainsbury's and Morrisons.
Sir Philip, who owns a number of the High Street's big names including Topshop, wants to take on cut price food retailers like Aldi and Lidl.
BHS is to see its first two shops to offer food, in Staines and Warrington, within days, - with plans for about 140 such outlets.
The openings will reportedly see sections of stores set aside for branded products such as bread and cakes, frozen items and soft drinks.
KPMG head of retail David McCorquodale says aside from grocers, retailers will feel "heartened" by post Christmas sales figures.
Other than the grocers, retailers will feel heartened by these post-Christmas figures.

The divide between food and non-food is stark, with the battle for market share in food remaining ferocious, customer loyalty fickle and cost deflation being passed through to the consumer.
– KPMG head of retail David McCorquodale
Constant downpours failed to put off shoppers last month as retail industry figures published today pointed to the strongest sales growth since March 2010.
The British Retail Consortium (BRC) and KPMG said total sales in January rose 5.4% on a year ago as improved job prospects and the recovery in the housing market led to a strong month for homewares and furniture businesses.
However it was not all good news across the sector, with grocers again squeezed by very low levels of sales growth.
Advertisement
Morrisons belatedly launches its online service. But all supermarket chains are facing greater competition in the delivery market.
Read the full story ›
As Morrisons online delivery gets going, Tesco tells me they have made a whopping 170 MILLION online deliveries since target started
Morrisons CEO Dalton Phillips has made the supermarket first online delivery in the Midlands.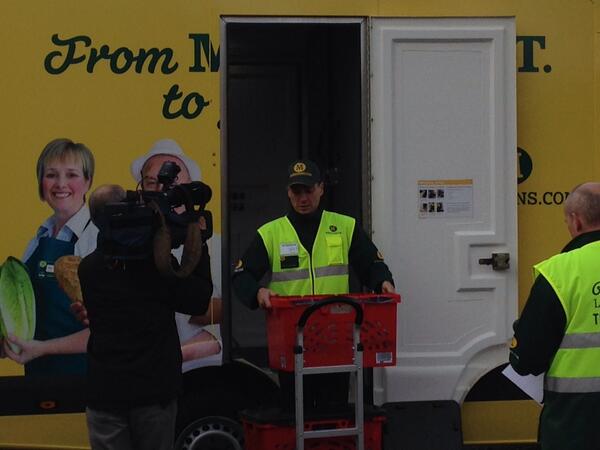 Load more updates