Billionaire Sir Philip Green will reportedly use BHS to start selling discounted food in a bid to join the supermarket price wars.
The retail mogul told the Sunday Times the branded goods sold at BHS department stores would be around 10% cheaper than those from Tesco, Asda, Sainsbury's and Morrisons.
Sir Philip, who owns a number of the High Street's big names including Topshop, wants to take on cut price food retailers like Aldi and Lidl.
BHS is to see its first two shops to offer food, in Staines and Warrington, within days, - with plans for about 140 such outlets.
The openings will reportedly see sections of stores set aside for branded products such as bread and cakes, frozen items and soft drinks.
KPMG head of retail David McCorquodale says aside from grocers, retailers will feel "heartened" by post Christmas sales figures.
Other than the grocers, retailers will feel heartened by these post-Christmas figures.

The divide between food and non-food is stark, with the battle for market share in food remaining ferocious, customer loyalty fickle and cost deflation being passed through to the consumer.
– KPMG head of retail David McCorquodale
Advertisement
Constant downpours failed to put off shoppers last month as retail industry figures published today pointed to the strongest sales growth since March 2010.
The British Retail Consortium (BRC) and KPMG said total sales in January rose 5.4% on a year ago as improved job prospects and the recovery in the housing market led to a strong month for homewares and furniture businesses.
However it was not all good news across the sector, with grocers again squeezed by very low levels of sales growth.
Morrisons belatedly launches its online service. But all supermarket chains are facing greater competition in the delivery market.
Read the full story ›
As Morrisons online delivery gets going, Tesco tells me they have made a whopping 170 MILLION online deliveries since target started
Advertisement
Morrisons CEO Dalton Phillips has made the supermarket first online delivery in the Midlands.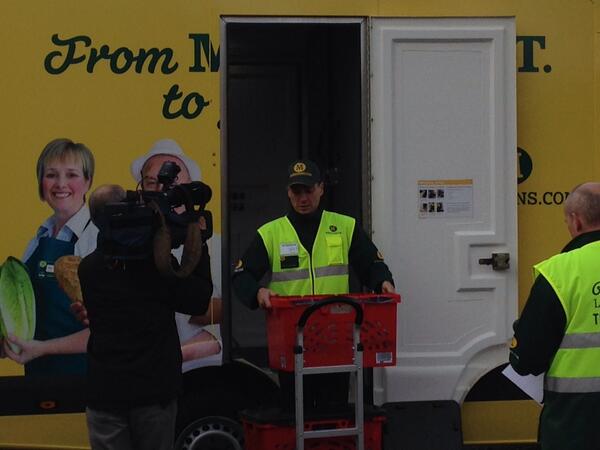 Online clothing sales accounted for 21.2% of sales in December - an increase of 3% from last year.
Furniture and flooring products bought online represented nearly a third of all sales.
Electrical goods and toys came in at 14.4%, a fall from November's 15.5%.
The drop in electrical goods sales was attributed to consumers searching early on the web for in-demand Christmas products to get hold of them before they went out of stock.
Online sales have become the "main driver for growth" in British retail, after Christmas sales figures showed how popular an option shopping on the internet has become.
David McCorquodale, head of retail at KMPG which is behind the figures, explained:
Whilst store sales continue to flatline, online sales remain the main driver of growth for the sector, contributing nearly three quarters of the uptick in non-food sales in the last quarter of 2013.

The winners this Christmas were those retailers with slick multichannel operations, who could offer consumers the flexibility to shop how, and when, they wanted to.
– David McCorquodale, KPMG
"One in five" non-food items bought this Christmas were purchased online, in what turned out to be a bumper year for festive internet sales, new figures have revealed.
Data from the British Retail Consortium (BRC) showed online trade represented 18.6% of total non-food sales in December, up from 16.5% the year before.
BRC director general Helen Dickinson said: "More of us clicked into Christmas than ever before, with online non-food sales growth putting in its best performance since March 2010 and accounting for nearly 20% of spending.
"The surge in the use of tablets and smartphones last year, together with the ever-faster delivery times achieved by an increasing number of retailers, has provided a new spur of growth to online shopping."
Load more updates