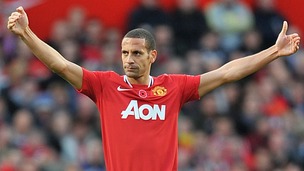 'Rio to Rio' has that irresistible ring - but it is not a headline you are likely to read now.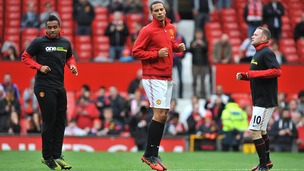 Manchester United's Rio Ferdinand stoked further controversy when he defied his manager to boycott wearing an anti racism t-shirt.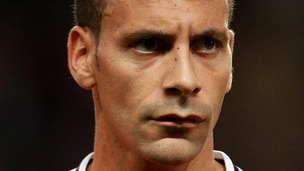 The John Terry racism row was reignited when his defence witness Ashley Cole was attacked on Twitter - with Rio Ferdinand reacting.
Live updates
Charges after Manchester derby
Detectives said officers are working with Manchester City Football club to identify who threw a coin at Rio Ferdinand.
Charges of those arrested included a racially aggravated public order, pitch encroachment, public order, breach of a football banning order and being drunk and disorderly.
Chief Inspector Steve Howard said: "Despite fierce rivalry and high tension there was no major disorder. However, we will continue to investigate the coin throwing incident and are determined to work with the club to bring the perpetrator to justice."
Charges after Manchester derby
Nine people have been charged in connection with yesterday's derby clash between Manchester United and Manchester City football clubs.
All are due before Manchester City Magistrates' Court on 4 January 2013. Four other arrests were made.
Advertisement
Charges after Manchester derby
Manchester City has released the following statement on its website after Rio Ferdinand was hit above the left eye by a two-pence coin thrown from the crowd near the end of a heated derby clash.
Manchester City FC security officials are co-operating fully with Greater Manchester Police in relation to events leading up to the throwing of missiles onto the field of play, and between the two sets of supporters, during today's game against Manchester United.Manchester City wishes to offer its sincere apologies to Rio Ferdinand.

The Club unreservedly condemns the actions which led to him being injured.
GMP's review of all fan behaviour at today's match will be fully supported by the Club, through the provision of CCTV footage and eyewitness accounts. Following this review, and any associated police action, the Club will also apply its own disciplinary policies for any fans found guilty of offences.
James Arthur wins X Factor
Manchester United defender Rio Ferdinand is clearly recovering well from his earlier injury:
Xfactor final....all over it!! Who we fancying people?!
Charges after Manchester derby
Manchester United winger Ashley Young has expressed concern over the security of players after team-mate Rio Ferdinand was struck by an object during the Manchester derby.
It could have taken Rio's eye out and you've seen the cut on his head.

When 'Wazza' [Rooney] was taking a corner there were so many objects being thrown on to the pitch as well and, on another day, if the pitch had not been so wet, the fan who came on to the pitch wouldn't have slipped over and could have attacked Rio.

It's not nice to see that and hopefully it'll be dealt with.
– Ashley Young on MUTV
Charges after Manchester derby
It is disappointing that after a great game and advert for the Premier League that we are discussing this issue.

We will work with the clubs and authorities to identify those responsible and support the strongest sanctions available, including life bans.

We condemn any such acts and it is simply unacceptable that any player is exposed to injury in this way. To witness Rio Ferdinand leaving the field with a cut above his eye to receive treatment is appalling.
– FA spokesman
Advertisement
Charges after Manchester derby
The FA has said it is investigating Manchester United defender Rio Ferdinand's injury after being hit in the hear by an object throw from the crowd. A statement on the FA website read:
The FA is investigating the incident in which an object was thrown from the crowd and hit Rio Ferdinand following Manchester United's third goal against Manchester City on Sunday.

The FA will liaise with Greater Manchester Police and await the reports of both our crowd control advisor who was present at the game and the match referee.
– FA statement
Charges after Manchester derby
Manchester City have apologised to Manchester United defender Rio Ferdinand after he was hit by a coin during his team's 3-2 win at the Etihad Stadium.
We apologise to Rio. We condemn the actions of the individual concerned.

We are reviewing the CCTV with the police and our normal security.

We will support the police with any investigation and hopefully identify the person as soon as possible.
– Manchester City spokesman
Charges after Manchester derby
Respect to Joe Hart for protecting that idiot who ran on!! Love the banter between fans but there is a point when it goes too far...calm it!
Charges after Manchester derby
Violent scenes at the end of the Manchester derby cast a shadow over a remarkable encounter that saw United secure a late 3-2 win.
Rio Ferdinand was struck by a missile and was then confronted by a fan on the pitch - an incident which appeared to be defused by Manchester City goalkeeper Joe Hart.
The fan was subsequently led away from the pitch by police.
Ferdinand was seen showing an object to referee Martin Atkinson at the end of the match.
Load more updates
Back to top