Swiss tennis player Roger Federer has been beaten by Spain's Tommy Robredo in the fourth round of the US Open tournament in New York.
In a stunning upset, Robredo won in straight sets: 7-6(3) 6-3 6-4
Advertisement
Asked how he beat seven-time Wimbledon champion Roger Federer, Ukrainian Sergiy Stakhovsky said: "I don't know. Magic. I couldn't have played any better today. I played everything I needed. I played everything I wanted."
Defending champion Roger Federer lost 6-7 (5/7) 7-6 (7/5) 7-5 7-6 (7/5) to Ukrainian Sergiy Stakhovsky, ranked 116th in the world, in the second round at Wimbledon, ending a run of 36 consecutive grand slam quarter-final appearances by the Swiss player.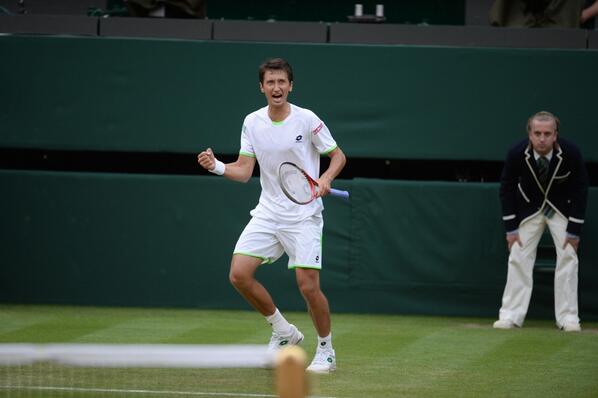 Number three seed and seven-time Wimbledon champion Roger Federer crashed out of the tournament losing a tie-break in the fourth set to Sergiy Stakhovsky in the second round.
Advertisement
Reigning Wimbledon champion Roger Federer swiftly beat Romanian Victor Hanescu 6-3, 6-2, 6-0 to book his place in the second round of the competition.
The seven time champion took just 69 minutes to continue his pursuit of a record 8th Wimbledon title.
Roger Federer believes Andy Murray poses the greatest threat ahead of Wimbledon.
Federer said at a news conference: "I thought Andy was going to win a big one anyway at some point. He's too good to always keep losing semis and finals.
"Now he's the favourite every tournament he goes into around the world".
"To me, Andy sort of stands out a little bit over the others", he added.
Yes well done Andy he is in the final brilliant
Yesss!!!!... Congrats to Andy Murray after a long 4hrs he's through to the finals ????
Andy Murray has beaten Roger Federer in a thrilling semi-final to reach the Australian Open final for the third time.
Murray won 6-4, 6-7, 6-3, 6-7, 6-2 to set up a meeting with the World No. 1 Novak Djokovic – the player he defeated to secure his maiden Grand Slam title back in September 2012.
Load more updates