World number one Rory McIlroy faces a break from the sport as a Dublin courtroom is poised to take centre stage rather than a golf course
Read the full story ›
Rory McIlroy has opened a support centre for children with cancer - a therapeutic centre to which his charitable foundation has given £1m.
Read the full story ›
Advertisement
World number one Rory McIlroy has been voted PGA Tour player of the year for the second time in three seasons.
McIlroy won the Open Championship, WGC-Bridgestone Invitational and US PGA Championship in consecutive appearances and did not finish outside the top 25 in any of his 17 PGA Tour events in 2014.
The 25-year-old had already claimed the Arnold Palmer Award as the tour's leading official money winner (£5.1million) and won the Byron Nelson Award for adjusted scoring average (68.83).
"It means a lot to win it for the second time in three years," McIlroy said. "Being voted player of the year by your peers is something that's very important.
"They are the guys you are trying to beat week in, week out and if they appreciate what you have done over the year, see the hard work that you've put in and the golf that you've played and think that's been the best of the season that means a lot to me.
"I would like to win a lot more in my career and even though the last year wasn't what I wanted, the last three or four years have been very, very good and it gives me even more motivation to go on and work harder and try to win more tournaments, more majors and be involved in more Ryder Cups like last week."
One of the greatest sporting events on earth gets underway this week as the Ryder Cup heads to Scotland, here's everything you need to know
Read the full story ›
Rory McIlroy's last competitive outing saw him battling for a £7million payday in the Tour Championship, but the world number one is equally fired up by the thought of playing for team glory at the Ryder Cup.
The 25-year-old famously labelled the Ryder Cup as an "exhibition" the year before his debut in 2010, but contributing to narrow victories at Celtic Manor and Medinah means he appreciates the special nature of the biennial contest.
"It's a group of people that you know well and they all have one goal, one collective task which is to win the Ryder Cup and beat the US team," McIlroy told BBC Radio Five Live.
"The money doesn't matter to us any more, it doesn't matter if we're playing for millions of pounds all over the world. This means as much to us or even more than any other thing that we play for. It's a big deal to us, we want to play as well as we can and try to win."
Northern Ireland's Rory McIlroy captured his third major after winning the British Open by two shots at Royal Liverpool on Sunday. The 25-year-old held off the challenge provided by a red-hot Sergio Garcia and Rickie Fowler to record a 17-under-par total of 271.
Advertisement
Former world number one Rory McIlroy has won his first title since 2012 at the 2014 BMW PGA Championship at Wentworth.
The North Irishman's win comes just days after splitting with fiancée Caroline Wozniacki.
Golf star Rory McIlroy has broken off his engagement with tennis player Caroline Wozniacki, he announced today.
The Northern Irish golfer and former world number one said the relationship ended after he realised he was not ready for marriage.
"There is no right way to end a relationship that has been so important to two people," McIlroy said.
He added: "The problem is mine. The wedding invitations issued at the weekend made me realise that I wasn't ready for all that marriage entails.
"I wish Caroline all the happiness she deserves and thank her for the great times we've had. I will not be saying anything more about our relationship in any setting."
Sports stars Rory McIlroy and Caroline Wozniacki have announced their engagement on Twitter.
Northern Irish golfer and current world Number Six McIlroy told his more than 1.8 million followers:
Danish tennis player Wozniacki added: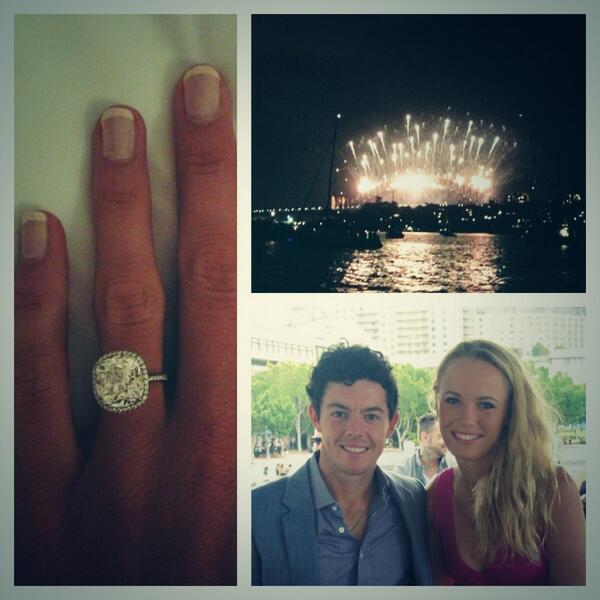 Rory McIlroy said it was "more like Alaska than Arizona" after heavy snow hit the desert, causing play to be suspended.
Read the full story ›
Load more updates