The Independent Police Complaints Commission said more than 100 allegations against 42 named police officers have been made to IPCC investigators investigating South Yorkshire Police's handling of child sexual exploitation in Rotherham.
Ofsted failed to uncover widespread sexual abuse in Rotherham because it took the word of local authority staff, MPs have found.
Read the full story ›
Advertisement
Ukip leader Nigel Farage was forced to withdraw from a public event in Rotherham today after crowds of protesters gathered outside the party's new office.
Despite the demonstrations, Mr Farage said Rotherham was a "key national target" for the party in May's General Election.
The party said the timing of the visit, just two days after a damning report into the Rotherham abuse scandal , was purely coincidental.
A South Yorkshire Police officer understood to be under investigation over the Rotherham child sex abuse scandal has died after a car crash, the force said.
PC Hassan Ali, aged 44, was off-duty and on-foot when he was hit on Staniforth Road, Sheffield, on Wednesday night.
Ch Cons David Crompton said he died in the early hours of this morning, with his family by his bedside.
All of our thoughts are with Hassan's family and on behalf of the force I would like to offer my sincere condolences at this incredibly difficult time.

PC Ali was a well-liked officer whose colleagues are devastated by what has happened.
– Ch Cons David Crompton, South Yorkshire Police
It is understood that complaints had been made about PC Ali in relation to revelations that hundreds of children had been sexual exploitated in Rotherham, and he was under investigation by the Independent Police Complaints Commission (IPCC).
Breastfeeding mothers are among the anti-Ukip demonstrators gathered outside the party's campaign office in Rotherham.
Ukip leader Nigel Farage came under fire in December after he said that mothers breastfeeding their babies should "perhaps sit in the corner".
Nigel Farage denied he has been exploiting the Rotherham abuse scandal for political gain after he was forced to cancel an appearance in the city due to crowds of protesters.
Farage said Ukip was "the one party that's warned consistently against division within society and multiculturalism".
"We want interculturalism. We've got different religions and faiths but we have to mix together and we have to live under one law," he continued.
"So I think to accuse us of exploiting it is not fair. We have warned for years that things have been going wrong with increasing divisions within society."
Advertisement
Ukip leader Nigel Farage has abandoned a public appearance in Rotherham after crowds of protesters gathered outside his party's local office.
Farage was due to cut the ribbon on the campaign office of Ukip's general election candidate Jane Collins, but his team said he was not coming out on police advice.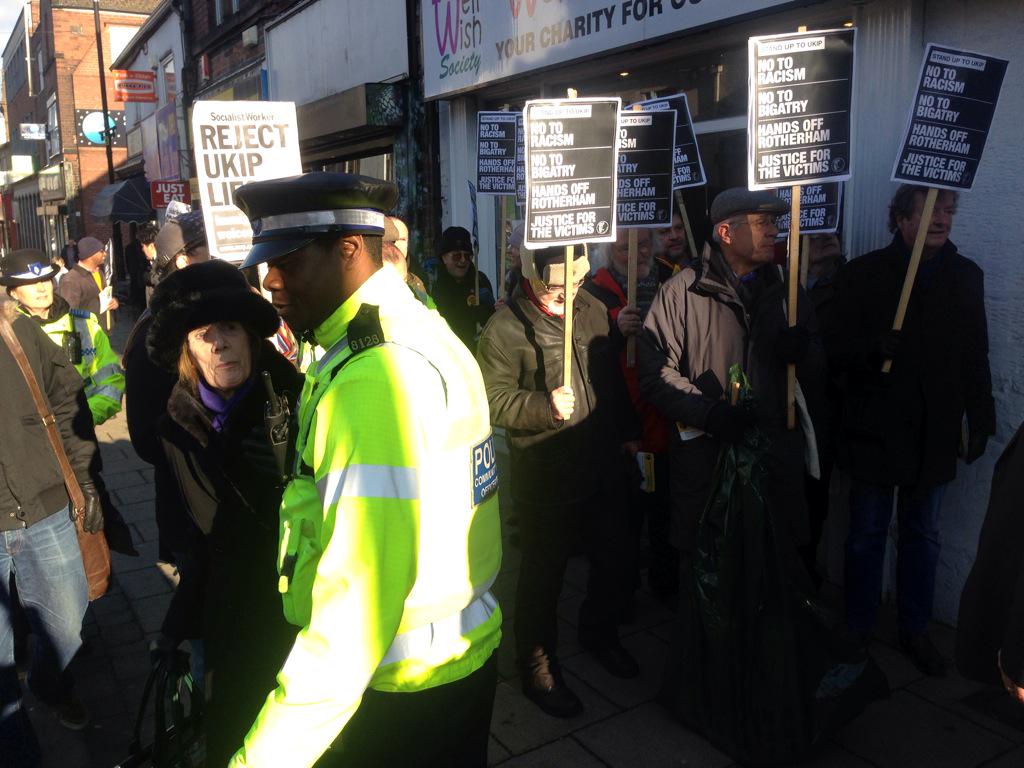 Rotherham Council's interim chief executive says the authority accepts the damning criticism it faced in yesterday's inspection report.
Jan Ormondroyd said the report contained a "catalogue of cultural and system failings", and apologised for the "devastating impact that this has had on the lives of the people of Rotherham".
She added that the council needed a "move towards stability" and "the fresh start which [report author] Louise Casey and her team have called for".
We understand the impact of the current uncertainties around the future leadership and management of the Council on the people of Rotherham, and also on staff in the Council. I have written to the Department for Communities and Local Government, urging them to confirm urgently who the five Commissioners who will take over the running of the Council will be and to ensure they are in place as soon as possible.
– Jan Ormondroyd, Rotherham Council interim chief executive
Load more updates