Nigel Farage denied he has been exploiting the Rotherham abuse scandal for political gain after he was forced to cancel an appearance in the city due to crowds of protesters.
Farage said Ukip was "the one party that's warned consistently against division within society and multiculturalism".
"We want interculturalism. We've got different religions and faiths but we have to mix together and we have to live under one law," he continued.
"So I think to accuse us of exploiting it is not fair. We have warned for years that things have been going wrong with increasing divisions within society."
Ukip leader Nigel Farage has abandoned a public appearance in Rotherham after crowds of protesters gathered outside his party's local office.
Farage was due to cut the ribbon on the campaign office of Ukip's general election candidate Jane Collins, but his team said he was not coming out on police advice.
Advertisement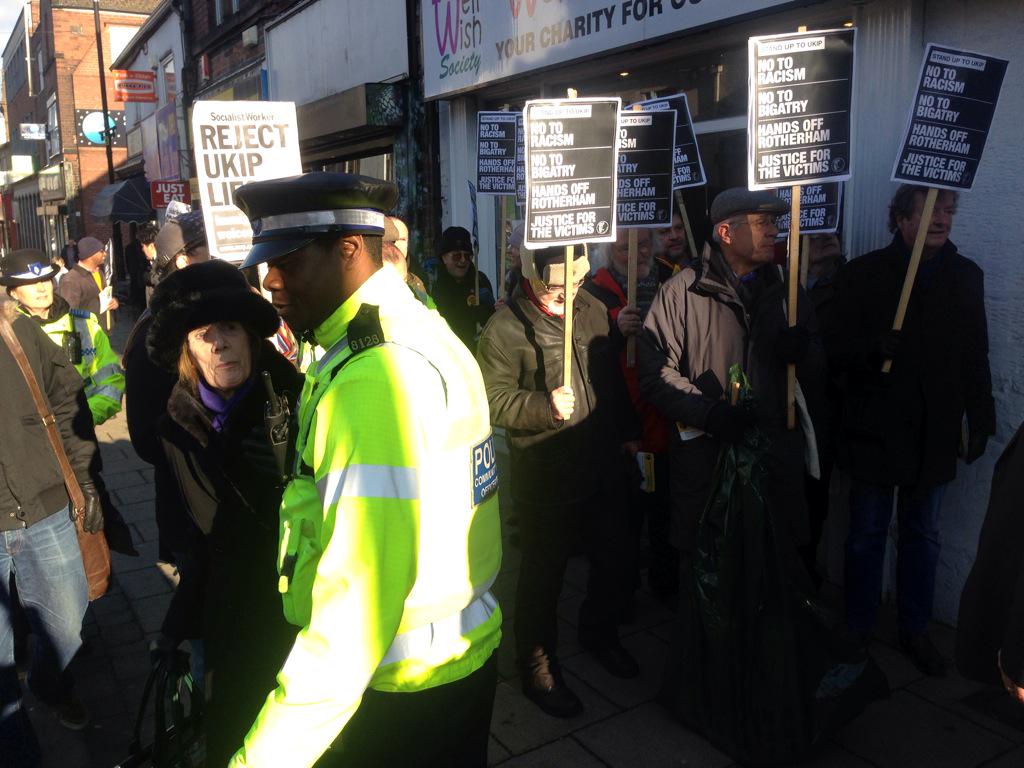 Rotherham Council's interim chief executive says the authority accepts the damning criticism it faced in yesterday's inspection report.
Jan Ormondroyd said the report contained a "catalogue of cultural and system failings", and apologised for the "devastating impact that this has had on the lives of the people of Rotherham".
She added that the council needed a "move towards stability" and "the fresh start which [report author] Louise Casey and her team have called for".
We understand the impact of the current uncertainties around the future leadership and management of the Council on the people of Rotherham, and also on staff in the Council. I have written to the Department for Communities and Local Government, urging them to confirm urgently who the five Commissioners who will take over the running of the Council will be and to ensure they are in place as soon as possible.
– Jan Ormondroyd, Rotherham Council interim chief executive
The mother of a girl who was abused as a teenager in Rotherham has told ITV News the outgoing council failed to do their jobs and protect the town's children.
After the council was declared "not fit for purpose" in a damning report, the mother said: "I wonder how they would feel if it was their daughter - the police and the council want to think about how many lives they have ruined.
"They just would not listen, and they did not do their jobs and protect our children."
ITV News Social Affairs Editor Penny Marshall reports:
Advertisement
A Rotherham councillor has admitted the council did not act "quickly enough" to tackle child sexual exploitation in the South Yorkshire town.
Chris Read's comments come after a report published today found the council was "not fit for purpose", forcing the resignations of its entire cabinet.
Since the publication of the Jay Report, the council has begun to take measures to improve the support for victims. bringing in new management, and to tighten licencing controls.

Sadly, as the report today makes clear, we have not been able to do enough, quickly enough.
– Councillor Chris Read
When I spoke to one of the Rotherham abuse victims this evening I asked whether she felt any safer now after today's developments.
She replied: "Safer, but not safe enough".
Six Whitehall-appointed commissioners will come to Rotherham to effectively run the council.
Westminster expect there to be local elections in 2016 when the people of this town will be given a chance to elect people they trust.
But this affair is far from over - the National Crime Agency has said today there may be grounds for criminal investigations, possibly against a police officer and two councillors.
Rotherham Council says it needs time to "understand and respond" to today's damning report, as well as the "implications" of its cabinet's resignation and the intervention package proposed by Eric Pickles.
In a statement, a spokesman for the council said: "We recognise the need for a fresh start that is so clearly identified in the report, but also appreciate that we need to continue to deliver services to the people of Rotherham, and ensure business continuity.
"We should not forget that the publication of this report will re-open old wounds for the victims and survivors of CSE. We will continue to put in place the help and support they need at this difficult time, including our dedicated helpline."
Paul Lakin, leader of Rotherham Borough Council has resigned with immediate effect.
Cllr Lakin - who only took on the top role last year - will also stand down as local councillor for Rotherham's Valley Ward, the council said in a statement.
The rest of the cabinet are due to resign their positions "as soon as transitional arrangements are put in place", according to an earelier statement.
Load more updates