Roy Hodgson does not understand the fuss surrounding Jack Wilshere's latest smoking controversy, and does not profess to be a fan of shisha pipes - even though he admits he once tried one.
Arsene Wenger had a stern word in Wilshere's ear last week when the Arsenal midfielder was pictured holding a shisha pipe at a nightclub.
Hodgson was caught off guard when asked about the shisha episode during a briefing in London on Thursday.
I thought tobacco was smoking and shisha pipes were (just) water with flavour? Does it? [contain nicotine] Are you sure about that? I am not 100 per cent sure.

As an ex-cigar smoker when I tried it (shisha) I thought it was a complete nonsense, I couldn't understand who would do it. Apart from a faint fruity taste in your mouth that was about the end of it.
– England manager Roy Hodgson
England manager Roy Hodgson has leapt to the defence of Raheem Sterling, saying the Liverpool winger has been treated unfairly by the press.
Sterling was blasted by former professionals and the press after Hodgson revealed he did not start for England against Estonia because he was 'tired'.
Speaking to students at the Cambridge Union, Hodgson said: "With young Raheem Sterling this week, it guts me to see that sort of treatment.
"It's totally unfair and totally wrong. It's suiting people's agendas. But, you know, he'll be stronger for it. Is that right? Of course it's not right! But I can't turn the clock back, I'm living in 2014, I can't go back to Downton Abbey!"
Advertisement
Liverpool manager Brendan Rodgers has denied that the club put pressure on England boss Roy Hodgson to rest Raheem Sterling
Read the full story ›
England manager Roy Hodgson has apologised to Wayne Rooney for a comment he made about the striker's Liverpudlian accent.
When asked about Rooney's capabilities as Three Lions captain earlier this week, Hodgson said:
"Everyone knows Wayne is not the sort of person with his Liverpool accent who is going to be able to stand up in front of a lecture room of people.
"But he doesn't need to. All he has to do is make certain the players he is talking to understand where he is coming from."
RH on Scouse accent story: "It was in no way aimed at Wayne or anyone from Liverpool- my wife is from Liverpool. I've apologised to WR."
But addressing the media ahead of Thursday's Euro 2016 qualifier against San Marino, Hodgson admitted he felt compelled to say sorry.
"I apologised about the headline," he explained. "He knows it wasn't aimed at him or anyone from Liverpool. My wife's from Liverpool."
England boss Roy Hodgson has dismissed suggestions that Daniel Sturridge was forced to train against his will while on international duty
Read the full story ›
Wayne Rooney has tweeted that it is a "dream come true" to be named England captain.
In an interview on his official website, the Manchester United forward also said he would take "massive pride" in the role.
"As a kid I always loved the occasion of watching a big England game on the television. Back then I had a burning ambition to play for my country. Now to be appointed captain is beyond my wildest dreams," he said.
Being named England captain is a dream and something I'll take great pride in doing. My exclusive interview is here – http://t.co/RwqO59k0vT
He revealed he planned to speak to former captain Steven Gerrard about the demands of the role.
Advertisement
Roy Hodgson says Wayne Rooney's "commitment to the cause", along with his experience captaining Manchester United contributed to the decision to make him the new England captain.
Wayne Rooney will succeed Steven Gerrard as captain of the England football team, manager Roy Hodgson has announced.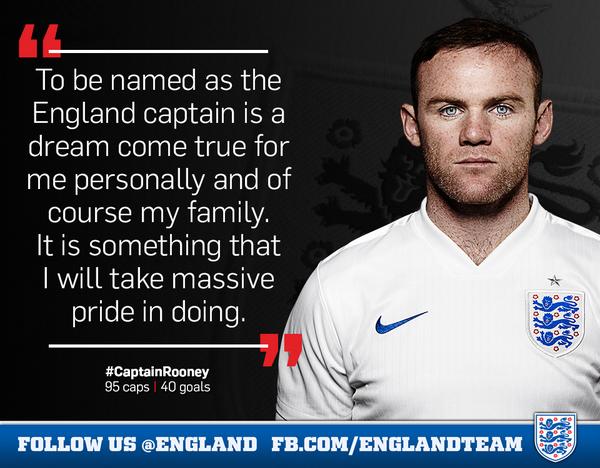 England manager Roy Hodgson has told ITV Sport that although he and his squad have respect for the talents of Uruguay star Luis Suarez, they are not worried by him.
England manager Roy Hodgson said Alex Oxlade-Chamberlain will "without a shadow of a doubt" make the World Cup squad after picking up an injury in the draw against Ecuador.
It looked as though the Arsenal midfielder's World Cup dreams were over after he picked up a knee injury on Wednesday.
But the England manager, who was speaking after the 0-0 draw with Honduras tonight, said: "It's time for the real thing now.
"Everyone is fit. Oxlade-Chamberlain is making good progress. I think he'll make the tournament without a shadow of a doubt."
Load more updates