Liverpool manager Brendan Rodgers has denied that the club put pressure on England boss Roy Hodgson to rest Raheem Sterling
Read the full story ›
England manager Roy Hodgson has apologised to Wayne Rooney for a comment he made about the striker's Liverpudlian accent.
When asked about Rooney's capabilities as Three Lions captain earlier this week, Hodgson said:
"Everyone knows Wayne is not the sort of person with his Liverpool accent who is going to be able to stand up in front of a lecture room of people.
"But he doesn't need to. All he has to do is make certain the players he is talking to understand where he is coming from."
RH on Scouse accent story: "It was in no way aimed at Wayne or anyone from Liverpool- my wife is from Liverpool. I've apologised to WR."
But addressing the media ahead of Thursday's Euro 2016 qualifier against San Marino, Hodgson admitted he felt compelled to say sorry.
"I apologised about the headline," he explained. "He knows it wasn't aimed at him or anyone from Liverpool. My wife's from Liverpool."
Advertisement
England boss Roy Hodgson has dismissed suggestions that Daniel Sturridge was forced to train against his will while on international duty
Read the full story ›
Wayne Rooney has tweeted that it is a "dream come true" to be named England captain.
In an interview on his official website, the Manchester United forward also said he would take "massive pride" in the role.
"As a kid I always loved the occasion of watching a big England game on the television. Back then I had a burning ambition to play for my country. Now to be appointed captain is beyond my wildest dreams," he said.
Being named England captain is a dream and something I'll take great pride in doing. My exclusive interview is here – http://t.co/RwqO59k0vT
He revealed he planned to speak to former captain Steven Gerrard about the demands of the role.
Roy Hodgson says Wayne Rooney's "commitment to the cause", along with his experience captaining Manchester United contributed to the decision to make him the new England captain.
Wayne Rooney will succeed Steven Gerrard as captain of the England football team, manager Roy Hodgson has announced.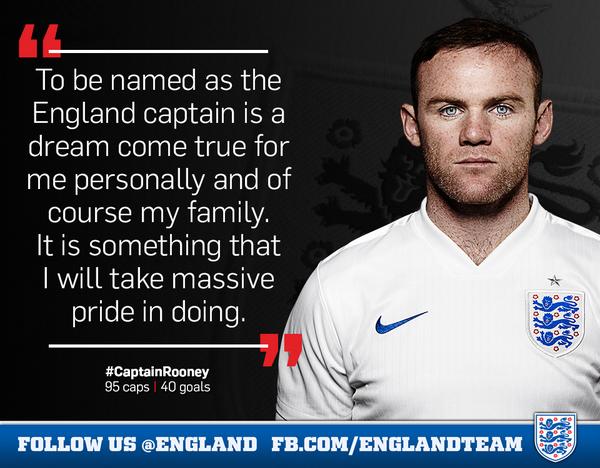 Advertisement
England manager Roy Hodgson has told ITV Sport that although he and his squad have respect for the talents of Uruguay star Luis Suarez, they are not worried by him.
England manager Roy Hodgson said Alex Oxlade-Chamberlain will "without a shadow of a doubt" make the World Cup squad after picking up an injury in the draw against Ecuador.
It looked as though the Arsenal midfielder's World Cup dreams were over after he picked up a knee injury on Wednesday.
But the England manager, who was speaking after the 0-0 draw with Honduras tonight, said: "It's time for the real thing now.
"Everyone is fit. Oxlade-Chamberlain is making good progress. I think he'll make the tournament without a shadow of a doubt."
England coach Roy Hodgson said the Brazil World Cup "is going to be a great adventure" as the squad readied themselves for a trip to Miami ahead of the tournament.
Hodgson said: "We'll all very excited about it. We got the perfect send off really on Friday night, the crowd was magnificent and think we're in a very positive mood. We feel positive we'll do what we can".
Speaking at London's Luton Airport, Hodgson said there was "no trepidation," but that there "was excitement."
"We're aware of our responsibilities - we know that we carry a lot of hopes and dreams with us," he added.
England boss Roy Hodgson has changed his plans over an official trip for players' wives, families and girlfriends to the World Cup warm-up camp in Miami at the start of June.
The Football Association's original plan had been to organise a visit for the families to Florida, but it is understood that will now not take place.
The timetable will now see England play Peru at Wembley on 30th May, have the following day with their families and then join up again with the squad on 1st June to fly to Miami.
Hodgson, however, will not ban players from making their own arrangements for their families or partners to travel to Miami or after that to Brazil, but any time spent together then will have to fit in with training and match schedules, and any other England duties.
The whole issue of the WAGs has been controversial since the 2006 World Cup, when there was criticism that the high-profile antics of players' loved ones at the Baden Baden base was a distraction for the team.
Load more updates