Primates have "very complex needs" that cannot necessarily be met in a "household environment", an animal rights campaigner said.
Senior scientific officer Dr Ros Clubb for the RSPCA said:
In the absence of a ban, we welcome the committee's recommendations to review and improve Defra's Code of Practice for the Welfare of Privately-Kept Primates.

Primates have very complex needs and the level of suffering is high if these requirements are not met.

In short, primates are wild animals that cannot have their needs met in a household environment. They are not pets.

Specialist expert knowledge and facilities are required to look after primates properly, which the vast majority of people lack. This is illustrated by the increase in the number of convictions for cruelty to primates.
– Dr Ros Clubb
An angling club official is waiting for a response from the RSPCA, after reporting the find of four swans' heads in Buckinghamshire.
Steaven Cooper filed his report today, after finding four heads close to Mount Farm Lake, Milton Keynes, during the last three weeks.
A spokesman for the RSPCA said in most instances, the deaths would've been caused by animals, but this could not be established without further investigation.
As he says he has contacted us, I am sure we will get back to him. It is something we would certainly look into. In the majority of such cases, it is down to animal kill, but we do not know in this case until we have looked into it.
– RSPCA spokesman
Advertisement
A member of an angling club in Buckinghamshire has asked the RSPCA to investigate, after finding the severed heads of four swans.
Steaven Cooper, fisheries officer and secretary of the Beacon Angling Club, said he found the heads close to Mount Farm Lake in Milton Keynes.
He only found a swan's head and body in one instance and said he thought they might have been killed for food.
We have found four heads, and only one of them had the body close by it. That was near the Inn on the Lake pub, so the person may have been disturbed while doing it. As fisheries officer, I found them all, with bailiffs on the lake, over the last three weeks. I have tended to find them early in the morning. There is an area of the lake that is currently out of bounds for fishing, and I have found them in that area, which is quiet. The swans are friendly, and an easy target. I'm beginning to think that people are doing it for food.
– Steaven Cooper
He said it looked as if the birds' heads had been taken off by a sharp blade and he didn't think they had been killed by an animal. He said police had told him to contact the the RSPCA. Police had no information on the matter.
Rescue workers from the RSPCA have been rescuing distressed animals from flooded areas and providing advice to concerned pet owners.
Read the full story ›
The RSPCA is sending officers to help evacuate vulnerable animals in the flood-hit towns and villages along the River Thames.
The wildlife charity says it has received more than 5,000 calls since flooding began and is "really struggling" to deal with the volume of demand, especially to help vulnerable horses.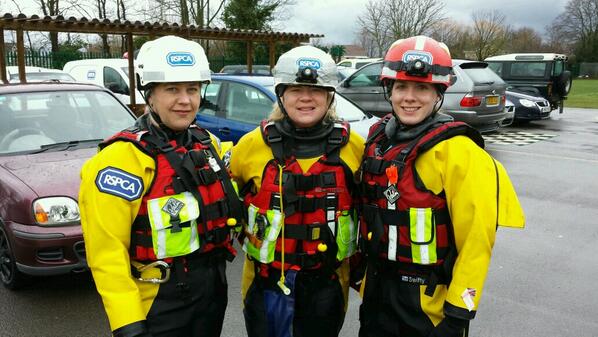 The RSPCA has warned owners to take special care of their pets after reports of cats being lifted into the air by strong winds.
Amid warnings of more heavy weather over the coming days, the RSPCA has appealed to pet owners "to take precautions ahead of the storms and high winds".
"There have been recent media reports of cats being lifted into the air by the strong gusts in some parts of the country, and others of dogs who have got swept away in flood water during walks," said the RSPCA.
"It might be necessary to keep cats inside if the winds become very extreme."
The RSPCA has advised dog owners to consider putting coats on them when outside, and to give rabbits in hutches more hay to burrow into "to make them feel more secure".
Advertisement
The RSPCA have reported an "alarming trend" in people drinking alcohol with a goldfish inside as part of the controversial 'neknomination' craze.
The drinking game, which sees people being challenged to drink large quantities of alcohol before nominating a friend to do the same or more extreme feats, has been heavily criticised after the deaths of two young men last week.
The organisation revealed that they have received 14 calls about footage showing people drinking a shot of alcohol with a live fish inside.
"We are extremely concerned about this shocking new trend. We have had quite a few similar cases reported to us in a very short space of time – but this could be just the tip of the iceberg as there's probably many more we have not been told about," RSPCA scientist Nicola White said.
The animal welfare charity said "eating a live animal and posting of a film of it on the internet is not some light-hearted joke" and was a criminal offence under the Animal Welfare Act.
The RSPCA has advised cat owners to remain calm following the apparent 'beheadings' of six cats in two weeks in Kent.
A warning about the incidents in the Quinton area of Kent was posted the local site The Gossip Board - Sittingbourne, Kent Online reported.
An RSPCA spokesman said: "These deaths must be a very upsetting for the cats' owners.
"However, we want to reassure pet owners that thankfully acts of deliberate violence against dead cats are rare and thorough research has shown that these kind of injuries are caused by wildlife after death and due to the small teeth it leaves a very clean wound.
"This would not even be apparent to a vet without an in-depth post mortem."
The paper reported that concerns were also raised after two cats in the nearby Milton area were found covered in a glue-like substance, while another was found with its fur shaved.
A man has been banned from keeping animals for 10 years after he was filmed bouncing a cat up and down like a yo-yo.
Matthew Coffin, 27, was recorded abusing one-year-old Daisy the cat by his friends at his flat in Southampton.
RSPCA inspector Penny Baker said: "The 10 year ban handed down by the court shows how seriously they viewed these offences.
"Daisy was less than a year old at the time and didn't weigh much. If he had done that when she was older and heavier then he could have caused serious damage to her spine."
Mr Coffin admitted to a magistrates' court that he had been showing off.
A man has been arrested after a wild deer was allegedly shot with a crossbow in the Plymouth area.
Devon and Cornwall Police arrested a man in possession of a crossbow and he is now helping both police and the RSPCA with their inquiries.
"It is possible that the deer has been wounded and is still alive," a police spokesman said.
"Efforts are being made by the police and RSPCA to track and locate the deer so that it can be treated for any injuries sustained".
Load more updates