Rescue workers from the RSPCA have been rescuing distressed animals from flooded areas and providing advice to concerned pet owners.
Read the full story ›
The RSPCA is sending officers to help evacuate vulnerable animals in the flood-hit towns and villages along the River Thames.
The wildlife charity says it has received more than 5,000 calls since flooding began and is "really struggling" to deal with the volume of demand, especially to help vulnerable horses.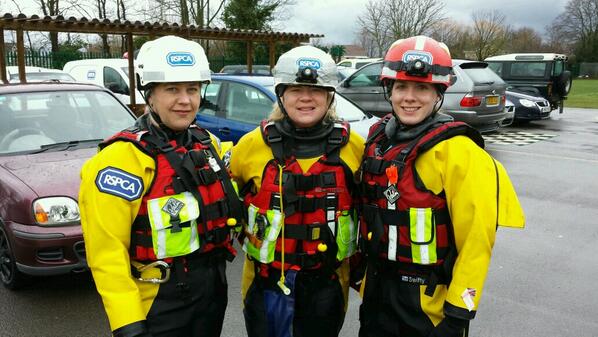 Advertisement
The RSPCA has warned owners to take special care of their pets after reports of cats being lifted into the air by strong winds.
Amid warnings of more heavy weather over the coming days, the RSPCA has appealed to pet owners "to take precautions ahead of the storms and high winds".
"There have been recent media reports of cats being lifted into the air by the strong gusts in some parts of the country, and others of dogs who have got swept away in flood water during walks," said the RSPCA.
"It might be necessary to keep cats inside if the winds become very extreme."
The RSPCA has advised dog owners to consider putting coats on them when outside, and to give rabbits in hutches more hay to burrow into "to make them feel more secure".
The RSPCA have reported an "alarming trend" in people drinking alcohol with a goldfish inside as part of the controversial 'neknomination' craze.
The drinking game, which sees people being challenged to drink large quantities of alcohol before nominating a friend to do the same or more extreme feats, has been heavily criticised after the deaths of two young men last week.
The organisation revealed that they have received 14 calls about footage showing people drinking a shot of alcohol with a live fish inside.
"We are extremely concerned about this shocking new trend. We have had quite a few similar cases reported to us in a very short space of time – but this could be just the tip of the iceberg as there's probably many more we have not been told about," RSPCA scientist Nicola White said.
The animal welfare charity said "eating a live animal and posting of a film of it on the internet is not some light-hearted joke" and was a criminal offence under the Animal Welfare Act.
The RSPCA has advised cat owners to remain calm following the apparent 'beheadings' of six cats in two weeks in Kent.
A warning about the incidents in the Quinton area of Kent was posted the local site The Gossip Board - Sittingbourne, Kent Online reported.
An RSPCA spokesman said: "These deaths must be a very upsetting for the cats' owners.
"However, we want to reassure pet owners that thankfully acts of deliberate violence against dead cats are rare and thorough research has shown that these kind of injuries are caused by wildlife after death and due to the small teeth it leaves a very clean wound.
"This would not even be apparent to a vet without an in-depth post mortem."
The paper reported that concerns were also raised after two cats in the nearby Milton area were found covered in a glue-like substance, while another was found with its fur shaved.
A man has been banned from keeping animals for 10 years after he was filmed bouncing a cat up and down like a yo-yo.
Matthew Coffin, 27, was recorded abusing one-year-old Daisy the cat by his friends at his flat in Southampton.
RSPCA inspector Penny Baker said: "The 10 year ban handed down by the court shows how seriously they viewed these offences.
"Daisy was less than a year old at the time and didn't weigh much. If he had done that when she was older and heavier then he could have caused serious damage to her spine."
Mr Coffin admitted to a magistrates' court that he had been showing off.
Advertisement
A man has been arrested after a wild deer was allegedly shot with a crossbow in the Plymouth area.
Devon and Cornwall Police arrested a man in possession of a crossbow and he is now helping both police and the RSPCA with their inquiries.
"It is possible that the deer has been wounded and is still alive," a police spokesman said.
"Efforts are being made by the police and RSPCA to track and locate the deer so that it can be treated for any injuries sustained".
General Sir Barney White-Spunner has urged members of the Countryside Alliance to stop donating to animal charity the RSPCA, according to The Telegraph.
In an interview for the newspaper, Sir Barney said: "It's a sad story.
"It's got plenty of money but its membership has plummeted. A once great British institution has been turned from an animal welfare organisation to one concerned with animal rights.
"They have no statutory responsibility, yet when their inspectors turn up in uniform it's as a private organisation. There is something rather sinister and nasty about it. Why should they, just because they are rich, tell us how to behave towards animals?"
An RSPCA advert suggesting that badgers in cull areas would be "exterminated" has been banned following 119 complaints.
The ad featured an image of a syringe and bullet at the top of the page with a headline reading "Vaccinate or exterminate?" before text continued: "The UK government wants to shoot England's badgers. We want to vaccinate them - and save their lives."
Conservative MP Simon Hart, the Farmers' Union of Wales, Welsh Conservative AM Antoinette Sandbach and 116 members of the public complained about the ad, with most saying the term "exterminate" was inaccurate and alarmist.
The RSPCA said the word "exterminate" was used carefully and deliberately, saying it had "a literal meaning of total eradication and a common use meaning of killing on a massive scale".
The Advertising Standards Agency said: "...Consumers were likely to interpret the claim, along with the text 'The UK government wants to shoot England's badgers', to mean that all badgers would be eradicated in the cull areas. On that basis, we concluded the claim was likely to mislead."
It ruled that the ad must not appear again in its current form.
The RSPCA are desperately trying to capture a duck which has been shot through the neck with a crossbow bolt.
The mallard is believed to have been shot in Tewkesbury, Gloucestershire, three weeks ago, but is still swimming around unbothered, and as yet has evaded capture by concerned animal welfare inspectors.
RSPCA spokeswoman Katya Mira has appealed for anyone who knows who shot the duck to come forward.
"Our inspectors have been out several times, as have staff from another wildlife centre nearby, and no one has yet been able to catch the duck.
"The duck does appear to be fully functioning and OK for now. But this does mean he can fly, so tends to take off whenever he sees a net or anyone gets near.
"In the meantime, if anyone has any information about the duck and how she came to be attacked with a dart in this way, they should call our investigations line."
Load more updates