Ashton, a fellow England player, popped the question to nanny Melissa Uzelac as they enjoyed a break in New York.
But the sportsman told Hello! magazine that the proposal took a toll on his joints, saying: "My knee was sore from bending down - I must be getting old."
He said he had long been planning the proposal to his girlfriend of six-and-a-half years, during the holiday.
Police have released a picture of a 14-year-old girl who has been missing since yesterday.
Heidi James, who is also known as 'Beth', is believed to have left her home address in Main Street, Long Lawford, Rugby, sometime after 4:30am on New Year's Day.
She has links with Northamptonshire, including Corby and Wellingborough.
She is described as white, 5'7" tall, slim build with shoulder length black hair usually tied in a ponytail. She is believed to be wearing a black onesie with pink hearts on and a dark purple sweater and brown ugg boots. She was not wearing a coat.
Advertisement
Police in Warwickshire are appealing for help to find a 14-year old girl who went missing earlier today.
Heidi James, who's also known as Beth, from Lawford near Rugby, is believed to have left her home after 4.30 this morning.
Officers say Heidi has links to Northamptonshire, including the Corby and Wellingborough areas.
She's described as white, around 5ft 7in and of slim build with shoulder-length black hair. She's believed to be wearing a black onesie with pink hearts on it, a purple sweater and brown Ugg boots.
Anyone with information is urged to contact Warwickshire Police.
The captain of the 1995 Rugby World Cup winning team, Francois Pienaar, is giving interviews in the FNB stadium ahead of today's memorial.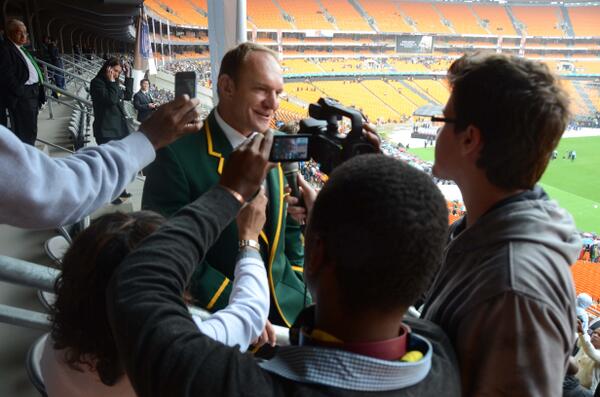 Also present is the current Springbok captain Jean de Villiers.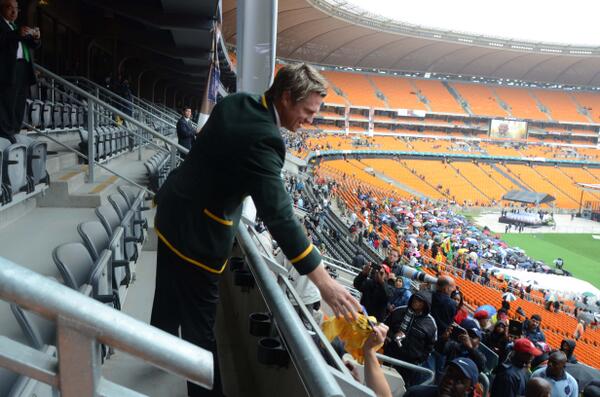 The rugby captain whose handshake with Nelson Mandela came to define the progress of post-apartheid South Africa pays tribute to his idol.
Read the full story ›
Former South African rugby captain Francois Pienaar recalled the moment he met Nelson Mandela before the team won the 1995 Rugby World Cup.
Pienaar said he was shocked to see Mandela wearing the Springboks jersey, adding, "He turned around and my number was on his back.
"That was me. I would run through walls [for Mandela], I would play until I can't play."
Advertisement
The RFU relived England's rugby triumph of 10 years ago, moment by moment, in a live tweet stream complete with highlights - and that kick.
Read the full story ›
David Cameron lost a bet with his New Zealand counterpart on the rugby - and he must pay for it with an pair of cufflinks.
England's 22-30 loss to the All Blacks at Twickenham yesterday means that under the terms of his wager with Prime Minister John Key, Mr Cameron must wear Kiwi cufflinks when he appears in the House of Commons.
The New Zealand prime minister joked after the win:
.@david_cameron Dear David. Those NZ cuff links will look great. Please send pics.
The Duke of Cambridge has arrived at the Millennium Stadium to watch Wales play South Africa for the Prince William Cup.
William, vice patron of the Welsh Rugby Union (WRU), arrived at Cardiff Heliport this afternoon ahead of the hotly anticipated 5.30pm match.
In a statement before the match, William - who will present the Prince William Cup following the match - described the Welsh side as "special".
"It has been an amazing year for Welsh rugby with our triumph at the Six Nations and the Welsh contribution to the British and Irish Lions' historic success in Australia."
William added that he was glad the WRU was taking the time to honour veterans with poppies and a minute's silence, ahead of Remembrance Sunday.
Former St Helens, Hull and Wakefield full-back Steve Prescott has died from stomach cancer aged 39, the Rugby Football League announced today.
A minute's silence was held at Saturday's afternoon's England and Fiji World Cup match and another tribute will take place at Ireland's match against Australia this evening.
Prescott represented both nations - in Hull and Limerick.
RFL chief executive Nigel Wood said: "It is with deep sadness that we have learned of the death of Steve Prescott. Our thoughts are with his family at this terribly sad time.
"The word 'hero' is over-used in sport but Steve was just that: a role model for every young rugby league player during his distinguished playing career and an absolute inspiration to all of us off the field".
Load more updates