The mother of murdered Boris Nemstov's girlfriend is worried her daughter is being treated as if she had something to do with the killing.
Read the full story ›
Russian foreign minister Sergei Lavrov told the main UN human rights forum that the murder of Kremlin critic Boris Nemtsov was a "heinous crime" and that President Vladimir Putin was leading an investigation to bring perpetrators to justice.
He addressed the Geneva forum shortly before US Secretary of State John Kerry and after the foreign ministers of Croatia and Slovakia voiced concern at the killing in Moscow on Friday.
Advertisement
The Russian foreign minister has called on Ukraine to distance itself from 'extremists' and pursue a course towards peace.
Sergey Lavrov says 'tangible progress' has been achieved in implementing the package of measures agreed in Minks and the ceasefire is being consolidated.
Secretary of State John Kerry said the US had no intelligence on who was behind the shooting of Russian opposition politician Boris Nemtsov.
"The bottom line is we hope there will be a thorough, transparent, real investigation, not just of who actually fired the shots, but who, if anyone, may have ordered or instructed this or been behind this," he told ABC News' This Week.
Thousands gathered at a rally in Moscow commemorating the murdered Russian opposition leader Boris Nemtsov.
Demonstrators marched through the centre of Moscow, crossing over the bridge near the Kremlin where the politician was shot dead.
Advertisement
Protesters have gathered outside the Russian Embassy in London and flowers are being laid following the murder of opposition politician Boris Nemtsov.
Thousands gathered for a march in Moscow to honour opposition politician Boris Nemtsov, who was shot dead on Friday.
Nemtsov, who was 55, was one of the leading lights of an opposition struggling to revive its fortunes, three years after mass rallies against Putin that failed to prevent him returning to the presidency after four years as prime minister.
The opposition has little support outside big cities and Putin has now been Russia`s dominant leader since 2000, when ailing President Boris Yeltsin chose the former KGB spy as his successor, a role Nemtsov had once been destined to play.
Nemtsov, a fighter against corruption, had hoped to start the oppositions revival with a march in Marino on the outskirts of Moscow today to protest against Putins economic policies and what they see as Russia`s involvement in the separatist war in east Ukraine. The Kremlin denies any role in the fighting.
A police line which is keeping Boris Nemtsov marchers away from the Kremlin has been formed under the bridge where veteran liberal politician was shot on Friday.
ITV News Europe Editor James Mates is in Moscow: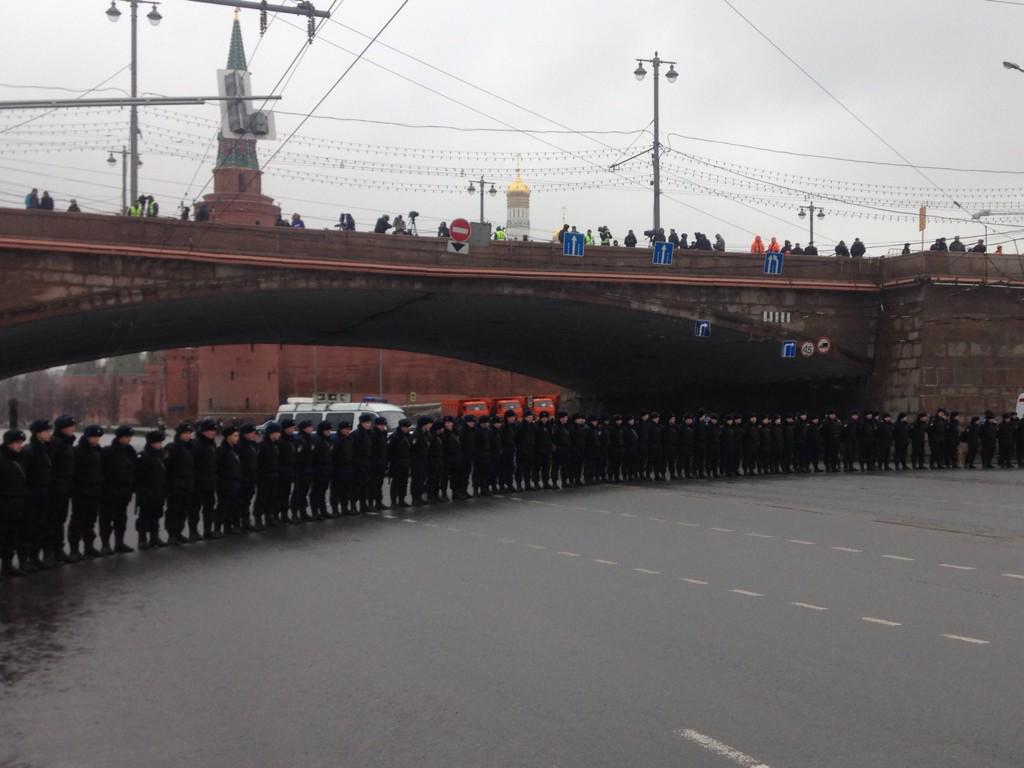 Load more updates