Russian President Vladimir Putin is take a 10% pay cut, Agence France-Presse reports.
The earnings of several other top officials will also be cut. Russia is still reeling from the collapse of the ruble.
The wage reduction also applies to all of those employed by the presidency and the council of ministers affected.
Kremlin critic Alexei Navalny has been released from prison after serving 15 days.
His release comes on week after Russian opposition leader Boris Nemtsov was shot dead in what his allies say was a political killing.
Navalny was released after serving 15 days for handing out leaflets in the Moscow metro to promote a protest rally that had been planned on March 1.
The planned rally turned into a mourning march instead for Nemtsov, a former deputy prime minister. He was shot late in the evening on Feb. 27 within sight of the Kremlin walls.
Advertisement
Foreign Secretary Philip Hammond has said sanctions on Russia must remain in place and warned further sanction were possible if Russia does not comply with the Minsk agreement.
"The European Union will remain united on the question of sanctions, sanctions must remain in place until there is full compliance," Hammond said at a joint conference with his Polish counterpart in Warsaw.
"We will prepare possible new sanctions, which could be imposed quickly if there is further Russian aggression of if the Minsk agreement is not complied with," Hammond said.
The murder of Russian opposition politician Boris Nemtsov had a "political subtext", President Vladimir Putin has said.
In a speech at a meeting with interior ministry officials, Putin - who often came under criticism from Nemtsov - said the country should be "freed" of such killings.
The head of the Russian security service, FSB, said they have identified "several suspects" in the murder of opposition politician Boris Nemtsov, according to the TASS news agency.
Open Kremlin critic Nemtsov, aged 55, was shot four times in the back as he crossed a bridge in Moscow last week.
Thousands of people attended his funeral yesterday.
Thousands have paid their last respects at the funeral of Boris Nemtsov in Moscow.
Orindary citizens were joined by Russian and foreign dignitaries as they mourned the opposition leader who was gunned down last week.
ITV News correspondent Emma Murphy reports:
Advertisement
Thousands of mourners and Russian dignitaries have paid their respects, filing past the white-lined coffin of murdered Kremlin critic Boris Nemtsov as he lay in state.
People gathered in the streets outside the Sakharov Centre museum in Moscow to watch as the coffin was ceremoniously carried to a hearse, before throwing carnations onto the hood as it passed by.
He was then taken for burial at a cemetery on the western edge of the city. A Russian Orthodox priest chanted and said blessings as a smaller party, including family and around 100 guests, looked on.
Murdered Russian politician Boris Nemtsov became an enemy for many in the country because he "spoke the truth", former Prime Minister Mikhail Kasynov said.
Hundreds of people have gathered at the Sakharov Centre museum to pay their respects to the 55-year-old Kremlin critic, who is lying in state for four hours before being transported for burial.
Mr Kasyanov spoke of his disbelief at the murder of his friend and former colleague.
He explained, he discovered the problems, gave arguments, and a lot of people didn't like him. He practically became an enemy for many people.

He became an enemy because he spoke the truth, but many people don't want the truth. They don't like it - not just simply don't like it, but many of them are ready to do what they have done. They are ready for murder, for murder near the Kremlin walls, in the centre of Moscow. Who could have imagined it just three days ago?
– Mikhail Kasyanov, former Russian Prime Minister
Former UK Prime Minister John Major has spoken of the need for an "open, transparent inquiry" into the murder of Russian opposition politician Boris Nemtsov.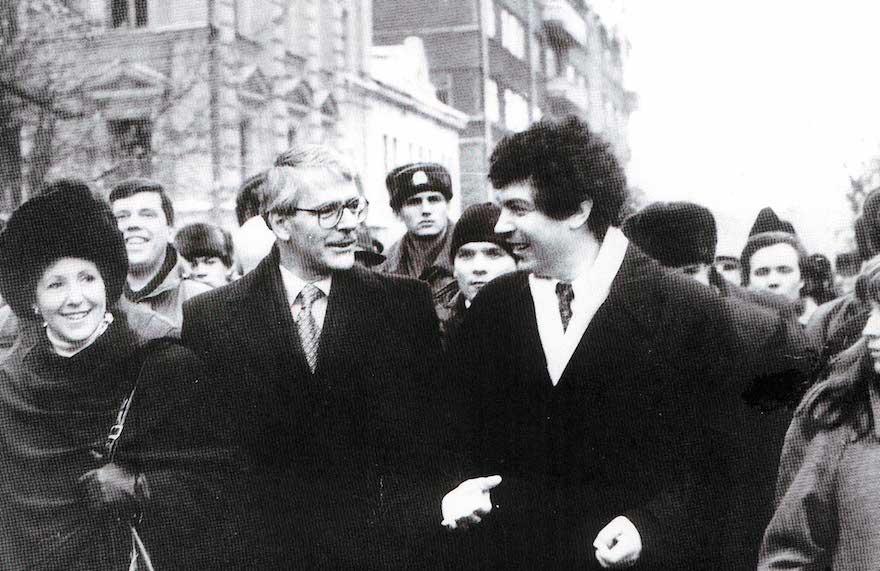 In Moscow at the request of current Prime Minister David Cameron, Mr Major told ITV News that he had visited Russia on many occasions in the past, but said the funeral of Putin critic Nemtsov had "got to be the saddest".
Mr Major said he "liked and admired" Nemtsov, and said his death was a "tragedy" - though refused to say whether he believed the killing was state-sponsored.
He said an "open, transparent inquiry" into his death was crucial, saying it was important not just for Nemtsov and those close to him, but for Russia and the Russian people too.
Former UK Prime Minister John Major has warned that anyone who believed the murder of Russian politician Boris Nemtsov would silence his message had made "a very serious error".
Paying tribute to the opposition party member, who was shot four times in the back by a mystery killer, Mr Major told ITV News that he met Nemtsov in the 90s and had always admired the principles for which he fought.
He stood for the rule of law, he stood for freedom of speech, in a word he stood for liberty. And the things he stood against were very important as well - aggression, repression and corruption.

And if anyone believes that his voice will be silenced by his murder, then I believe they have made a very serious error.
– John Major, former UK Prime Minister
Load more updates