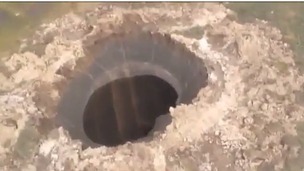 An opening in the earth in gas-rich northern Siberia could have been caused by a natural underground explosion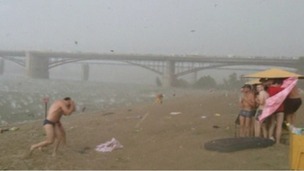 Stunning footage shows how tourists enjoying a hot, sunny day at a beach in Siberia were interrupted by a sudden and terrifying hailstorm.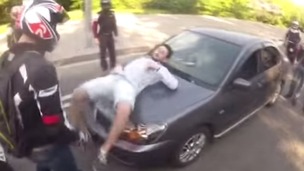 You can imagine a girlfriend's horror when her boyfriend is "attacked" by a group of bikers, but this tale had a strangely romantic ending.
Live updates
US accuses Russia of violating nuclear treaty
European Union sanctions will send a "very tough message" to Russia, according to Prime Minister David Cameron.
He said: "The sanctions really relate to Vladimir Putin's and Russia's behaviour, and we want to make it absolutely clear that Russia's behaviour in destabilising another country - Ukraine - is unacceptable."
He added: "It was very clear in my conference call with President Obama, President Hollande, Chancellor Merkel and prime minister Renzi yesterday that we are united in sending that very tough message. It's a message that will be backed by tough action."
US accuses Russia of violating nuclear treaty
Former foreign secretary Sir Malcolm Rifkind has called for tougher sanctions to ensure Russia changes policy in eastern Ukraine, describing previous measures against Vladimir Putin "pretty useless".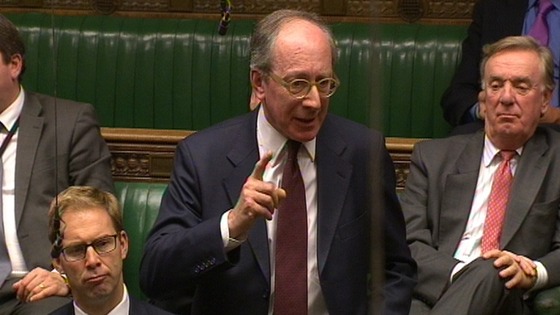 "When you get into the situation of preventing them having access to financial markets, preventing high quality technology exports to their energy industry, that goes to the very heart of the Russian economy," he told BBC Radio 4's Today programme.
Sir Malcolm said world leaders must make clear to Mr Putin that he needs to leave the Ukrainians to "resolve their own problem", by ceasing to provide military equipment and other support to separatist rebels.
However, he described Nick Clegg's call for Russia to lose hosting rights to the 2018 World Cup as "pretty amateur", adding: "A heck of a lot is going to happen between now and then."
Advertisement
US accuses Russia of violating nuclear treaty
Russia's says a UN human rights report criticising pro-Russian separatists in eastern Ukraine was "hypocritical".
The paper on fighting in the region argued that "a reign of fear and terror" had been inflicted on the people by armed militia backed by Russia.
It suggested rebels were using torture and detention to "exercise their power over the population in raw and brutal ways".
Russia's Foreign Ministry described the report as "unobjective and even hypocritical", adding that it failed to mention the detentions of Russian journalists in eastern Ukraine and the reported use of heavy rockets by the Ukrainian army against civilians.
US accuses Russia of violating nuclear treaty
Oil giant BP has warned that further international sanctions on Russia could harm the company's profits.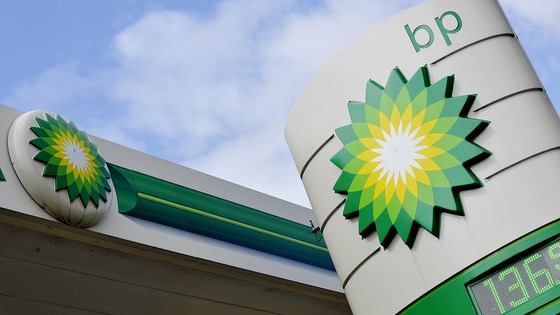 The UK business owns a 19.75% stake in Russian oil firm Rosneft, which is the subject of sanctions preventing it from using US financial institutions for new loans over a period longer than 90 days.
In its second-quarter results, BP said further international sanctions on Rosneft or on Russia could have a "material adverse impact" on its investment in Rosneft, its business in Russia and its own financial position.
Profits for the quarter to June 30 were $3.18 billion (£1.87 billion), up by a third on the same period a year earlier but down 8% on the previous quarter.
The investment in Rosneft, which is Russia's biggest oil producer, was a factor in the improved performance by BP as profits from the relationship nearly doubled to just over $1 billion (£589 million) in the second quarter.
US accuses Russia of violating nuclear treaty
In another sign of deteriorating relations between the United States and Russia, the US government said that Moscow had violated the Intermediate Range Nuclear Forces treaty, and urged immediate bilateral talks on the issue.
This is a very serious matter which we have attempted to address with Russia for some time now.

The United States will, of course, consult with allies on this matter to take into account the impact of this Russian violation on our collective security if Russia does not return to compliance.
– White House Statement
US accuses Russia of violating nuclear treaty
US vice president Joe Biden told Ukrainian prime minister Arseny Yatseniuk on that the United States would provide almost $7m (£4.1m) in reconstruction aid to parts of eastern Ukraine, including $1m (£0.6m) in new support, the White House said.
The aid includes contributions to the Red Cross and United Nations High Commissioner for Refugees for medical aid, access to drinking water, and small rebuilding projects, the WhiteHouse said.
Advertisement
US accuses Russia of violating nuclear treaty
European Union diplomats have reached preliminary agreement on a new list of individuals and organisations in Russia to be targeted with sanctions, according to EU sources.
US accuses Russia of violating nuclear treaty
There's been a real injection of steel into the West's approach to Russia today the most visible aspect of it that Nato exercise which will take place in Poland in October.
The Defence Secretary and Foreign Secretary were in Warsaw today to announce that 1,300 British troops would be there - ostensibly to reassure eastern European allies, but, of course, there was a big message to Russia within that, that Nato will defend its borders.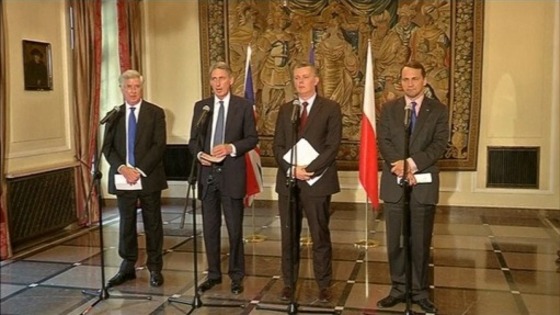 The phone call between the Prime Minister, President Obama and the leaders of France, Germany and Italy today agreed that Russia had failed to de-escalate the situation in Ukraine and that the EU should move as swiftly as possible to major new sanctions.
That means tomorrow when there's a meeting on this in Brussels and the expectation is that much more substantial sanctions will come into place across broad sectors of the Russian economy.
Read: Russia: Sanctions 'will not achieve their goal'
Finally, a reminder tomorrow that, very sadly, this is about people as the relatives of victims of the MH17 crash visit Downing St.
US accuses Russia of violating nuclear treaty
White House adviser Tony Blinken says there is evidence that Russia is preparing to deliver more powerful rocket launchers to separatist rebels in eastern Ukraine.
Western powers have accused pro-Russian rebels in the area of shooting down Malaysia Airlines flight MH17 with a rocket.
US accuses Russia of violating nuclear treaty
The UK is to send a "full battle group" of 1,350 personnel to a major military exercise in Poland as part of a Nato package to reassure Eastern European allies, Defence Secretary Michael Fallon has announced.
Load more updates
Back to top