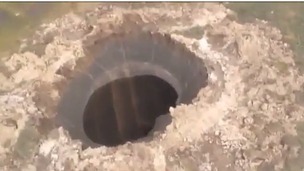 An opening in the earth in gas-rich northern Siberia could have been caused by a natural underground explosion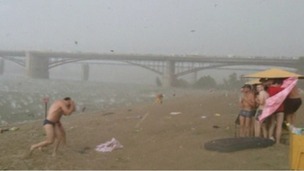 Stunning footage shows how tourists enjoying a hot, sunny day at a beach in Siberia were interrupted by a sudden and terrifying hailstorm.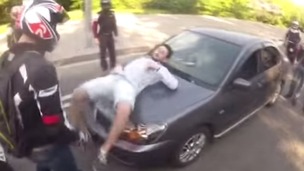 You can imagine a girlfriend's horror when her boyfriend is "attacked" by a group of bikers, but this tale had a strangely romantic ending.
Live updates
Putin judo partner among Russians hit by sanctions
US vice president Joe Biden told Ukrainian prime minister Arseny Yatseniuk on that the United States would provide almost $7m (£4.1m) in reconstruction aid to parts of eastern Ukraine, including $1m (£0.6m) in new support, the White House said.
The aid includes contributions to the Red Cross and United Nations High Commissioner for Refugees for medical aid, access to drinking water, and small rebuilding projects, the WhiteHouse said.
Putin judo partner among Russians hit by sanctions
European Union diplomats have reached preliminary agreement on a new list of individuals and organisations in Russia to be targeted with sanctions, according to EU sources.
Advertisement
Putin judo partner among Russians hit by sanctions
There's been a real injection of steel into the West's approach to Russia today the most visible aspect of it that Nato exercise which will take place in Poland in October.
The Defence Secretary and Foreign Secretary were in Warsaw today to announce that 1,300 British troops would be there - ostensibly to reassure eastern European allies, but, of course, there was a big message to Russia within that, that Nato will defend its borders.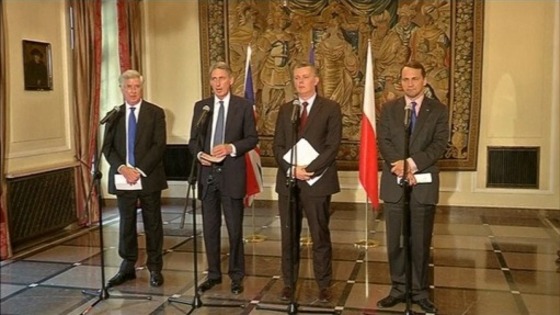 The phone call between the Prime Minister, President Obama and the leaders of France, Germany and Italy today agreed that Russia had failed to de-escalate the situation in Ukraine and that the EU should move as swiftly as possible to major new sanctions.
That means tomorrow when there's a meeting on this in Brussels and the expectation is that much more substantial sanctions will come into place across broad sectors of the Russian economy.
Read: Russia: Sanctions 'will not achieve their goal'
Finally, a reminder tomorrow that, very sadly, this is about people as the relatives of victims of the MH17 crash visit Downing St.
Putin judo partner among Russians hit by sanctions
White House adviser Tony Blinken says there is evidence that Russia is preparing to deliver more powerful rocket launchers to separatist rebels in eastern Ukraine.
Western powers have accused pro-Russian rebels in the area of shooting down Malaysia Airlines flight MH17 with a rocket.
Putin judo partner among Russians hit by sanctions
The UK is to send a "full battle group" of 1,350 personnel to a major military exercise in Poland as part of a Nato package to reassure Eastern European allies, Defence Secretary Michael Fallon has announced.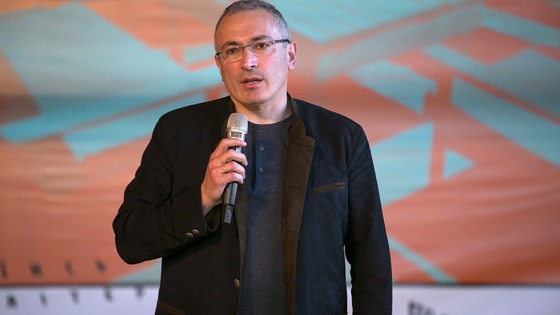 Russia must pay shareholders in defunct oil giant Yukos around $50 billion (£29 billion) for seizing the company once controlled by Mikhail Khodorkovsky, an international arbitration court has ruled.
The court in Hague said it had awarded the shareholders group just under half of their $114 billion (£67 billion) claim as damages for money they lost.
Mr Khodorkovsky, who is not part of the current arbitration case, was arrested at gunpoint in 2003 and convicted of theft and tax evasion in 2005.
His company, once worth $40 billion (£24 billion), was broken up and nationalised, with most assets handed to Rosneft, a company run by Igor Sechin, an ally of President Vladimir Putin.
Russian Foreign Minister Sergei Lavrov said Moscow would most likely appeal the decision.
Advertisement
Experts reach MH17 crash site for first time in a week
The U.S. and EU sanctions imposed against Russia over the conflict in eastern Ukraine will "not achieve their goal," Russian Foreign Minister Sergei Lavrov said.
Speaking to reporters in Moscow, Mr Lavrov said the sanctions may result in Russia becoming more economically independent.
"(Sanctions) simply cannot achieve (their aim) ... I assure you, we will overcome any difficulties that may arise in certain areas of the economy, and maybe we will become more independent and more confident in our own strength.
– Sergei Lavrov, Russian Foreign Minister

Read: Experts cancel MH17 site visit over disputed security threat
Britain 'exporting millions of pounds of arms to Russia'
Before MH17 flight was shot down over eastern Ukraine, the UK government announced arms sales to Russia would end due to the conflict in the region.
But millions of pounds worth of weapons continue to be shipped, prompting MP's to suggest the Conservative government has double standards.
ITV News' Political Correspondent Romilly Weeks reports:
More: Britain 'exporting millions of pounds of arms to Russia'
Britain 'exporting millions of pounds of arms to Russia'
Boris Johnson says checks should be made on the Russian banker who bid £160,000 for a tennis match involving the London Mayor and David Cameron.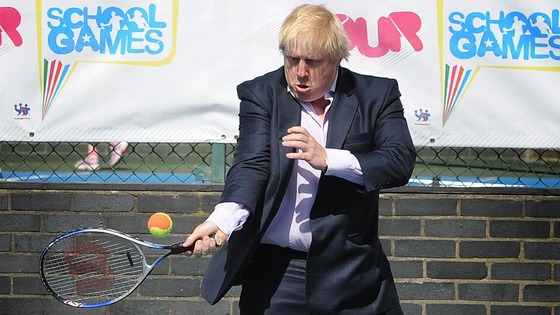 Speaking to Sky News, Mr Johnson appeared to suggest the match might not go ahead if her husband - Russian ex-finance minister Vladimir Chernukhin - turned out to be "an intimate or a crony" of Mr Putin's.
"I think you have to do stuff that actually hits Putin and his government where it hurts," he said.
"I know about this tennis match they volunteered me for with some geezer. It is very important full checks are carried out to make sure this is not someone who is an intimate or a crony."
Britain 'exporting millions of pounds of arms to Russia'
The Conservative Party has been urged to return a £160,000 donation it received from the wife of one of Vladimir Putin's former ministers for a tennis match with David Cameron and Boris Johnson.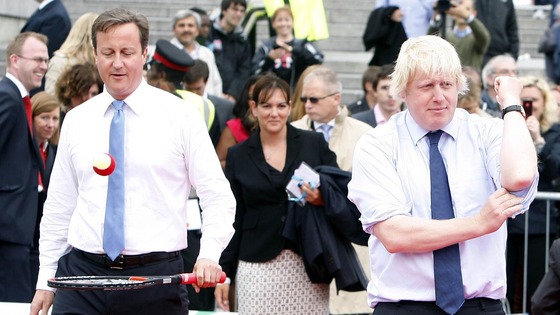 Banker Lubov Chernukhin, whose husband served in the Russian Cabinet in 2000, made the winning bid for a doubles match last month.
It is one of more than £900,000 of donations that Labour say the Tories have received from people with links to the Russian government or "who may be hit by the sorts of sanctions" sought by the PM.
Opposition figures have called on the Prime Minister to ensure the money is returned, with MP Sheila Gilmore saying: "There can be no impression of conflicts of interest or hypocrisy at such an important time."
Come on David Cameron. Pay back the Tory donations from Putins pals
A Conservative spokesman said: "All donations to the Conservative Party are fully and transparently declared to the Electoral Commission and published on their website."
Load more updates
Back to top