Ukraine's President Petro Poroshenko says a number of Nato countries have agreed to deliver weapons directly to Kiev.
In a statement President Poroshenko said several countries were prepared to supply "state-of-the-art weapons" to help in the fight against pro-Russian separatists. He said: "Although we count solely on ourselves, we vitally need financial and technical military assistance. And we will get it".
He added that in general the current ceasefire was holding except for incidents in Donetsk and Mariupol.
European Union governments have delayed signing off on a new package of sanctions against Russia over its involvement in Ukraine as a fragile ceasefire continues.
Some governments want to discuss how the sanctions, which have been agreed in principle, can be implemented and then suspended if the truce holds or even if they are needed at all at this stage, according to diplomats.
Advertisement
Ukrainian President Petro Poroshenko says Kiev has handed over 1,200 prisoners of war to the separatists as part of the ceasefire agreement.
The official monitoring mission in eastern Ukraine says it has observed mortar fire near Donetsk International Airport and exchanges of fire in the surrounding area.
The Organization for Security and Cooperation in Europe monitoring mission's most recent report, from Sunday, noted "evidence of an exchange of fire close to the area of Donetsk International Airport, and in Shchastya, 20 km north of Luhansk".
It also saw "numerous impacts from shelling" in nearby Spartak, and heard shelling close to the coastal city of Mariupol on Saturday night.
Ukrainian President Petro Poroshenko has arrived in the south-eastern city of Mariupol, his press secretary Svyatoslav Tsegolko reported on Twitter.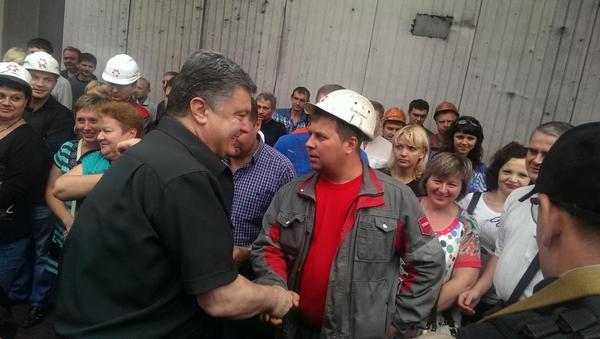 President Poroshenko is quoted as saying: "We will not give up this land to anybody".
He also ordered the reinforced defence of Mariupol with tanks, rocket-launchers and aerial defence, according to Reuters.
The European Union will press ahead with implementing new sanctions on Russia later today despite a shaky ceasefire in Ukraine, the European Commission said.
Details will be published in the EU's Official Journal on Tuesday at the latest, Commission spokeswoman Pia Ahrenkilde-Hansen told reporters.
Advertisement
The number of people killed in the Ukraine conflict has risen to 2,729 - or more than 3,000 if the victims of the MH17 plane disaster are included - according to a UN human rights official.
Ivan Simonovic, UN Assistant Secretary General for Human Rights, said the figure had risen since the death toll of 2,593 that he reported in late August.
A United Nation human rights official has said that the actual number of people killed in the conflict in eastern Ukraine "may be significantly higher" than previously reported.
The chair of the Organisation for Security and Cooperation in Europe (OSCE) has said that the ceasefire in eastern Ukraine is still holding "overall" but that it remains shake.
Didier Burkhalter said the next few days are crucial for the ceasefire's success.
The OSCE helped broker the truce and is monitoring its implementation on the ground.
Rebel leaders in eastern Ukraine are preparing to exchange prisoners with Ukrainian forces on Wednesday, a senior pro-Russian separatist leader was quoted as saying.
Interfax news agency cited Andrei Purgin, who took part in peace talks with Kiev on Friday, said he hoped an "all-for-all" exchange would go ahead. Plans to exchange captives were agreed during Friday's talks.
Load more updates