Vladimir Putin has written a letter telling Boris Nemtsov's mother, Dina Eidman that he 'shares her sorrow.'
The message of condolences from the President, published on the Kremlin website, reads in part:
Please accept my deepest condolences in connection with this irreparable loss. I sincerely share your sorrow.

Boris Nemtsov has left his mark in the history of Russia, in its political and public life. He occupied significant posts in a difficult time of transition in this country. He always openly and honestly voiced and upheld his views.

We will do everything to ensure that the perpetrators of this foul and cynical crime and those who stand behind them are properly punished.
– Vladimir Putin
The death of Boris Nemtsov hits particularly hard because he represented what post-Communist Russia might have become.
Read the full story ›
Advertisement
Crowds have gathered at the site near the Kremlin where Boris Nemtsov was murdered last night.
Candles have been lit and flowers left as many in the crowd cried after the death of the Russian opposition leader.
David Cameron has said those responsible for the "callous" murder of Boris Nemtsov must be "fully, rapidly and transparently investigated and brought to justice".
I am shocked and sickened by the callous murder of Boris Nemtsov as he walked in the heart Moscow last night. This despicable act must be fully, rapidly and transparently investigated, and those responsible brought to justice.

Boris Nemtsov was a man of courage and conviction. His life was dedicated to speaking up tirelessly for the Russian people, to demanding their right to democracy and liberty under the rule of law, and to an end to corruption. He did so without fear, and never gave in to intimidation. He was greatly admired in Britain, not least by his friend Lady Thatcher, who visited him in Russia and who would have been appalled by today's news. The courage of Nemtsov's life contrasts with the utter cowardice of his murder.

I extend my condolences to Boris Nemtsov's family and friends. The Russian people have been deprived of a champion of their rights. Boris Nemtsov is dead. But the values he stood for will never die
– David Cameron
A businessman who has written a book criticising Vladimir Putin has the regime for the death of opposition politician and former deputy Prime Minister Boris Nemtsov who was shot dead on a street in Moscow last night.
Last night Russia entered a new and dark phase in its slide toward totalitarian dictatorship with the murder of Boris Nemtsov. Previously, the Putin regime relied primarily on imprisonment and exile to silence its critics. Now, they have started murdering them. I'm sure this won't be the last.

Boris Nemtsov was one of the few people in Russia who wasn't afraid to stand up to the corruption, illegitimatacy and impunity of the Putin regime and for that he paid with his life. I will always remember how Boris went around the world calling for justice for the murder of Sergei Magnitsky and demanding Western sanctions against his killers. It is now our duty to do the same for Boris.

I have no confidence in any Russian investigation into his death because the Putin regime proved its incapacity to do this with the cover up of the Magnitsky murder.

I can only hope that Boris Nemtsov's legacy will ultimately bring about the democratic change in Russia he worked his whole life to achieve.

May Boris rest in peace.
– Bill Browder
Russia's investigative committee has said it is investigating several lines of inquiry in the Nemtsov murder case, including a possible Islamic extremist terror attack.
Another line of enquiry is that is was politically motivated, the Interfax news agency reported.
Advertisement
Russian politician and former chess Grand Master Garry Kasparov was devastated to hear of the killing of opposition colleague Boris Nemstov in Moscow on Friday.
Mr Kasparov posted a message to his Facebook page paying tribute to the former deputy prime minister.
Sorry, this content isn't available on your device.
The Russian Prime Minister Dmitry Medvedev has given his "deepest condolences" to the family and friends of Russian politician, Boris Nemstov, who was shot down in the street near the Kremlin in Moscow yesterday.
The Government of Russia's official English-language Twitter account said:
Dmitry Medvedev has expressed his deepest condolences to family and friends of Russian politician Boris Nemtsov
The UK will follow closely the investigation into the murder of a key Russian opposition politician who was gunned down near the Kremlin in Moscow, the Foreign Office has said.
Former deputy prime minister Boris Nemstov - a prominent critic of president Vladimir Putin and the conflict in Ukraine - was hit by four shots from a passing vehicle two days before a major opposition rally in the Russian capital.
A Foreign Office spokeswoman said:
We are shocked and saddened by news that former Russian deputy prime minister Boris Nemtsov has been shot and killed in Moscow. Our thoughts are with his family and we offer our condolences to them. We deplore this criminal act. Those responsible must be brought to justice. We will continue to follow the situation closely.
– UK Foreign Office
Mr Nemtsov was reported to have warned in a recent interview that he believed Mr Putin would have him killed.
Russian mourners have reportedly begun to lay flowers near the spot where Russian politician Boris Nemstov was gunned down in Moscow.
Mr Nemstov was former deputy Prime Minister and a vocal opponent of Vladimir Putin.
Russian state news agency Ria Novosti have tweeted this image: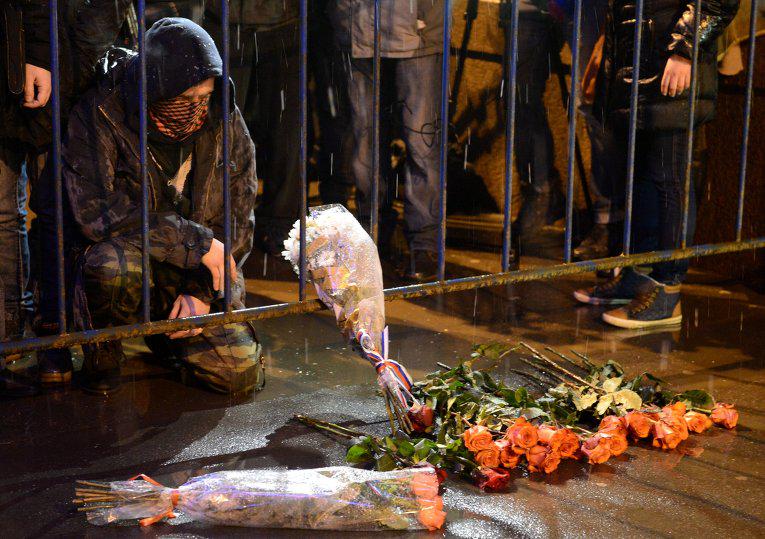 Load more updates