At least 43 people have died after a Russian trawler sank late on Wednesday in the Western Pacific Ocean near the Kamchatka Peninsula, the TASS news agency reported, citing an officer at a maritime rescue coordination centre in the area.
There were 132 people on board the Dalniy Vostok freezer trawler and 63 people have been rescued, TASS said.
Russian goalkeeper Igor Akinfeev has been struck by a flare thrown from the crowd during a Euro 2016 qualifier in Montenegro.
The match was briefly suspended and the teams taken off the field after the incident shortly after kick off at the Gradski Stadium in Podorica.
Akinfeev was taken away for treatment before the players returned to continue the match.
Advertisement
A Russian UTair passenger plane which requested an emergency landing at St Petersburg's Pulkovo airport has landed safely, a Russia aviation industry source has said.
Russian air company UTair has confirmed one of its Boeing 737 airplanes has requested an emergency landing at St. Petersburg's Pulkovo airport, a spokeswoman for the company said.
Earlier a Russian aviation source said one engine on the plane had failed and that it was due to make the landing at 12:25 pm (9.25am).
A Boeing 737 plane carrying 78 passengers plus crew has requested an emergency landing at the main airport in Russia's second city of St. Petersburg, a Russian aviation source said on Wednesday.
The source said one engine on the plane had failed. No more details were immediately available.
David Cameron has launched a new drive to bolster former communist states under pressure from Vladimir Putin as the stand-off between Russia and the West over Ukraine continues.
The Prime Minister is setting up a £20 million Good Governance Fund to strengthen democratic institutions across a series of Eastern European states to help them counter intimidation from the Kremlin.
British officials said the scheme is based on the Know-How Fund set up by Margaret Thatcher following the fall of the Berlin Wall to help Poland and other former Soviet bloc states make the transition to democracy.
The move came as EU leaders meeting in Brussels agreed there would be no easing of sanctions against Moscow until it was clear the Minsk ceasefire deal was being fully honoured.
Advertisement
US Vice President Joe Biden and Ukrainian President Petro Poroshenko have agreed that sanctions against Russia must be tied to the full implementation of the Minsk peace plan, the White House said.
"As long as Russia continues to fuel violence and instability in Ukraine, the international community must be prepared to increase the costs to Russia for pursuing such actions," a statement reads.
Biden also welcomed the decision by the Ukrainian parliament to allow special status for rebel-controlled eastern regions and grant them limited self-rule.
Biden and Poroshenko made the agreement in a telephone call.
Russian President Vladimir Putin made no explanation for his prolonged absence as he made his first public appearance since March 5 today.
Read the full story ›
Russian President Vladimir Putin has responded to suggestions that he had been forced to lie low because of ill health saying that life without rumours would be boring.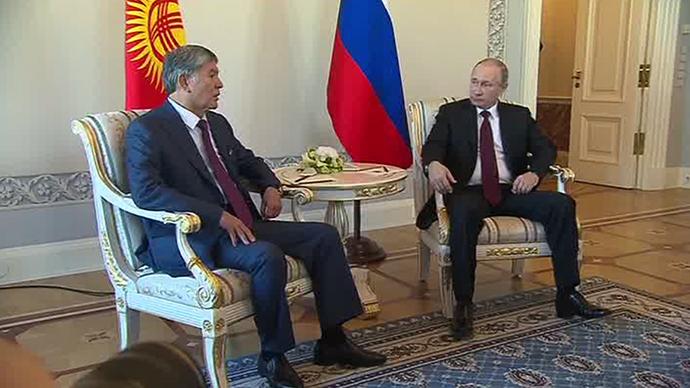 "It would be boring without gossip," Putin said in his first public appearance since March 5.
Putin is meeting with Kyrgyzstan President Almazbek Atambayev in Saint Petersburg.
President Vladimir Putin is set to appear in public later after an unusually long 10-day absence. Putin is expected to meet with Kyrgyzstan President Almazbek Atambayev in Saint Petersburg. A Kremlin official told AFP that the meeting was on track to take place.
The Russian President was last seen in public at a news conference on March 5 with Italian Prime Minister Matteo Renzi.
Load more updates