Cricketer Sachin Tendulkar found himself stranded in an Oxfordshire village after missing the last bus.
Sorry, this content isn't available on your device.
He tweeted his about his situation and with more than seven million followers on Twitter as well as plenty on Instagram, he wasn't short of offers of help from concerned followers.
The former India captain however seemed to enjoy his time in Oxfordshire despite his transport trials.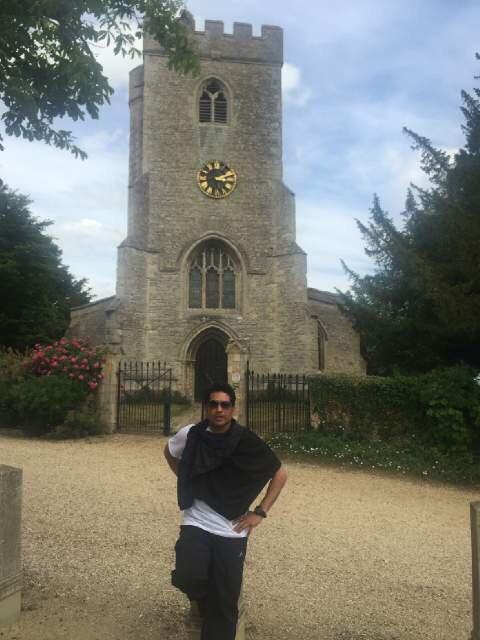 Sachin Tendulkar has paid tribute to a "promising" Indian cricketer who has died after colliding with a team-mate while attempting to take a catch during a club match in Kolkata.
The Board of Control for Cricket In India confirmed on their official Twitter account that 20-year-old Ankit Keshri had passed away after suffering "a cardiac arrest following on-field injury".
According to reports, Keshri regained consciousness after the incident on Friday during a Cricket Association of Bengal senior one-day match, where he was only playing as a substitute fielder having been the 12th man, but died in hospital on Monday.
Former national team captain Tendulkar, the highest runscorer in Test and one-day international history, was among several India stars to offer their condolences at the news.
Tendulkar tweeted:
Saddened by the demise of Ankit Keshri. A promising career aborted by an unfortunate incident on field.
May God give strength to Ankit's family and friends to cope with this loss #RIP
Advertisement
Addressing the media for the first time since his retirement from international cricket, Sachin Tendulkar told reporters "It's been a dream journey for me."
The spin bowling great said he had no regrets over his decision to retire after 24 years, saying: "There comes a stage where your body gives you a message – enough of this physical load ... The training sessions were becoming an effort."
Sanchin Tendulkar, who retired from international cricket, is the first sportsman to be bestowed with India's highest civilian honour.
Read the full story ›
Cricket legend Sachin Tendulkar bid an emotional farewell to the sport, saying it is "hard to believe" that his "wonderful journey is coming to an end".
In a 20-minute speech following the match at the Wankhede Stadium in Mumbai, Tendulkar said: "You are like my family away from home, I have had some wonderful times with you.
"It's going to be difficult not to be part of the dressing room sharing those special moments.
"Knowing all of you guys, I know you will continue to serve the nation in the right spirit, the right values.
"I believe we have been the lucky ones. We have been chosen by the almighty to serve this wonderful sport".
Sachin Tendulkar backed his Indian team-mates to continue his legacy after he exited the Test arena with a victory in his 200th match.
The 40-year-old brought the curtain down on a 24-year career which has seen him play more Tests and score more runs than any man in history as India claimed a comfortable win over the West Indies.
The atmosphere at his home Wankhede Stadium in Mumbai had been at fever pitch throughout the two-and-a half days of the match with fans eager to see him score a 101st century to complete a fairytale ending.
That was not to be as he was dismissed for 74 on day two but he helped his team to a Test victory for the 72nd time and then, in a long and emotional farewell speech, encouraged his team-mates to continue to "serve the nation".
Advertisement
The chances of cricket legend Sachin Tendulkar batting again were diminished as India built a huge first-innings lead in their Test match against the West Indies in Mumbai.
India were 495 all out, in response to the West Indies' 182, meaning the tourists need to score more than 300 runs to make India - and Tendulkar - bat again.
If the West Indies do manage to make the runs required, Tendulkar's final innings would not take place until tomorrow at the earliest.
Sachin Tendulkar failed to make a century on what could be his final innings for India after he was dismissed for 74 against the West Indies.
The cricket legend seemed close to achieving his 101st international century, but was caught out by Darren Sammy in the first innings of the test.
The 40-year-old will retire following the game which is his 200th Test match.
His imminent retirement has sparked an outpouring of emotion in his home country where he is held in such high esteem following a record-breaking 24-year career.
Adulated at home and admired across the world, cricket legend Sachin Tendulkar battles for India today in his final test before retirement
Read the full story ›
A flat cap and a pint of ale seem a far cry from India's biggest cricket star, but Sachin Tendulkar played a short stint for Yorkshire early in his career.
In 1992, the young cricketer became the county club's first overseas signing in a deal worth £30,000.
A decade later, when he was inducted as one of Yorkshire's five great players, he is recorded as saying that he remembered the time as "one of the greatest four and a half months I've spent in my life".
Load more updates