The White House has used all its social media pages to declare "today love wins in America".
Sorry, this content isn't available on your device.
Sorry, this content isn't available on your device.
Gay rights campaigners cheered as they heard the news same-sex marriage had been declared legal across the US.
"Did we do it? Did we do it?" one man can be heard saying before cheers erupt.
Advertisement
The White House has changed its avatar on Twitter to a rainbow-coloured house after the Supreme Court ruled same-sex couples have the right to marry.
President Barack Obama has called the US Supreme Court ruling on same-sex marriage "a big step in our march toward equality":
Today is a big step in our march toward equality. Gay and lesbian couples now have the right to marry, just like anyone else. #LoveWins
The US Supreme Court has ruled that the Constitution provides same-sex couples the right to marry in an historic triumph for the American gay rights movement.
The court ruled 5-4 that the US Constitution's guarantees of due process and equal protection under the law mean that states cannot ban same-sex marriages.
This ruling means that gay marriage will become legal in all 50 states.
More than 1,400 same-sex couples have married in the first three months since the gay marriage bill was introduced, figures from the Office for National Statistics show.
Of the 1,409 marriages that took place in England and Wales between March 29 and June 30, 56% were between female couples while 44% were between male couples.
A family lawyer described the overall figure as "surprisingly" low and said that the number is likely to increase when the law changes this December to allow civil partners to convert to same-sex marriages.
"We have received many inquiries from same-sex couples wanting information for how they can change their civil partnership to a marriage," said Slater & Gordon's Andrew Newbury.
"Due to this, we suspect the figures will increase when the law changes this December allowing civil partnership to convert to same-sex marriage."
Advertisement
A proposal to extend marriage rights to same-sex couples in Northern Ireland has been rejected by the Assembly.
Members of the Assembly voted 51 to 43 against the Sinn Fein motion, the third time the matter has been brought to a vote.
The Democratic Unionists tabled a contentious voting mechanism ahead of the debate, meaning the motion could only pass if a majority of both unionists and nationalists supported it.
Northern Ireland is the only part of the UK without marriage rights and Amnesty International has warned there could be a legal challenge.
The Archbishop of Canterbury has suggested that blessing gay marriages would divide the Anglican Church because some worshippers in Africa would never support homosexuality.
In an interview with The Telegraph, the Most Rev Justin Welby says that the Church had probably caused "great harm" to homosexuals in the past — but there was not always a "huge amount" that could be done now to rectify the situation.
"We are struggling with the reality that there are different groups around the place that the Church can do - or has done - great harm to," the Archbishop says.
"How do you hold those two things [in balance] and do what is right and just by all? And not only by one group that you prefer and that is easier to deal with? That's not acceptable."
A gay clergyman has become the first ordained priest to break the Church of England's ban on same-sex marriage since it was legalised this year.
Canon Jeremy Pemberton, a hospital chaplain in Lincolnshire, reportedly tied the knot with long-term partner Laurence Cunnington yesterday.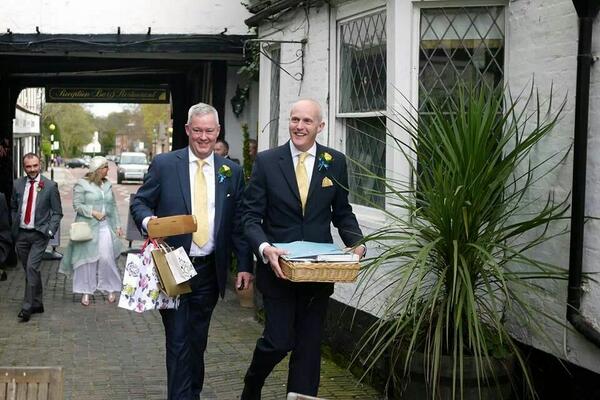 The Church of England has barred gay ordained priests from marrying their partners.
The House of Bishops' pastoral guidance on same-sex marriage issued in February says: "It would not be appropriate conduct for someone in holy orders to enter into a same-sex marriage, given the need for clergy to model the Church's teaching in their lives."
The Bishop of Lincoln, Rt Rev Christopher Lowson, said he had been made aware of the clergyman's intention to marry his partner.
"The Church of England is shortly to enter a process of facilitated discussions about its response to same-sex marriage," he said.
"I am committed to entering that process in a spirit of honesty and integrity, seeking to discern the spirit of God at work in the Church as we seek to understand the nature of marriage in the future."
A cracker company that used a same-sex couple in one of its adverts has hit back against critics with a stunning new video campaign.
Honey Maid's original campaign 'This is Wholesome' received a barrage of angry complaints - as well as many congratulations - via social media, prompting the company to hire two artists for this creative response.
Load more updates