The Archbishop of Canterbury has suggested that blessing gay marriages would divide the Anglican Church because some worshippers in Africa would never support homosexuality.
In an interview with The Telegraph, the Most Rev Justin Welby says that the Church had probably caused "great harm" to homosexuals in the past — but there was not always a "huge amount" that could be done now to rectify the situation.
"We are struggling with the reality that there are different groups around the place that the Church can do - or has done - great harm to," the Archbishop says.
"How do you hold those two things [in balance] and do what is right and just by all? And not only by one group that you prefer and that is easier to deal with? That's not acceptable."
A gay clergyman has become the first ordained priest to break the Church of England's ban on same-sex marriage since it was legalised this year.
Canon Jeremy Pemberton, a hospital chaplain in Lincolnshire, reportedly tied the knot with long-term partner Laurence Cunnington yesterday.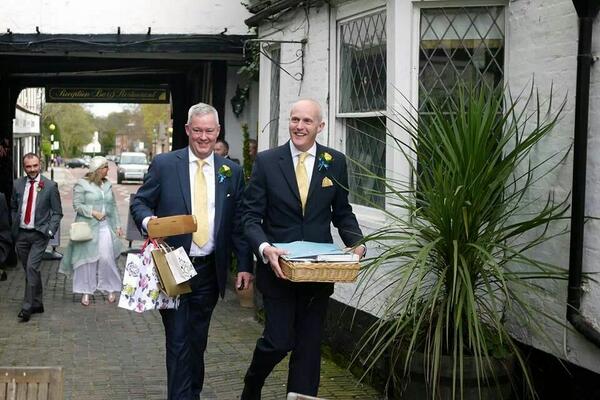 The Church of England has barred gay ordained priests from marrying their partners.
The House of Bishops' pastoral guidance on same-sex marriage issued in February says: "It would not be appropriate conduct for someone in holy orders to enter into a same-sex marriage, given the need for clergy to model the Church's teaching in their lives."
The Bishop of Lincoln, Rt Rev Christopher Lowson, said he had been made aware of the clergyman's intention to marry his partner.
"The Church of England is shortly to enter a process of facilitated discussions about its response to same-sex marriage," he said.
"I am committed to entering that process in a spirit of honesty and integrity, seeking to discern the spirit of God at work in the Church as we seek to understand the nature of marriage in the future."
Advertisement
A cracker company that used a same-sex couple in one of its adverts has hit back against critics with a stunning new video campaign.
Honey Maid's original campaign 'This is Wholesome' received a barrage of angry complaints - as well as many congratulations - via social media, prompting the company to hire two artists for this creative response.
Comedian Sandi Toksvig has said there was "many a time I thought this day would never come" after renewing her wedding vows with her partner Debbie to celebrate the introduction of gay marriage in the UK.
Toksvig came out as gay in September 1994 and recounted how she was told she would never work again and had to go into hiding with her children following negative press attention.
She said: "At the time there was not a single gay woman out in public life. How wonderful it feels to be so much safer than 20 years ago."
The couple, who first entered into a civil partnership seven years ago, were joined by more than 2,000 people, including their four children, at the Royal Festival Hall on London's South Bank.
The first same-sex marriages in England and Wales have begun after changes in law giving gay couples the right to marry for the first time.
Read the full story ›
Same sex Marriage isn't just a victory for gay people. It's a victory for all of us. ANYTHING that promotes equality, promotes progress.
You can't take equality "too far"
Advertisement
Rebecca and Sarah-Louise Billington-Green from Tipton have today made history as they became one of the first same sex couples to get married.
A change in the law has given gay and lesbian couples the right to marry for the first time in history, but a campaigner in the North East of England said there was a long way to go to combat social prejudice.
Mark Nichols, the Chair of Northern Pride, said he still would not be comfortable holding hands with his partner in the centre of Newcastle:
A wedding planner is now arranging her own big day, thanks to a change in the law, which came into effect at midnight.
Shadia Thannon (right) manages a hotel in Newcastle, which hosts weddings. She will marry her partner Catherine Martin there in July, becoming one of the first same-sex couples in the North East to marry.
They had been planning a civil partnership, until the change in the law in England and Wales last summer made marriage legal for same-sex couples:
"For us it's really important, it means our relationship is seen equally in the eyes of the law. That's something neither of us really ever expected to happen," Catherine said.
Congratulations to the gay couples who have already been married - and my best wishes to those about to be on this historic day.
Load more updates