The Prince of Wales is travelling to Saudi Arabia today in the wake of King Abdullah bin Abdul Aziz al-Saud death.
A spokesman for the Prince confirmed Charles would travel to Saudi Arabia "to pay his condolences".
The flag on top of the UK Foreign Office building is flying at half-mast to mark the death of Saudi Arabia's King Abdullah.
Our flag at half mast today as mark of respect following the death of His Majesty King Abdullah http://t.co/Dh6etH26oa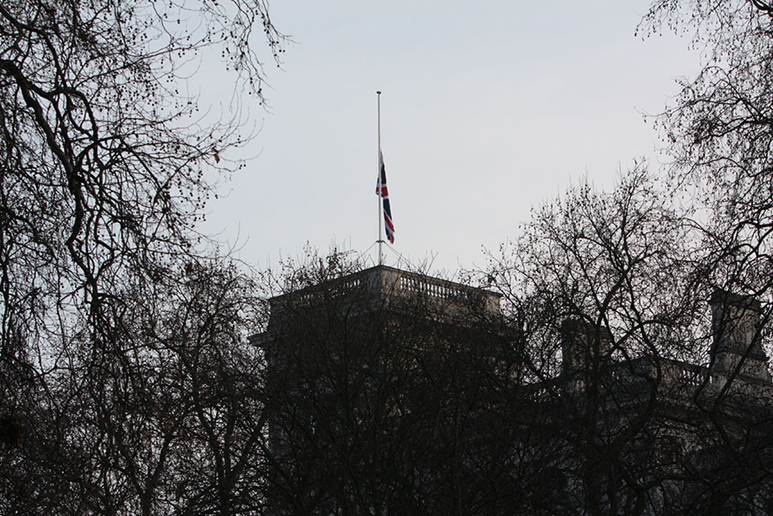 Mr Blair described the King as a "stable and sound ally" and he added that he knew the King well and "admired him greatly".
Advertisement
At the age of 88, Her Majesty is now the oldest monarch after the death of Saudi Arabia's 90-year-old King Abdullah.
Read the full story ›
Saudi Arabia's new King Salman has vowed to maintain the same approach as his predecessors in his first address to the nation since he ascended the throne, Reuters reports.
"We will remain, with God's support, maintain the straight path that this country has advanced on since its establishment by the late King Abdulaziz," King Salman said in the speech which was broadcast on state television.
He also called for the unity and solidarity of the Muslim and Arab countries and pledged to serve his country and shield it from any harm.
State TV in Saudi Arabia has shown thousands of people gathering at Mecca to mourn the death of King Abdullah.
Saudi Arabia's new king, Salman bin Abdul-Aziz Al Saud, is a veteran of the country's leadership after spending nearly 50 years as the governor of the capital Riyadh.
He is also known as a mediator of disputes within the sprawling royal family.
The 79-year-old had increasingly taken on the duties of the king over the past year as his ailing predecessor and half-brother, King Abdullah, became more incapacitated.
He had served as defence minister since 2011 and so was head of the military as Saudi Arabia joined the US, and other Arab countries, in carrying out airstrikes in Syria in 2014 against the Islamic State.
Prince Salman's ascension hands the throne to yet another ageing son of Saudi Arabia's founder, King Abdul-Aziz Al Saud, who is thought to have had more than 50 sons from multiple wives.
Advertisement
UN Secretary General Ban Ki-Moon has paid tribute to King Abdullah, saying that he left a "tangible legacy" both at home and on the world stage:
King Abdullah made major contributions to the development of the Kingdom. Under his leadership over many decades in different high-level positions in Government, the Kingdom of Saudi Arabia achieved remarkable progress and prosperity for its people. The Secretary-General pays tribute to King Abdullah's efforts to address regional and international challenges at a time of turmoil and rapid change, and to promote dialogue among the world's faiths. As the driving force behind the Arab Peace Initiative, King Abdullah left a tangible legacy that can still point the way toward peace in the Middle East.
– ban ki-moon, un secretary generAL
David Cameron has said he is "deeply saddened" to hear of the death of King Abdullah of Saudi Arabia.
The Prime Minister, who visited Saudi Arabia in 2012, said:
He will be remembered for his long years of service to the Kingdom, for his commitment to peace and for strengthening understanding between faiths.

My thoughts and prayers are with the Saudi Royal Family and the people of the Kingdom at this sad time.

I sincerely hope that the long and deep ties between our two Kingdoms will continue and that we can continue to work together to strengthen peace and prosperity in the world.
– Prime Minister David Cameron
Former US president George HW Bush has said he is "deeply saddened" to learn of the death of King Abdullah, who he describes as a "dear friend and partner".
In a statement, he said: "As President, I found His Majesty always to be a wise and reliable ally, helping out nations build on a strategic relationship and enduring friendship".
Oil prices jumped in early Asian trading as news of the death of Saudi Arabia's King Abdullah added to uncertainty in energy markets.
US benchmark WTI crude futures rose more than 2% to a high of $47.76 a barrel in early Asian trading.
International benchmark Brent futures opened up almost 1.5% higher at $49.10 per barrel.
Load more updates