David Cameron will travel to Saudi Arabia tomorrow to "pay his condolences" to the late King Abdullah bin Abdul Aziz al-Saud, Downing Street has confirmed.
The Prime Minister's trip coincides with a visit to the kingdom by the Prince of Wales, who will also be paying his condolences to the monarch.
Saudi Arabia's new King Salman has pledged continuity in energy and foreign policies and moved quickly to appoint younger men as his heirs.
He settled the succession for years to come by naming a deputy crown prince from his dynasty's next generation.
King Salman has appointed his youngest half-brother Muqrin, 69, as Crown Prince and nephew Mohammed bin Nayef, 55, as Deputy Crown Prince.
Advertisement
Mourners gathered around the grave of Saudi King Abdullah during his funeral, which was not over elaborate, in keeping with tradition.
Saudi Arabia's King Abdullah was carried in a simple white shroud to an unmarked grave during a funeral in a Riyadh cemetery where many of his commoner subjects rest, in keeping with tradition.
The Saudi state school of Wahhabi Sunni Islam holds ostentatious displays of grief or mourning to be sinful.
There was no official mourning period in Saudi Arabia and flags around the kingdom all flew at full staff. Government offices, closed for the Middle East's normal Friday-Saturday weekend, will open as usual on Sunday.
The Prince of Wales is travelling to Saudi Arabia today in the wake of King Abdullah bin Abdul Aziz al-Saud death.
A spokesman for the Prince confirmed Charles would travel to Saudi Arabia "to pay his condolences".
The flag on top of the UK Foreign Office building is flying at half-mast to mark the death of Saudi Arabia's King Abdullah.
Our flag at half mast today as mark of respect following the death of His Majesty King Abdullah http://t.co/Dh6etH26oa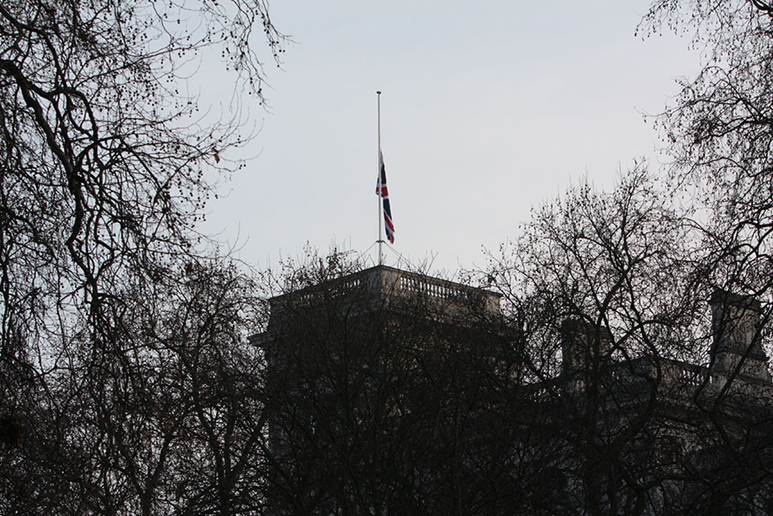 Mr Blair described the King as a "stable and sound ally" and he added that he knew the King well and "admired him greatly".
Advertisement
At the age of 88, Her Majesty is now the oldest monarch after the death of Saudi Arabia's 90-year-old King Abdullah.
Read the full story ›
Saudi Arabia's new King Salman has vowed to maintain the same approach as his predecessors in his first address to the nation since he ascended the throne, Reuters reports.
"We will remain, with God's support, maintain the straight path that this country has advanced on since its establishment by the late King Abdulaziz," King Salman said in the speech which was broadcast on state television.
He also called for the unity and solidarity of the Muslim and Arab countries and pledged to serve his country and shield it from any harm.
State TV in Saudi Arabia has shown thousands of people gathering at Mecca to mourn the death of King Abdullah.
Saudi Arabia's new king, Salman bin Abdul-Aziz Al Saud, is a veteran of the country's leadership after spending nearly 50 years as the governor of the capital Riyadh.
He is also known as a mediator of disputes within the sprawling royal family.
The 79-year-old had increasingly taken on the duties of the king over the past year as his ailing predecessor and half-brother, King Abdullah, became more incapacitated.
He had served as defence minister since 2011 and so was head of the military as Saudi Arabia joined the US, and other Arab countries, in carrying out airstrikes in Syria in 2014 against the Islamic State.
Prince Salman's ascension hands the throne to yet another ageing son of Saudi Arabia's founder, King Abdul-Aziz Al Saud, who is thought to have had more than 50 sons from multiple wives.
Load more updates