Nicola Sturgeon has denied Ed Miliband's "desperate" claim that there are billions of pounds of cuts on the horizon under the SNP's plan for full fiscal autonomy for Scotland.
The SNP leader claimed that Labour is "wrong" while campaigning on the streets of Stirling, saying:
This is desperation on the part of the Labour Party. Instead of putting forward a positive case of their own, they are resorting to the same fears and smears that they resorted to during the referendum.

The truth is the only cuts on the horizon for Scotland are the ones that the Tories are proposing and Labour are backing.
– Nicola Sturgeon
Ed Miliband has launched a broadside attack on the Scottish Nationalists as he insisted the SNP "come clean" over spending reductions.
The Labour leader is seeking to distance himself from opposition claims that he would agree to full fiscal autonomy for Scotland in exchange for SNP backing for a Labour government.
Full fiscal autonomy will mean a £7.6 billion hole in Scotland's finances.

Today I challenge Nicola Sturgeon and the SNP to say how they will fill fill this £7.6 billion gap.

Which services will be cut, which taxes will be raised. And what cuts will it mean for pensioners in Scotland when they're taken out of the UK pension system.

The SNP claim in this campaign to be proposing no reductions in spending but in fact they are planning dramatic reductions in spending. They must now come clean.
– Ed Miliband
Advertisement
Ed Miliband has ruled out entering into a formal coalition with the SNP after the general election on May 7.
Responding to comments from comedian Katy Brand, who said she believed a coalition between the two parties would be positive, he said:
This might be inconvenient, but we're not going to have a coalition with the SNP.
– Ed Miliband
He said he could not control how MPs voted on the Queen's Speech, after SNP leader Nicola Sturgeon vowed to torpedo any attempt by the Conservatives to form a minority government, but said there would be no coalition in the way the Tories teamed up with the Lib Dems in 2010.
There was no topic left untouched in fiery exchanges as the leaders of Scotland's four main parties went head to head. But who won?
Read the full story ›
It was the turn of Scotland's first minister Nicola Sturgeon to defend her record in government - from criticism from other parties, in tonight's Scottish leaders debate. The SNP leader said her party had had to take some tough decisions. There were clashes over health, education, spending, and which main party she would rather have in government in Westminster.
The man who wore a moustache during the General Election debate in Scotland has said the stunt was for "a bit of fun".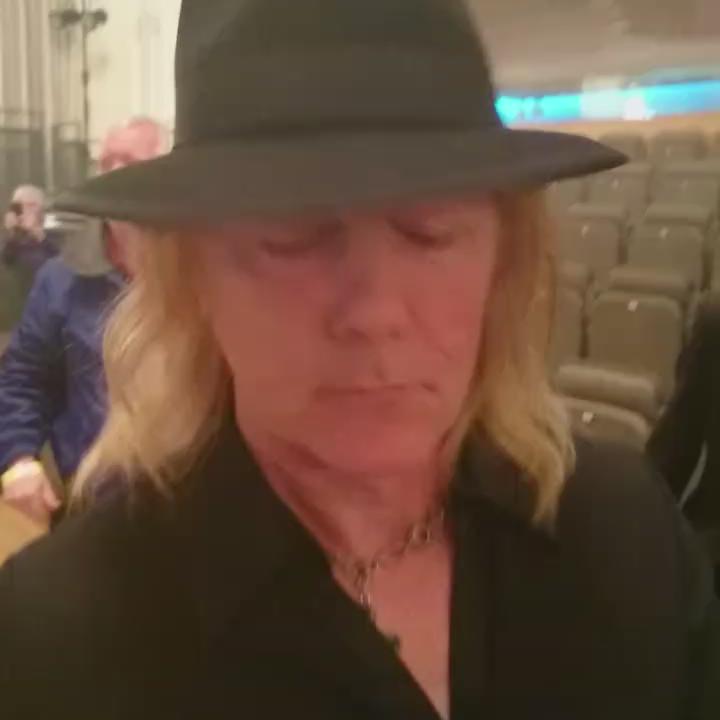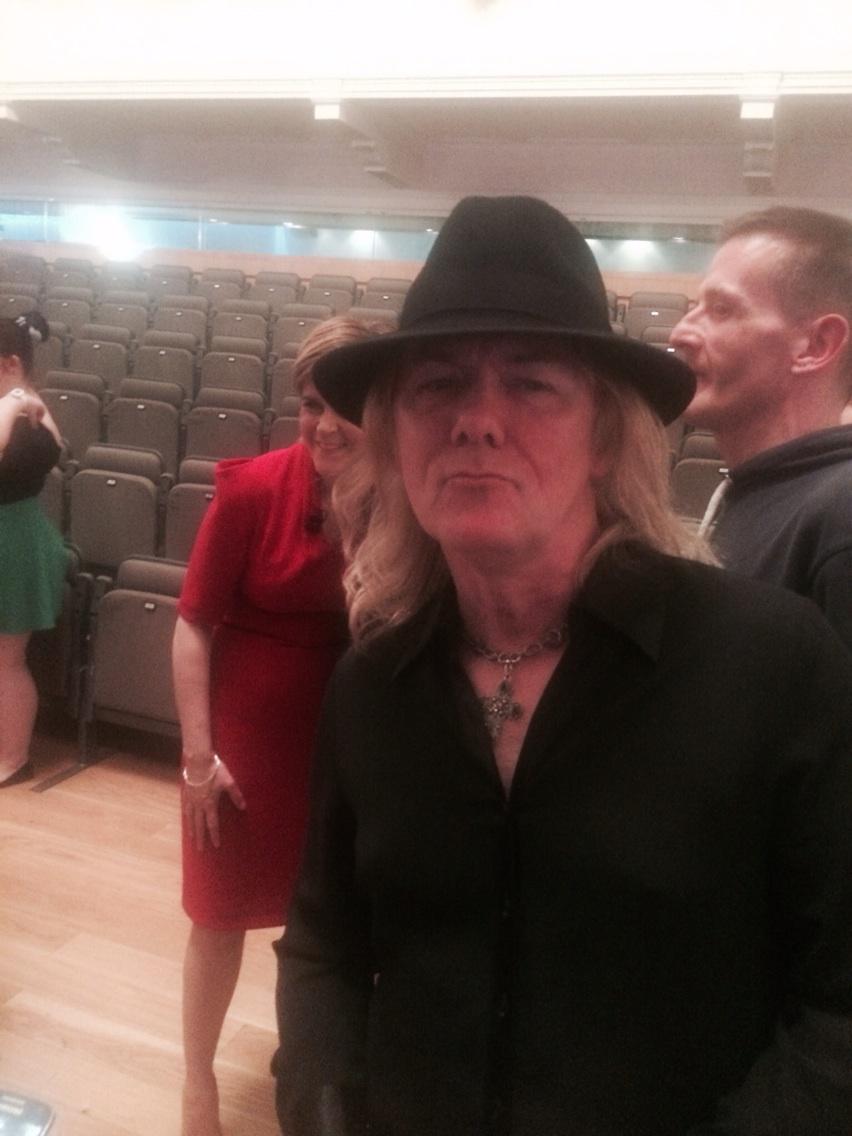 Advertisement
SNP leader Nicola Sturgeon has refused to rule out another referendum at some point in the future. When asked about a referendum after May 7, Ms Sturgeon said: "Not after this Westminster General Election. That is not what this election is about."
When pressed on a referendum after 2016, Ms Sturgeon replied: "Well that's another matter. We'll write that manifesto when we get there. I will fight one election at a time.
"I'm putting forward in a couple of weeks a manifesto for this election, and I will decide the content of our next manifesto when we get there, and people can decide whether or not they want to vote for that.
"One of the things we all learned in the referendum is that politicians don't dictate these things. It's up to the people."
A man wearing a fake moustache has been spotted at the General Election debate taking place in Scotland.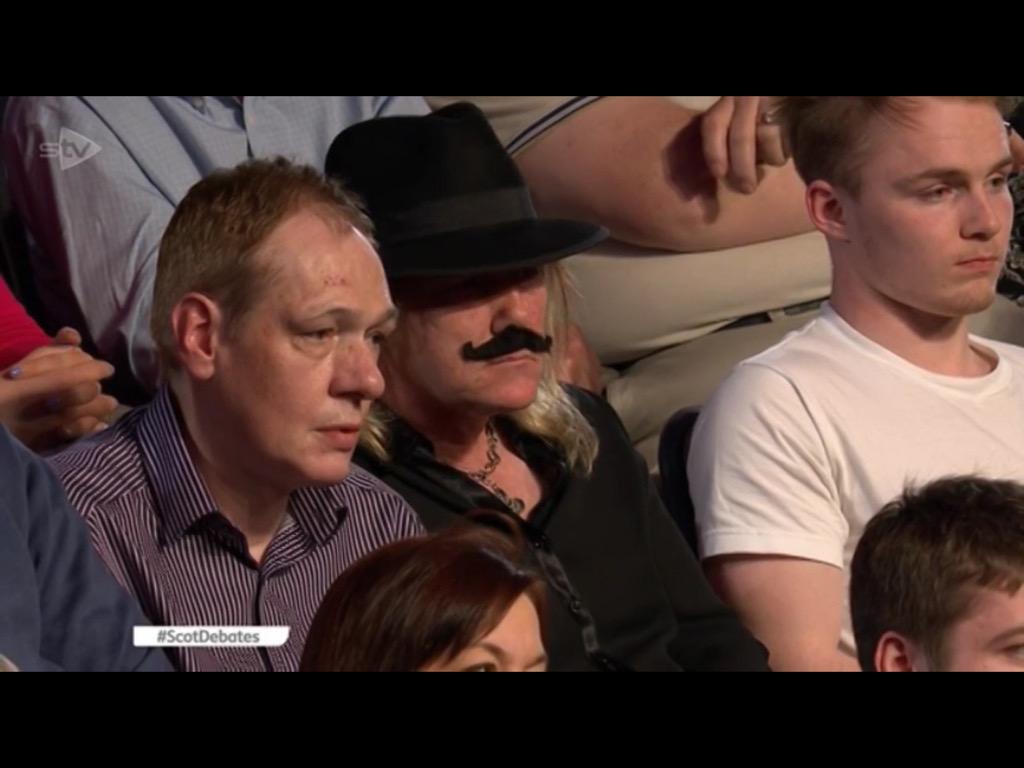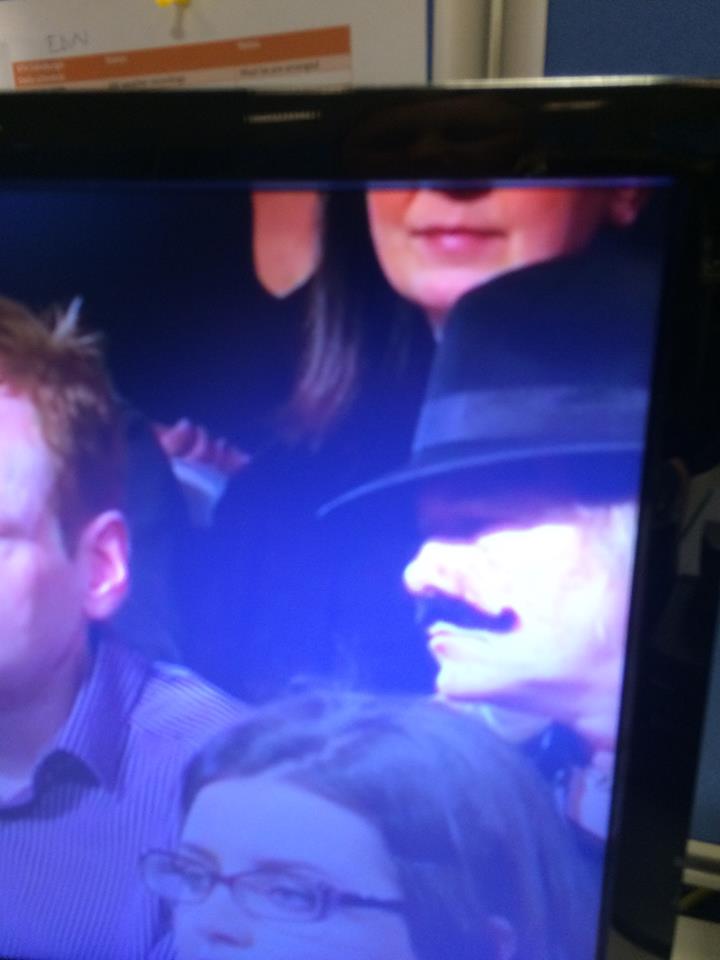 The leaders of the four main political parties in Scotland are going head to head on television tonight ahead of the General Election.
Nicola Sturgeon has pledged that the SNP would help make Labour's Ed Miliband prime minister if the Conservatives fail to win a majority in next month's general election.
The Scottish First Minister made the offer as she clashed with Scottish Labour leader Jim Murphy in the first televised Scottish leaders debate (watch live here). Mr Murphy insisted his party did not need "help" from the nationalists to oust Conservative David Cameron from 10 Downing Street.
The Scottish Labour leader asked the First Minister: "Nicola, do you want Ed Miliband to be prime minister?"
She told him: "I don't want David Cameron to be prime minister, I'm offering to help make Ed Miliband prime minister."
Mr Murphy insisted: "Nicola, we don't need your help. What we need is people north and south of the border, people in Scotland, people in England and people in across Wales coming together to kick out an out of touch government."
Load more updates