Walmley in the West Midlands would become the new centre of Great Britain if Scotland vote to go independent, Ordinance Survey has said.
Read the full story ›
The latest national unemployment figures show that Scotland has a higher employment rate compared to the UK as a whole (73.9% compared to 73.1%) and a lower unemployment rate (6.0% compared to 6.2%).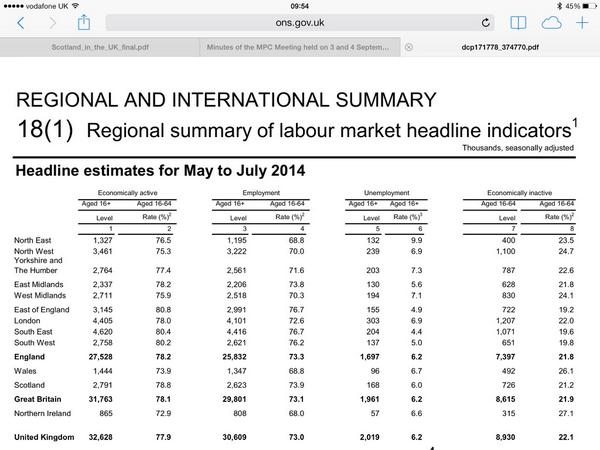 Advertisement
A Scottish holidaymaker is hoping that a cloud she spotted has not predicted the outcome of the independence referendum.
Photographed in Sardinia in August, the cloud appears to resemble England, Wales and Northern Ireland with Scotland noticeably absent.
Gillian Degnan, 44, who grew up in North Ayrshire, said: "The referendum is the talking point between everyone at the moment and I started to wonder whether it was an omen about how the vote is going to go."
As she now lives in Nottinghamshire, Gillian won't be able to vote on Thursday, but said if she could, "I would vote No. I think Scotland would be too small on its own."
A bizarre Taiwanese report on shows CGI versions of Alex Salmond, Alistair Darling and the Queen explaining the Scottish referendum.
Read the full story ›
Scottish people "do not expect to be shouted down" and want to debate freely, the leader of the Better Together campaign told Good Morning Britain.
While Alistair Darling acknowledge it was only a small minority of Yes campaigners who had intimidated voters, he said it is "not the sort of Scotland any of us want to live in."
Advertisement
People in Scotland will go to the polls on 18 September to vote on whether or not they want Scotland to become an independent country.
Registered voters have from 7am when the polling stations open until 10pm when they close to cast their ballot.
The votes will be counted in 32 local authorities immediately after the polls close.
When the total votes in all 32 have been confirmed and verified, the chief counting officer for the referendum will declare the national result.
Chief counting officer Mary Pitcaithly previously said that the result of the historic vote will not necessarily be announced overnight, declaring, "Getting the result right is more important than getting it quickly."
Scotland's justice minister dismissed claims from a national newspaper that pro-independence campaigners had become more and more aggressive towards the pro-union camp.
Kenny MacAskill told Good Morning Britain police had told him "any incidents that have constituted a crime have been dealt with" and dubbed aggressive pro-independence supporters "a minority".
An intrepid group of activists is taking its message of independence to new heights by leaving giant 'Yeses' on hillsides across Scotland.
Read the full story ›
A flurry of last-minute polls on Scottish independence showed a slight lead for the No campaign on Tuesday.
Three surveys from pollsters ICM, Opinium and Survation all showed that 52% of decided respondents plan to vote No.
The polls found 8 to 14 percent of Scotland's 4.3 million voters were still undecided.
A final poll, by YouGov on behalf of The Sun, is expected later today.
Load more updates