Prince Harry has told ITV News it "makes no sense at all" that the Battle of Monte Cassino is referred to by some as the "forgotten campaign" - insisting the veterans of one of the Second World War's bloodiest battles deserve "as much recognition" as anyone else that served in the conflict.
Speaking to Royal Editor Tim Ewart at the site of the assaults, Harry praised the heroism of those who fought for months on end "knowing that they were going to lose most of their friends and probably themselves as well".
A 90-year-old veteran has spoken of how he faced the horrors of Monte Cassino aged just 18.
Ivor Gaskill, who served with the Royal Hampshire Regiment as a private, said: "I remember trying to get up the hill - we were up to our waists in mud and water, soaking wet, hungry and full of lice.
"We were being shelled and shot at constantly but it was just a case of keep going. What else was there to do? You couldn't run away.
The veteran who returns each year to the site where so many of his friends died - welcomed Prince Harry's visit, saying: "I thought we were forgotten.
"It's great to see him here. It's marvellous of him to do it."
Advertisement
Speaking exclusively to ITV News, Harry says it "makes no sense" that one of the Second World War's bloodies battles has been "forgotten".
Read the full story ›
Prince Harry left a personal tribute to the British soldiers who lost their lives at the battle of Monte Cassino.
The prince took part in a memorial service to mark 70 years since the battle and left a wreath with a note, saying: "In memory of all those who paid the ultimate sacrifice for our country. Thank you."
Prince Harry has taken part in a memorial service 70 years on from one of the Second World War's bloodiest battles.
On the second day of a two-day visit to Italy, Harry took part in a procession and met veterans of the battle of Monte Cassino - a brutal clash which saw around thousands of Allied and Axis soldiers lose their lives.
The prince, who himself serves in the Household Cavalry, also laid a wreath for the British soldiers who died during the fight to take control of the strategically important monastery above the town of Cassino.
As well as British forces, a number of Commonwealth soldiers took part in the battle, along with forces from the USA, Poland, France royalist Italian troops.
Prince Harry has laid a wreath in honour of the soldiers who lost their lives at the battle of Monte Cassino in 1944.
The battle was among the bloodiest of the war, ending with Allied forces overcoming a combined German and Italian army.
Advertisement
ITV News royal producer Emma Wright is in Italy ahead of Prince Harry's arrival at the site of the battle of Monte Cassino.
British veterans gather at Cassino war cemetery for 70th Anniversary, Prince Harry will arrive shortly http://t.co/tCMDxg8BBd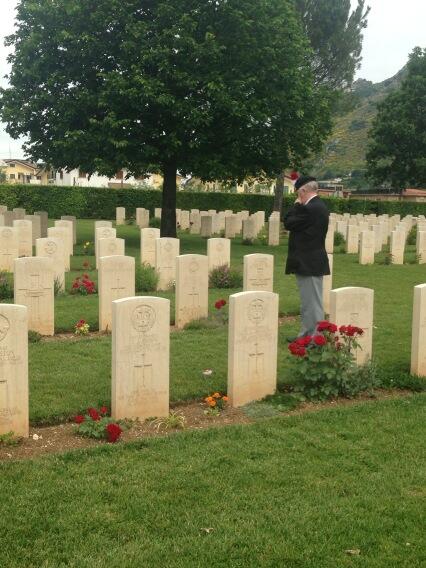 Captain Raymond "Jerry" Roberts, one of the last surviving wartime codebreakers, has died aged 93.
Read the full story ›
A ceremony to commemorate the Great Escape, the famous breakout from German prisoner of war camp Stalag Luft Three in 1944, took place in Zagan, west Poland.
Survivors, families and UK and Polish officials gathered in Zagan to commemorate the 70th anniversary of the escape plot.
One reenactor said: "We have great respect for all prisoners who were here"
Former prisoner of war and survivor of Stalag Luft Three, Charles Thelen, said it was "kind of a strange feeling" on seeing the camp today.
Of those who broke out of the camp, only three reached safety and of the 73 recaptured, 50 were shot.
Load more updates