A 'selfie' the Prime Minister tweeted of his Ukraine crisis talks with Barack Obama has been widely mocked on the social network.
Read the full story ›
An F-16 fighter jet pilot has posted a selfie while launching missile, unleashing the weapon during a training exercise.
The dramatic photo also shows the pilot wearing a high tech, Joint Helmet Mounted Cueing System (HMCS), that allows a pilot to cue and target weapons against enemy aircraft by pointing their head at an enemy.
The air-to-air missile, fired by the Royal Danish Air Force, was an AIM-9L/M.
Advertisement
Ellen had also told everyone to retweet her Oscars selfie, but Iain told ITV News: "I thought she said 'rebuild' it ...in LEGO!"
He said: "I started building the morning after the Oscars, and after a roughly 12 hour stint, it was finished."
Homer Simpson joined in with the parodies of Ellen Degeneres' Oscars selfie, with the character's official Twitter account posting this picture:
The ugly true story of that Oscar® selfie can finally be told! Let's break Twitter again. Look for Bart. http://t.co/tdfr3Juhff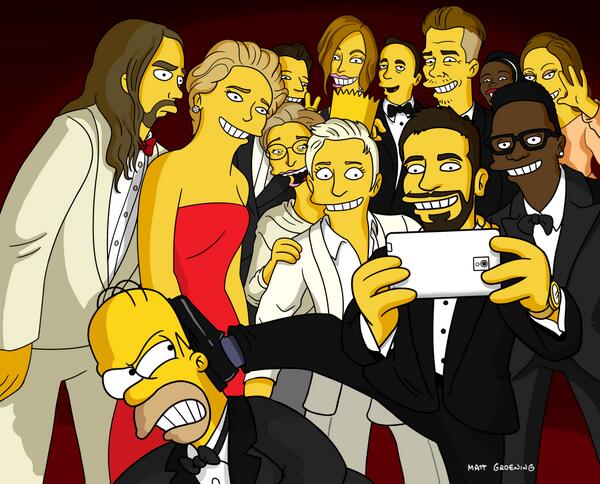 He was quickly picked up by Hollywood star Kevin Spacey, who had his own revelation about Degeneres' snap.
The actor wrote "U think @HomerJSimpson had it bad? I was standing on @JohnStamos [actor] head!".
French journalists have indulged in a few "selfies" in the Oval office while accompanying their president, Francois Hollande, on his trip to the United States.
A reporter for Le Monde took this self portrait, with Mr Hollande and Barack Obama clearly visible in the background.
President Obama is no stranger to selfies, having controversially taken a picture of himself with David Cameron and Danish Prime Minister Helle Thorning-Schmidt during Nelson Mandela's memorial service.
A schoolboy managed to capture a selfie of himself with Prince Charles after he asked him for a picture during a visit to a church centre.
Read the full story ›
Advertisement
Lily Allen has posted a "selfie" with Labour leader Ed Miliband on her Instagram account, writing, "#lilliband lol".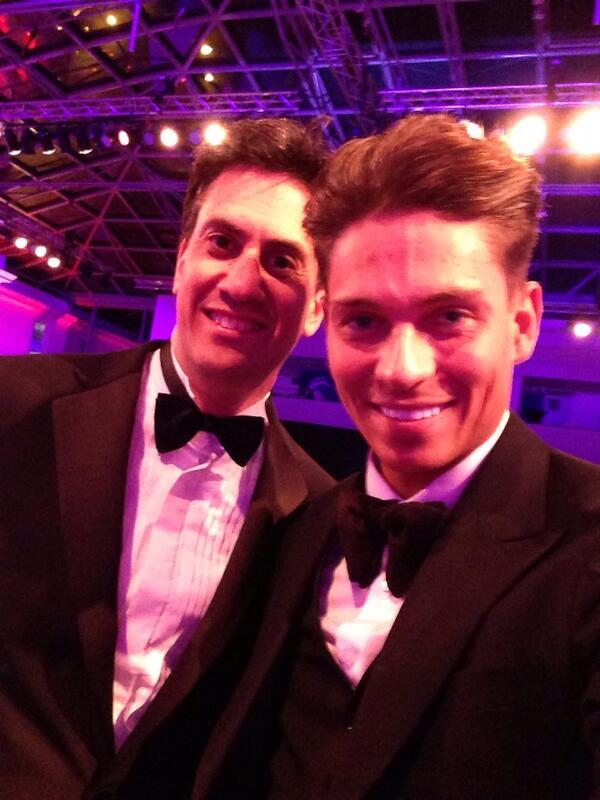 The pair were at the Millies - the Sun's Military Awards - tonight in London.
Helle Thorning-Schmidt jokingly journalists today the rest of the world will not see the famous photograph because "it was not a very good picture".
Asked about the criticism that it was inappropriate to take a "selfie" during Nelson Mandela's memorial service, Ms Thorning-Schmidt replied, "Basically it was a festive event which celebrated a man who has lived 95 years and achieved so much in his life".
She said there were lots of photographs being taken of President Obama that day, adding, "I thought it was kind of funny".
She is the daughter-in-law to the former Labour leader Lord Kinnock.
The Prime Minister joked about the infamous "selfie" he featured in alongside US President Obama and Danish Prime Minister Helle Thorning-Schmidt today.
During Prime Minister's Questions, MP Martin Horwood referred to the photo - which has been widely covered in the international press - in a question about roaming charges.
The Prime Minister said it was "only polite" to oblige a request from a "member of the Kinnock family" - referring to the fact that the Danish leader is daughter-in-law to the former Labour politician Neil Kinnock.
Load more updates