Breast cancer sufferer Amanda McDonald and her husband posted a picture of themselves which has attracted over 30 thousand likes on Facebook
Read the full story ›
A selection of tweeted pictures of women without make-up that are aiming to raise money for cancer charities.
Read the full story ›
Advertisement
A flurry of 'no make-up selfies' on social media timelines have helped one cancer charity raise £1million in the past 24 hours.
Read the full story ›
Joan Collins tried to replicate the success of Ellen DeGeneres' Oscars selfie at a Prince's Trust event - but missed out the main man.
Read the full story ›
Liberal Democrat leader Nick Clegg has jumped on the selfie bandwagon with one of his own at his party's spring conference.
Read the full story ›
A 65-year-old man from Texas is hoping his equivalent to Ellen DeGeneres' Oscars selfie will become the most retweeted post on the social network site.
Terry Shipman had just five followers when he tweeted this picture with his two dogs:
It now has over 145,000 retweets - a long way from Ellen's three million record.
He told NBC's Today show: "I took that photograph, tweeted it to my son, then he and his roommate retweeted it a couple times, and then their phones started blowing up...I was just totally amazed. It was just kind of as a lark," he said.
But now a cruise company from his hometown have offered him a holiday if he can reach 1.5 million retweets. They have also started the hashtag #sendterrytotheislands to get him there.
Terry also revealed: "I have to silence my phone because it's just constantly going off."
Advertisement
A 'selfie' the Prime Minister tweeted of his Ukraine crisis talks with Barack Obama has been widely mocked on the social network.
Read the full story ›
An F-16 fighter jet pilot has posted a selfie while launching missile, unleashing the weapon during a training exercise.
The dramatic photo also shows the pilot wearing a high tech, Joint Helmet Mounted Cueing System (HMCS), that allows a pilot to cue and target weapons against enemy aircraft by pointing their head at an enemy.
The air-to-air missile, fired by the Royal Danish Air Force, was an AIM-9L/M.
Ellen had also told everyone to retweet her Oscars selfie, but Iain told ITV News: "I thought she said 'rebuild' it ...in LEGO!"
He said: "I started building the morning after the Oscars, and after a roughly 12 hour stint, it was finished."
Homer Simpson joined in with the parodies of Ellen Degeneres' Oscars selfie, with the character's official Twitter account posting this picture:
The ugly true story of that Oscar® selfie can finally be told! Let's break Twitter again. Look for Bart. http://t.co/tdfr3Juhff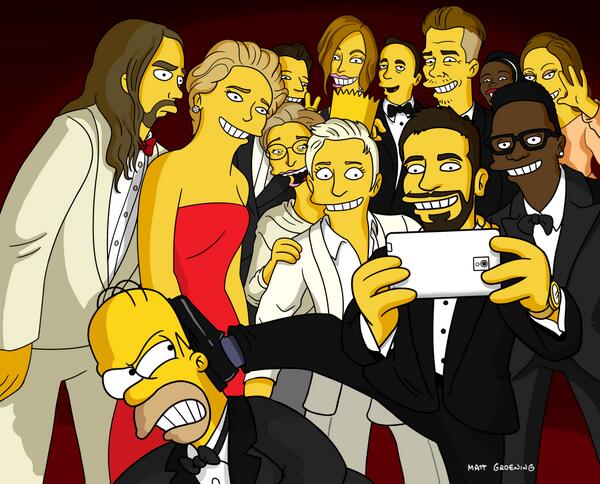 He was quickly picked up by Hollywood star Kevin Spacey, who had his own revelation about Degeneres' snap.
The actor wrote "U think @HomerJSimpson had it bad? I was standing on @JohnStamos [actor] head!".
Load more updates