Confirming he will stand for another term in a video interview played at the Soccerex conference in Manchester, Fifa President Seb Blatter said: "You see a mission is never finished. And my mission is not finished.
"Then I got through the last Congress in Sao Paulo not only the impression but the support of the majority, a huge majority of national associations asking 'Please go on, be our president also in future'."
Fifa President Sepp Blatter has confirmed he will stand for election for another term leading football's international governing body.
Advertisement
Uefa president Michel Platini has announced he will not challenge Sepp Blatter for the presidency of world football's governing body, Fifa.
Speaking at a press conference in Monaco, the Frenchman did not rule out a future contest, saying: "I said I can beat Mr Blatter, but perhaps we will know in four years or six years or ten years if there will be a fight with Mr Blatter."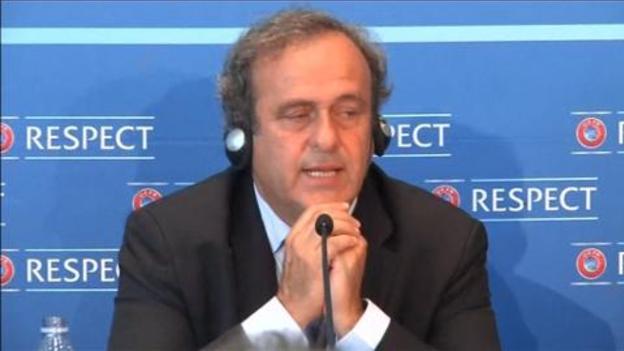 Michel Platini said his commitment not to stand against Sepp Blatter for the Fifa presidency was the best decision for Uefa.
Uefa president Michel Platini has ruled out standing for the Fifa presidency.
Platini, 59, was rumoured to be preparing to challenge current president Sepp Blatter in next year's election.
He previously said Fifa - which has been blighted by corruption allegations - needed a "new breath of fresh air".
But former France international told Uefa officials at a meeting in Monaco that he had opted against standing as he wanted to concentrate on leading European football's ruling body instead.
Fifa president Sepp Blatter has proposed a new challenge system where football managers could appeal two decisions in a game.
Mr Blatter said he has spoken to ex-players and coaches about having a new rule which would be similar to the Decision Review System in cricket.
He said: "When you are looking at so many matches on the TV, and we have 34 cameras here and it is so evident what has happened I think it is a good idea.
"If it is feasible we will see but when I have an idea I generally try to bring it."
Advertisement
Sepp Blatter has suggested he is planning to stand for a fifth term as FIFA president after declaring his "mission is not finished".
Sepp Blatter has strongly hinted that he will run again for Fifa presidency in 2015.
ITV News Brazil correspondent Rick Ravenscroft was watching his speech in Brazil:
A boss of Cola-Cola has admitted he is "concerned" about corruption claims around football's world governing body.
The drinks giant is one of the sponsors of FIFA and is the latest to speak out against allegations that Qatar's bid team bribed officials to win votes to host the 2022 World Cup.
James Quincey, President of Coca-Cola Europe, told Sky News: "We are a leading sponsor of the World Cup and we are concerned.
"Anything that detracts from the values of football, the values of the World Cup, the idea of fair play is of concern to us, yes absolutely."
Sony, Adidas, Visa and Hyundai/Kia have also expressed concerns over claims of wrongdoing in the bidding process. Qatar's bid team have denied the corruption allegations.
FIFA president Sepp Blatter has dismissed the allegations and said they have been whipped up by a "racist" British media.
Brazil legend Pele has told ITV News he believes Sepp Blatter is the right man to lead football's world governing body.
Mr Blatter has faced calls to resign as FIFA president over corruption allegations surrounding Qatar winning the vote to host the 2022 World Cup.
Pele said UEFA president Michael Platini is a strong candidate but feels Mr Blatter has done a good job.
Load more updates