Live updates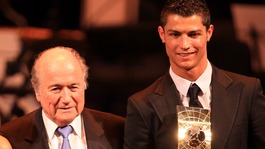 Fifa President Sepp Blatter was forced to apologise to Cristiano Ronaldo after impersonating the Real Madrid player during a discussion.
Read the full story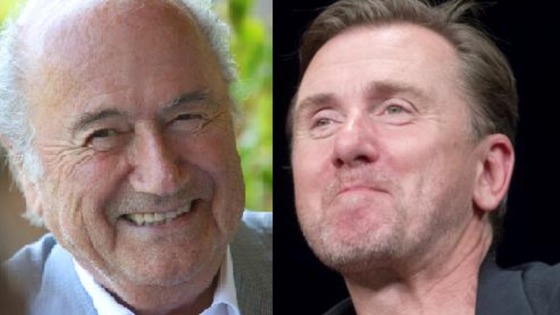 British actor Tim Roth will play FIFA president Sepp Blatter in a film charting the history of football's world governing body - a choice that has been praised by the man himself.
"The casting was well done," Blatter said after meeting with the Reservoir Dogs star. "The actor himself was quite surprised to meet me and to speak with me and we have some common qualities."
The film, whose working title is F2014, will be released in the World Cup year as FIFA celebrates its 110th anniversary.
Gerard Depardieu has been cast as FIFA founder Jules Rimet while Sam Neill plays long-standing president Joao Havelange.
Advertisement
Wenger's Russia boycott doubts
FIFA president Sepp Blatter has rubbished the idea of a boycott in protest against alleged racist abuse suffered by Manchester City player Yaya Toure in Russia.
"I think we should never speak about a boycott of the World Cup," Blatter told reporters in Oxford.
"We should fight against racism but the boycott would not be a weapon against racism."
FIFA president Sepp Blatter said awarding the 2022 World Cup to Qatar may have been "a mistake" due to the searing summer heat in the Arab state.
He said it was "not rational" to play the tournament in June or July when temperatures can reach 50 degrees Celsius.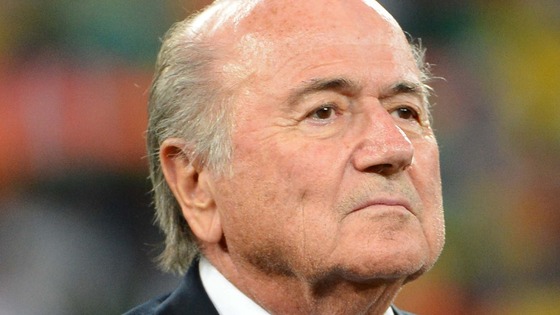 Calls to move the World Cup to the winter have caused controversy as it would mean major disruption to domestic leagues in Europe, including the Premier League.
Although admitting Qatar may have been "a mistake", Blatter told insideworldfootball.com: "On the other hand, you must also consider political and geo-political realities.
"The World Cup is FIFA's biggest, if not only, global event. Who are we, the Europeans, to demand that this event has to cater to the needs of 800 million Europeans above all?
"I think it is high time that Europe starts to understand that we do not rule the world any more, and that some former European imperial powers can no longer impress their will on to others in far away places."
FIFA have adopted tough new measures in the fight against racism when delegates at its Congress approved their introduction by 204 votes to one.
The new regulations say serious or repeat offenses by a club or its fans could also lead to a team being banned from a tournament, such as the Champions League.
The measures also dictate that players or officials found guilty of racist abuse in any game should be banned for at least five matches.
The banned player or official will also be prevented from attending any football stadium during that sanction.
Referees could be given the power to lead players from the pitch and points could be deducted from offending teams under new Fifa anti-racism proposals.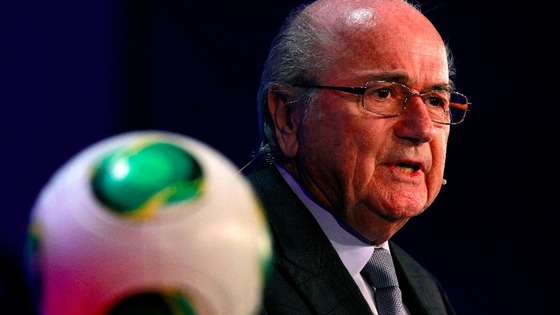 The Anti-racism and discrimination taskforce, featuring English referee Howard Webb, and ex-Football Association chairman David Bernstein, will hold a meeting in Zurich today.
Stronger punishments for racial abuse and deterring repeat offenders are thought to be the hot topics.
FIFA president Sepp Blatter has admitted fining a guilty player isn't enough of a deterrent to stop future incidents of racist abuse.
He wants points deductions introduced, and has asked vice-president Jeffrey Webb to formulate sanctions as soon as possible
According to UEFA, the current sanctions for racism will be a ten-match ban and possible closure of the stadium in extreme cases.
The Football Association are looking at introducing their own disciplinary action for racism after being criticised for giving a lenient punishment to a guilty member previously.
FIFA will officially present the proposals at a FIFA Congress in Mauritius on 30-31 May.
Advertisement
FIFA honorary president Joao Havelange has resigned, following an investigation into the ISL scandal - the payment of kickbacks to FIFA officials by the now defunct marketing company.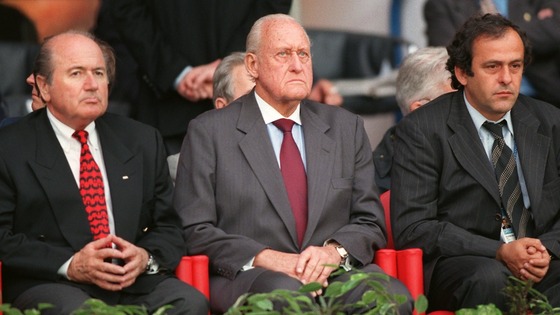 The report by FIFA's ethics committe into the scandal has named Havelange and two former executive committee members Ricardo Teixeira and Nicolas Leoz as receiving bribes.
The report also calls current FIFA president Sepp Blatter's handling of the scandal "clumsy" but says it did not breach ethics rules.
FIFA President Sepp Blatter said: "I have taken note of the report from the chairman of the adjudicatory chamber of the FIFA Ethics Committee, Hans-Joachim Eckert.
"I also note with satisfaction that this report confirms that 'President Blatter's conduct could not be classified in any way as misconduct with regard to any ethics rules'.
"I have no doubt that FIFA, thanks to the governance reform process that I proposed, now has the mechanisms and means to ensure that such an issue – which has caused untold damage to the reputation of our institution – does not happen again."
Read more: South American confederation chief Nicolas Leoz resigns from FIFA
Read more: FIFA president Sepp Blatter under fire
Blatter's Twitter 'hacked'
We can confirm that some of FIFA's twitter accounts, including the account of the FIFA President and @fifaworldcup, have been hacked today.

We are looking at this issue at the moment.
– FIFA statement
Blatter's Twitter 'hacked'
The Syrian Electronic Army has claimed responsibility for hacking the Twitter accounts of FIFA president Sepp Blatter and the official FIFA World Cup account.
The group previously claimed hacking the Twitter accounts of CBS, BBC Weather, BBC Radio Ulster, BBC Arabic Online and 60 Minutes.
Blatter's Twitter 'hacked'
The Twitter account of FIFA president Sepp Blatter, which appears to have been hacked, retweeted the official FIFA World Cup account which said he had resigned.
FIFA executives held a meeting regarding the decision to host the 2022 World Cup in #Qatar
It was decided that the president Sepp Blatter is to step down due to corruption charges
I do not apologize for my decision. I have done the best for #FIFA
Load more updates
Back to top