FIFA president Sepp Blatter has confirmed that Russia and Ukraine will be kept apart in the 2018 World Cup group stages should the Ukrainians qualify for the tournament.
Political tension between the neighbouring states continues to be high with Kiev accusing Moscow of backing Russian separatists in the east of Ukraine.
Blatter replied "you can be sure about this" when asked whether hosts Russia would be kept apart from Ukraine following a politically driven outbreak of violence during a recent match between Serbia and Albania.
Despite accepting the two nations should kept apart, Blatter has refused to support claims the tournament should not be played in Russia if the political climate is still volatile in 2018.
"A boycott never achieves anything and does not have a positive effect. FIFA is fully supporting the World Cup in Russia," he said.
Michel Platini has hit out at Fifa president Sepp Blatter by saying he no longer serves the cause of football.
The current Uefa president has risked the wrath of Blatter, who has come under criticism recently for the decision to hand Qatar the 2022 World Cup.
Speaking to French sports daily L'Equipe, Platini said: "Sepp is not the president of Fifa anymore. He is Fifa."
"Platini, Pelé, Blatter, (former Fifa president Joao) Havelange must yield to the interests of football. One must not use football, but serve football."
Blatter is set to stand for a fifth term as Fifa president at next year's elections, Platini had been touted as a challenger but opted to focus on his current role - a decision he insists he doesn't regret.
"It was not the time. I do not regret anything. One day maybe. We will see"
Advertisement
UEFA president Michel Platini has added his voice to calls for a secret report into World Cup bidding to be made public.
FIFA president Sepp Blatter has rejected calls to publish the report by FIFA's independent investigator Michael Garcia - saying any decision is out of their hands and would threaten witness confidentiality.
Platini joins a number of fellow FIFA executive committee members including Northern Ireland's Jim Boyce - and Garcia himself - in calling for the report to be published.
The UEFA president said in a statement: "As long as the regulations of the FIFA code of ethics regarding the actual investigation are respected, I support the publishing of the Garcia report.
"I have no issue with the findings and recommendations of the report being made available to the public."
The decision to publish now rests German judge Hans-Joachim Eckert, who is considering the report and will announce his findings in November.
Russia won the bid for the 2018 World Cup and Qatar will stage the 2022 tournament.
Confirming he will stand for another term in a video interview played at the Soccerex conference in Manchester, Fifa President Seb Blatter said: "You see a mission is never finished. And my mission is not finished.
"Then I got through the last Congress in Sao Paulo not only the impression but the support of the majority, a huge majority of national associations asking 'Please go on, be our president also in future'."
Fifa President Sepp Blatter has confirmed he will stand for election for another term leading football's international governing body.
Uefa president Michel Platini has announced he will not challenge Sepp Blatter for the presidency of world football's governing body, Fifa.
Speaking at a press conference in Monaco, the Frenchman did not rule out a future contest, saying: "I said I can beat Mr Blatter, but perhaps we will know in four years or six years or ten years if there will be a fight with Mr Blatter."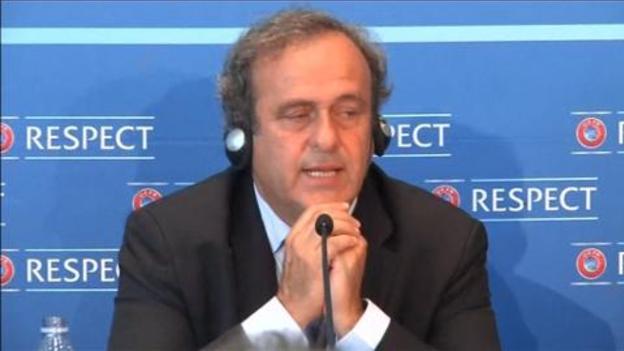 Advertisement
Michel Platini said his commitment not to stand against Sepp Blatter for the Fifa presidency was the best decision for Uefa.
Uefa president Michel Platini has ruled out standing for the Fifa presidency.
Platini, 59, was rumoured to be preparing to challenge current president Sepp Blatter in next year's election.
He previously said Fifa - which has been blighted by corruption allegations - needed a "new breath of fresh air".
But former France international told Uefa officials at a meeting in Monaco that he had opted against standing as he wanted to concentrate on leading European football's ruling body instead.
Fifa president Sepp Blatter has proposed a new challenge system where football managers could appeal two decisions in a game.
Mr Blatter said he has spoken to ex-players and coaches about having a new rule which would be similar to the Decision Review System in cricket.
He said: "When you are looking at so many matches on the TV, and we have 34 cameras here and it is so evident what has happened I think it is a good idea.
"If it is feasible we will see but when I have an idea I generally try to bring it."
Sepp Blatter has suggested he is planning to stand for a fifth term as FIFA president after declaring his "mission is not finished".
Load more updates