Two men have been arrested in connection with a shooting that left a 22-year-old man dead.
A 25-year-old man and a 32-year-old man are being questioned on suspicion of the murder of Jordan Thomas, who suffered fatal injuries when he was shot in a car in Sheffield city centre on Sunday night.
A 27-year-old man was seriously injured in the attack.
A South Yorkshire Police spokeswoman said: "Two men have been arrested this morning in connection with the fatal shooting in Sheffield on Sunday evening on Derek Dooley Way.
"Both men, aged 25 and 32 years old, were arrested in Sheffield on suspicion of murder. They are currently in police custody being questioned by officers.
"Police are continuing to investigate and are conducting further inquiries, and would still urge the public to please come forward if they have any information."
Detectives said they believed the shooting could have been a targeted attack.
Deputy Prime Minister Nick Clegg, MP for Sheffield Hallam, said the shooting death of a 22-year-old man in the city centre, was a "tragedy" and urged anyone with information to talk to the police.
In a message on Twitter, Mr Clegg said he was "shocked to hear what happened."
Shocked to hear what happened in Sheffield. Any loss of life is a tragedy. I hope those with info will do all they can to help the police.
Advertisement
A man has been shot dead and another injured as they sat in a car in Sheffield city centre.
The men, both 22, were shot in Derek Dooley Way, Sheffield, at around 10.15pm on Sunday, South Yorkshire Police said.
They were taken to hospital but the driver of the vehicle was pronounced dead. The passenger remains in hospital in a stable condition, police said.
Both men are from the Sheffield area. No one has been arrested, police said.
Sheffield MP Paul Blomfield has called on Sheffield United to reconsider its decision to allow convicted rapist Ched Evans back on the training field, warning bosses they were 'dragging the club through the mud'.
Sorry, this content isn't available on your device.
The Labour politician and lifelong Blades fan has written an open letter to the club's co-chairmen Kavin McCabe and Jim Phipps, published on his Facebook page.
I have not commented publicly on the issue until now because I was confident, on the basis of our discussions over several months, that you would make the right decision in accordance with the values of our club and because I didn't want to add to the damage to our reputation by needless speculation.

I also sought to reassure people who contacted me about the good intentions of the club. Sadly, it appears I was wrong.
– Paul Blomfield MP, Sheffield Central (Lab)
Mr Blomfield said he "strongly agreed" with the principle of rehabilitation – but pointed out that Evans had not taken the first step towards doing so, continuing to deny his guilt and trivialising his crime by referring to it as an "act of infidelity".
A family in Sheffield has unwittingly become an Internet sensation after being captured on film attempting to shoehorn a large sofa into a small family car.
Three people are shown trying to manhandle a three-seat sofa into the back of a small car in a task that seems doomed to failure from the outset.
They are then shown removing the cushions in a last ditch attempt to defy the laws of physics.
A murder inquiry has been launched after a man was found on wasteland with apparent gunshot wounds.
Emergency services were called to the patch of ground off Queen Mary Road in the Manor area of Sheffield at around 2.20am today.
The 23-year-old was taken to hospital but later died, police said.
A spokesman for South Yorkshire Police said: "A 23-year-old man, who is yet to be formally identified, was taken to hospital with what were believed to be gunshot wounds. He died a short time later."
Witnesses or anyone with information is urged to call police on 101 or Crimestoppers on 0800 555 111.
Advertisement
A Sheffield house fire that killed three generations of the same family was most probably caused by a faulty charger, police have said.
South Yorkshire Police said in a statement: "Following a joint investigation, South Yorkshire Police and South Yorkshire Fire and Rescue have found that the most probable cause of the fatal house fire in Wake Road, Nether Edge, Sheffield, was an electrical fault involving a faulty charging device.
"However, the investigation continues on behalf of the coroner, and a full inquest into the deaths of the three children and two women will take place at a future date."
A 14-year-old girl has died and another girl has been seriously injured following a hit and run in Sheffield on Friday night.
Emergency services were called to the Normanton Hill area of the city at about 9.30pm following reports of a road traffic collision.
The car, which failed to stop at the scene, is thought to be small, dark-coloured, and possibly a Volkswagen or a Honda. It was travelling downhill towards the A57 Mosborough Parkway at the time of the collision.
Officers are appealing for the driver of the car to come forward and contact South Yorkshire Police.
Five people including a nine-week old baby have died following a fire at a house in Sheffield.
Read the full story ›
A family member of the two women and three children who died in the blaze said he had only just seen the two boys at the weekend and that they were "happy, energetic boys."
Cousin Ishfaq Hussain Kayani spoke to Dom Reynolds at Channel 5 after a grandmother, aunt, two children and a nine-week-old baby died at Wake Road in the Sharrow area of the city.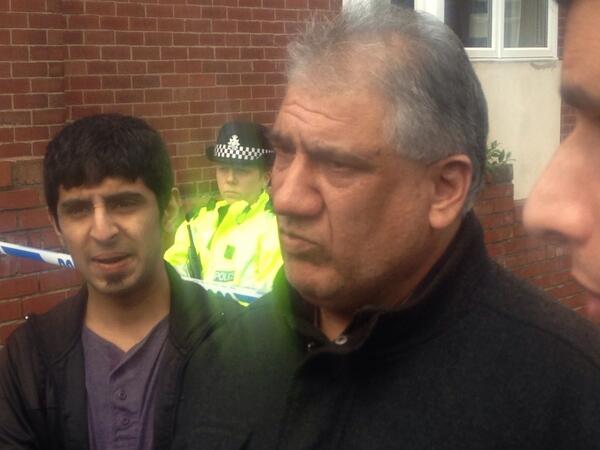 Load more updates