Live updates
Shell's shares fall 4% after profits warning
Shares fell 4% after the profit alert, which comes after an already disappointing past few months for the Anglo-Dutch group.
Shell's shares fall 4% after profits warning
Shell has blamed lower oil and gas prices and "weak industry conditions" in the processing and distributional of oil, as well as higher exploration expenses and lower volumes.
The group also said it expects hefty writedowns of 700 million dollars (£429 million) for the fourth quarter and 2.7 billion dollars (£1.7 billion) for the full year relating to its its upstream business.
These are expected to hit results even further, sending fourth quarter earnings 70% lower to around 2.2 billion dollars (£1.3 billion) and 2013 earnings 38% down to about 16.8 billion dollars (£10.3 billion).
Advertisement
Shell's shares fall 4% after profits warning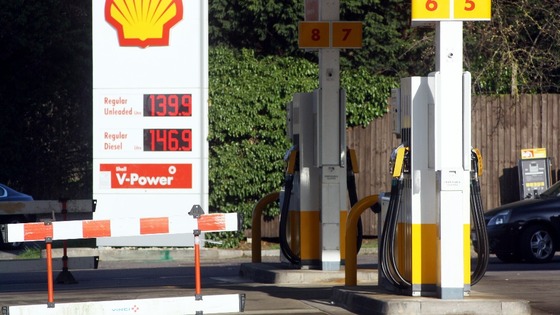 Oil giant Royal Dutch Shell has warned its results for the fourth quarter of 2013 are expected to be "significantly lower than recent levels of profitability".
Environmentalists have accused the Government of being too close to oil firms, following a Freedom of Information request that showed two Foreign Office employees were working for Shell.
The staff, acting as government relations advisers, have been formally seconded to the oil giant for periods of between one and two years since May 2010, with their salaries paid by Shell.
Shell said the arrangement built "trust and understanding" between Government and businesses.
Oil price fix claim warning
The price of petrol at UK pumps has increased significantly since 2004, but the majority of that is down to tax.
In 2004 a litre of petrol cost, on average, 80p - 59p of which was tax. In 2012 the average price jumped to £1.36 as tax rose to 81p: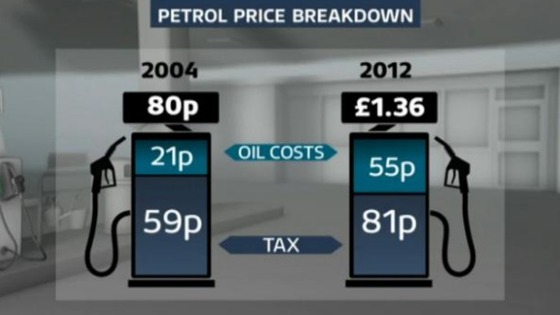 But despite the price of petrol increasing in the UK, the Office of Fair Trading found that - pre-tax - the country has some of the cheapest road fuel prices in Europe: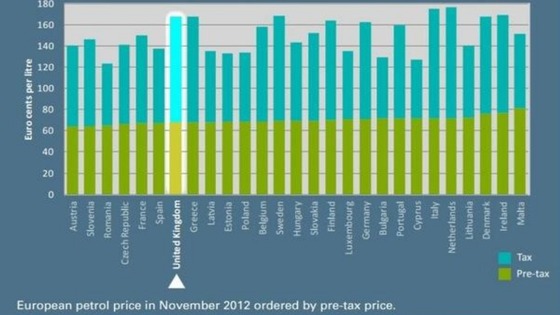 Oil price fix claim warning
The Office of Fair Trading (OFT) has defended its investigation in to petrol pricing saying that it lacked information:
The Office of Fair Trading carried out a call for information on UK road fuels, the findings of which were published in January of this year.

As part of this call for information, the OFT asked for evidence on whether speculation or manipulation of oil spot and futures markets or inaccurate oil or wholesale road fuel price reporting could be leading to higher pump prices.

The OFT stated these issues could potentially raise serious concerns but no credible evidence was submitted to the OFT in response to the call for information.
The European Commission has confirmed on May 14, commission officials carried out several unannounced inspections in a number of countries at the premises of companies active in and providing services to the crude oil, refined oil products and biofuels sectors.

The investigation is being conducted by and is a matter for the European Commission, and the OFT is currently assisting the commission with its inspections in the UK.
– Office of Fair Trading statement

In January the OFT found that price rises were driven by tax rises and the hike in the oil price, and said it found "very limited evidence" that retailers were not passing on drops in the wholesale price to drivers quickly enough.
Advertisement
Oil price fix claim warning
A Conservative MP blasted an Office of Fair Trading (OFT) inquiry into petrol prices as "limp-wristed and lettuce-like" in the wake of price-fixing allegations.
Harlow MP Robert Halfon, who has campaigned for cuts to duty and greater transparency in the market, said despite the Commons unanimously calling for a thorough probe into petrol pricing, the regulator failed to spot any of the allegations currently under review.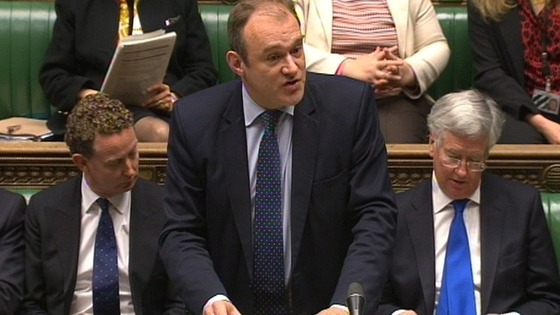 Mr Halfon said: "Do you not agree that what happened was the OFT carried out a limp-wristed, lettuce-like inquiry when they should have done a full 18-month inquiry into what has been going on?"
Energy Secretary Ed Davey defended the OFT as an "independent body, a strong body", which has powers to determine its own investigations.
Mr Davey made a statement updating MPs on the launch of a European Commission investigation into oil companies BP, Royal Dutch Shell and Norwegian company Statoil.
Oil price fix claim warning
The Energy Secretary Ed Davey has said that the 'full force of the law' will come down on oil firms if it turns out that they did manipulate oil prices.
Oil price fix claim warning
RAC technical director David Bizley said the allegations were "worrying news for motorists" who are already suffering due to the high cost of keeping a vehicle:
The Office of Fair Trading inquiry concluded at the end of January that the UK fuel market was operating fairly and not against the best interests of motorists, and therefore that a Competition Commission investigation was not needed.

Motorists will be very interested to see what comes of these raids. Whatever happens the RAC will continue to campaign for greater transparency in the UK fuel market and for a further reduction in fuel duty to stimulate economic growth.
Oil price fix claim warning
Conservative MP Robert Halfon who has led a campaign calling for a full investigation into alleged cartels and market manipulation in the oil market for the past three years, said:
Last year, in a debate that I pressed for, Parliament voted unanimously for an investigation into the oil market.

These latest allegations underline why that must happen urgently in the UK.

High oil prices are crushing families across Britain. Motorists are being taken for a very expensive ride.

The Government has done its bit, by freezing fuel duty for three years. Now oil companies must come clean and show some responsibility for what is happening to the international oil price.
Mr Halfon told BBC Radio 4's Today programme anyone found guilty of price fixing should face jail and oil firms should expect hefty fines:
Clearly there has been a problem, there needs to be a full inquiry.

The Government needs to say, anyone caught doing this, there should be prison for price fixing and there should be huge multimillion-pound fines on any oil company found guilty and that money should be passed back to the motorist.
Load more updates
Back to top