Slow service, rude staff and unavailable items are among complaints deterring shoppers from the high street, according to a survey.
Read the full story ›
Many supermarket groceries are sneakily being sold in smaller quantities without a reduction in price, a consumer group has claimed.
Read the full story ›
Advertisement
Boris Johnson is among 40 MPs to have signed a letter in the Sunday Telegraph urging a relaxation of Sunday trading laws.
Read the full story ›
Tonight investigates how supermarkets are responding to the challenges of more shoppers going online, using discounters, and 'going local'.
Read the full story ›
A supermarket price war and fierce competition across the rest of the high street has seen shop prices slumped by a record level last month.
Read the full story ›
As a promotion Black Friday is flawed. While it whips up demand and redistributes it the event doesn't obviously generate additional sales.
Read the full story ›
Advertisement
Police have warned Black Friday web shoppers to change their passwords after a man was arrested for alleged cyber offences against Tesco.
Read the full story ›
John Lewis's website has crashed as it was overwhelmed with shoppers looking for an online deal on Black Friday.
John Lewis apologised to customers in a statement to ITV News.
There are record levels of demand for our website today and for some people it is taking longer than normal to shop on johnlewis.com. We apologise to customers for any inconvenience caused.
– John Lewis press office
Currys PC World has reportedly clocked up online sales of 30 TVs a minute during this year's Black Friday sales event.
The electrical retailer said it had had its "biggest ever start to Black Friday with seven million visitors to the site this week already".
Stuart Ramage, E-Commerce Director at Currys PC World, said:"We've seen unprecedented demand online with a 53% increase in hourly web traffic and across the country we've seen customers queuing from before the stores open – everyone's in good spirits and things are running smoothly."
Websites are reportedly feeling the pressure as this year's Black Friday shopping event has seen a surge in online shopping rather than instore purchasing.
While shops were quieter than expected websites for stores saw increased numbers of people logging on and slowing down their web page loading times.
Argos appeared to be one of the brands experiencing the biggest delays on its website with pages taking almost four seconds to load during the hour to 1pm and the entire site remaining unavailable at least 20% of the time.
Black Friday. All quiet on the high st, online is where the action. One website appears to be struggling. https://t.co/CvZoRwAfF5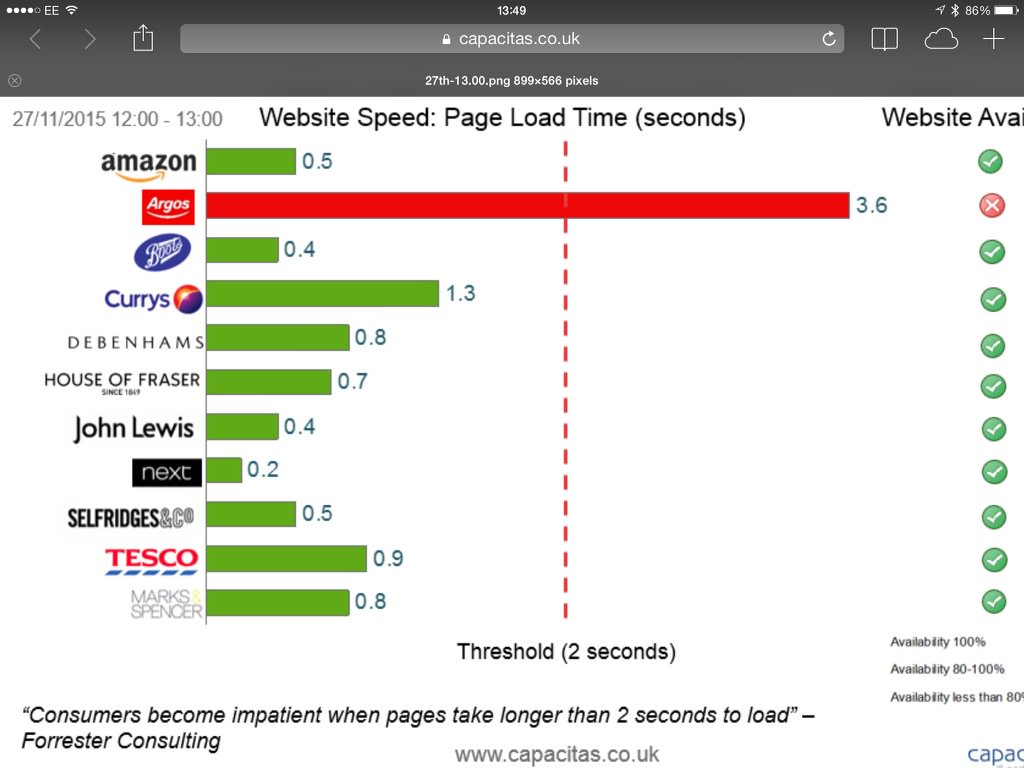 Load more updates