ITV News reporter Rob Murphy is at Western Cape High Court:
Dewani appeared in dark suit and black tie. He looled nervous and disorientated. Remanded in custody till May 12.
He willbe kept mp bat Valkenburg Hospital for assessment of his mental illness.
Journalists are gathered outside West Cape High Court ahead of Shrien Dewani's appearance.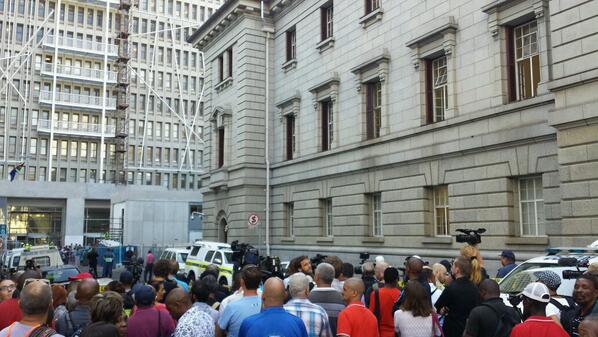 Advertisement
It has been confirmed that Shrien Dewani has arrived at West Cape High Court in Cape Town South Africa.
Mr Dewani is accused of planning the murder of his wife Anni while they were on their honeymoon.
He was extradited from the UK last night. South African authorities chartered a private plane to transport him.
Shrien Dewani, the husband of honeymoon murder victim Anni Dewani, has boarded a private plane to Cape Town, eCNA News journalist Leigh-Anne Jansen reported:
Honeymoon murder suspect Shrien Dewani will arrive in South Africa today after he was extradited from the UK.
The millionaire businessman, who is expected to appear in a Cape Town court this morning, is accused of ordering the murder of his new wife Anni.
She died after being shot in the neck as the couple travelled in a taxi on the outskirts of Cape Town in November 2010.
Dewani has been involved in a protracted legal battle against extradition on the grounds that he has mental health problems.
However, Scotland Yard confirmed last night that the businessman was flown from Bristol to South Africa accompanied by officers from the Metropolitan Police Service (MPS) Extradition Unit.
Advertisement
Shrien Prakash Dewani has been been extradited from the UK to South Africa, the Met Police have confirmed. The 34-year-old was taken from Fromeside Hospital in Bristol to Bristol Airport accompanied by officers from the Metropolitan Police Service (MPS) Extradition Unit.
Officers were met at the airport by representatives from the South African authorities who have escorted him on the flight to South Africa.
Dewani was originally arrested by officers from the Extradition Unit on December, 7, 2010 under a provisional arrest warrant issued earlier on the same evening, at the request of the South African authorities, on suspicion of conspiring to murder Anni Dewani.
The uncle and brother of Anni Dewani - Anish and Ashok Hindocha - have spoken to ITV News about the three years following Anni's death.
They said they hoped to get answers soon about Anni's death after she was murdered on her honeymoon in South Africa.
Today, Mrs Dewani's uncle, Ashok Hindocha, said: "From today and onwards this case will be about Anni. Until now it hasn't been about what really happened to her.
"The justice system is the way it is. Obviously we were extremely surprised that it took such a long time.
"There is one nation, one powerful nation called the United Kingdom, that has a treaty with South Africa. That treaty was challenged, so we are happy that it went through. Unfortunately it took a long time."
Load more updates