Police are now warning locals that the house damaged by a sinkhole in Ripon, North Yorkshire, is close to collapsing.
Small crowd of onlookers watching building at risk of collapse. Still no sign of the hole that caused this. http://t.co/cWOPIo5oGj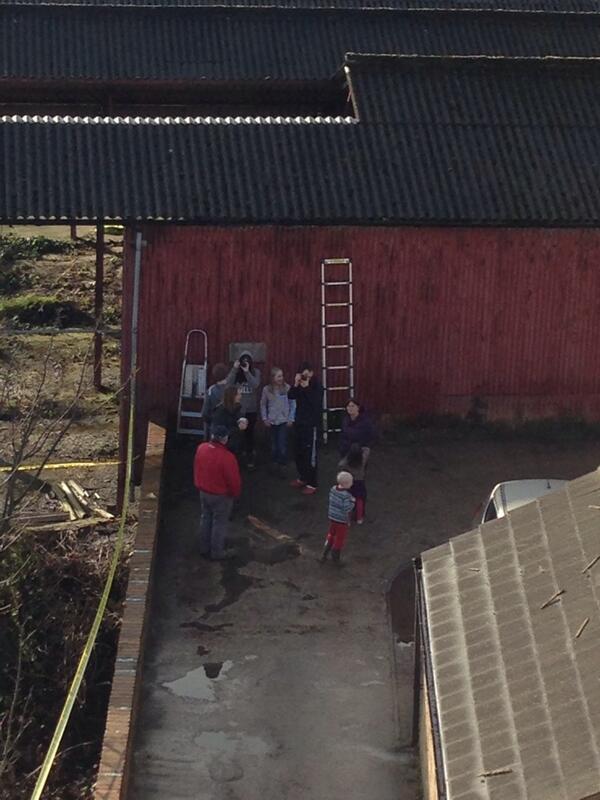 Three houses had to be evacuated amid fears they could collapse after a huge 25 ft wide sinkhole opened up in a street.
Police cleared the properties on Magdalen's Close in Ripon, North Yorkshire, at 5.40pm after receiving reports the huge sinkhole had appeared.
Officers carried out house-to-house checks in the area to warn people close to the affected properties.
Police, fire crews and the ambulance service remained at the scene with utility services' engineers and structural engineers who were assisting with the incident.
A North Yorkshire police spokesman said: "The affected property and two houses nearby have been evacuated and a cordon has been put in place to protect members of the public. At this stage no injuries have been reported."
North Yorkshire fire and rescue service said that a fire engine and a heavy rescue unit from Ripon were at the scene, where cracks had appeared in the ground, damaging to a building.
A spokeswoman said: "There are no occupiers in the property and a dog has been successfully rescued. Residents from adjacent properties have been evacuated as a precaution.
"The crews have cordoned off the area and are awaiting the arrival of specialist engineers."
The spokeswoman said the sinkhole was about 25 feet wide.
The British Geological Survey has said that the most susceptible area in the UK for sinkholes is the Permian gypsum deposits of north-east England, particularly around Ripon.
It says large sinkholes have developed around Ripon, some of which have affected property and infrastructure. This is because gypsum is far more soluble than limestone, and thus dissolves more rapidly.
Advertisement
A sinkhole which has opened up in Ripon in North Yorkshire is the latest in a spate to appear across the UK in recent weeks.
Read the full story ›
Ripon sinkhole: Group Commander Phil Whild says the main priority is to keep the neighbouring residents safe.
Homes have been evacuated in Ripon after a sinkhole has appeared.
The hole is approximately 25ft in diameter and is believed to be due to a gypsum fault.
The sink hole appeared near a property on Magdalen's Close and has caused part of the building to collapse. Nobody was in the property and a dog has been rescued.
Fire and rescue crews have cordoned off the area and are awaiting the arrival of specialist engineers.
Advertisement
A teenager whose car was swallowed by a 30ft deep sinkhole in her driveway has been given a replacement by motoring website Auto Trader.
Zoe Smith's prized Volkswagen Lupo disappeared into the 15-foot wide crater that opened up in her family's home in High Wycombe, Buckinghamshire, earlier this month.
"It is very surreal when you wake up and find your car has fallen through a big hole in the driveway," the 19-year-old said. "I never expected anyone to get in touch and offer us a new car."
She was invited to choose a replacement Lupo and Auto Trader met the £2,200 cost.
Jon Quirk, editor in chief at Auto Trader, said: "Everyone loves their first car, so when we heard the terrible news of Zoe's Lupo disappearing into the ground we really wanted to purchase her a replacement."
A section of the M2 motorway will remain closed in both directions tonight after a large hole appeared in the central reservation yesterday.
The Highways Agency said the hard shoulder will be opened to motorists tomorrow morning.
A spokesman said: "It is hoped the hard shoulder will reopen in both directions by 6am tomorrow morning. Traffic heading to and from Dover is still advised to continue using the M20."
The hole has been filled with 40 tonnes of pea shingle before a further assessment takes place, which is likely to take at least another 48 hours, he added.
After a large hole opened up on a busy motorway a road expert has said it is 'a surprise' that it has not happened earlier and said there the costs of repairs to our roads after the recent severe weather will be 'huge'.
Professor Stephen Glaister, director of the RAC foundation, said: "We already have the most congested road network in Europe and our motorways carry a third of all traffic. This will have a major impact on a main route in and out of the country.
"The surprise is that something on this scale hasn't happened before yet everyday our highways are literally being undermined by the rain. When the deluge finally stops we will be left with a huge repair bill on roads across the country."
The Highways Agency have confirmed that he hole on the M2, in the central reservation between junctions 5 and 6, near Lynsted is approximately 15 feet in depth, not 50 feet (15 metres) as previously stated.
Their engineers are on site carrying out an investigation and this includes the cause of the hole.
Load more updates