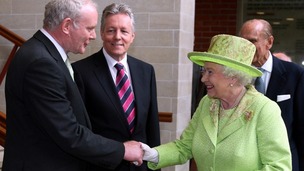 In an historic encounter, the Queen has shaken the hand of Sinn Fein's Martin McGuinness.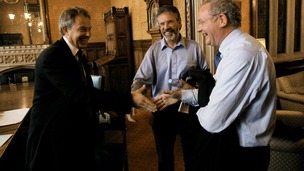 Today's handshake between the Queen and former IRA commander Martin McGuinness is a historic gesture of peace. Here are some others.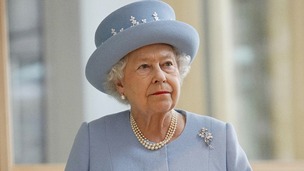 The hands of history? The Queen and former IRA Commander Martin McGuinness will make a remarkable gesture for peace today.
Live updates
Delivery driver shot dead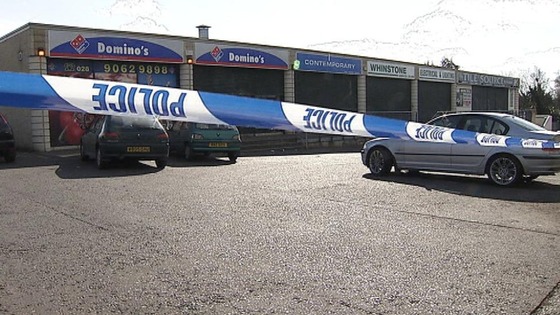 Paul Maskey, Sinn Fein MP for West Belfast says the community is shocked by the murder of a young father of one on Saturday night.
"Those who carried out this shooting should be ashamed of themselves" he said. "People are shocked that this is the Easter holiday period and people were in good form and someone, last night, was willing to go out and take the life of another individual".
Northern Ireland's Justice Minister David Ford has also condemned the murder. "There can be no cause that can justify the taking of a precious human life and no excuse can explain the suffering that results" he said. Both politicians urged any witnesses to the attack to speak to the police.
Sinn Fein by-election victory
Francie Molloy has won the Mid Ulster by-election to fill the seat vacated by Martin McGuinness at Westminster.
Proud and humbled to win this victory for the people of Mid Ulster. Thinking of all those who have struggled to make days like this possible
Official result not in but we've won. Thanks to all who has voted for me and helped with the campaign. We'll build on our record of results.
Stormont's deputy First Minister resigned from the Westminster role in December.
Read: Martin McGuinness resigns as MP to concentrate on Stormont politics
Advertisement
Queen meets Martin McGuinness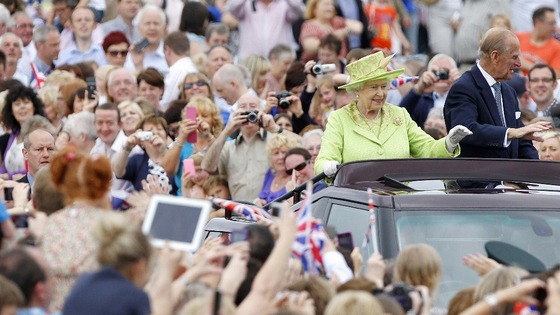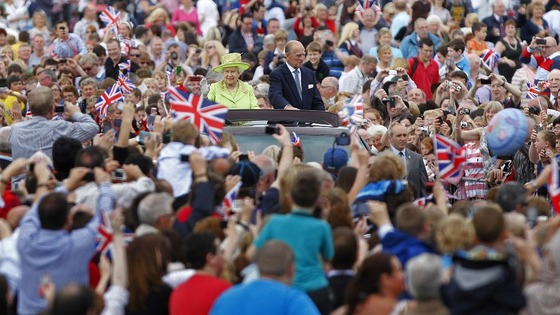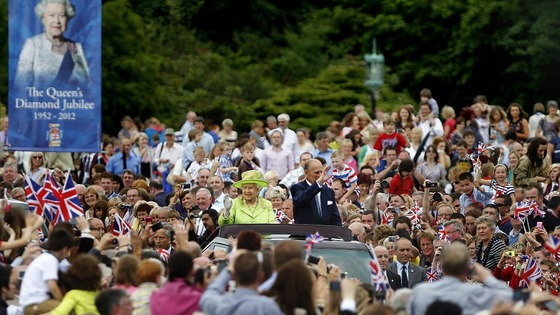 Queen meets Martin McGuinness
The Queen and the Duke of Edinburgh were met by cheering crowds as they travelled in an open-top car to The Parliament Buildings in Stormont, as part of her visit to Northern Ireland.
Queen meets Martin McGuinness
Twenty thousand people have gathered for a garden party with the Queen this afternoon and I think if we spoke to them, then the overwhelming majority are happy with what happened; welcome that handshake and see it as good step for the future of this country.
Having said that there are others who don't, dissident Republicans who feel that Martin McGuinness has sold out, and that Sinn Fein is doing this purely for political purposes.
There are also families who have suffered at the hands of the IRA. People who have lost husbands and wives, sons and daughters, who find it very uncomfortable to see a former commander of the IRA shaking hands with the British Queen.
Queen meets Martin McGuinness
Martin McGuinness has described meeting the Queen as, "very nice."
Advertisement
Queen meets Martin McGuinness
Martin McGuinness has said that, "it was nice" to meet the Queen and that the meeting went, "very well" as he left the Lyric Theatre this afternoon.
He also added, "I'm still a Republican."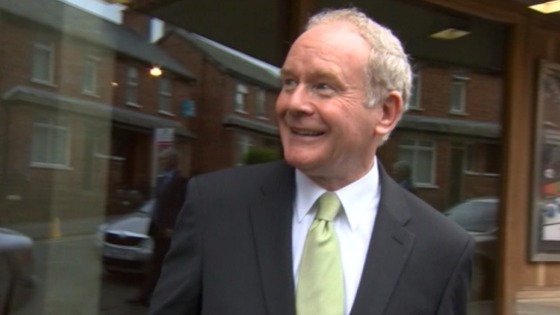 Queen meets Martin McGuinness
Northern Ireland Secretary Owen Paterson met Mr McGuinness this morning and added that he was relaxed.
He said the Deputy First Minister greeted the Queen in Irish and their meeting was cordial.
It had obviously gone very well.This will move Northern Ireland on to a whole new plane. After all the trauma of Northern Ireland, everyone is looking forward.It is about a shared future, not a shared-out future.

None of this could have happened a few years ago so it is all looking to the future.
He said it was absolutely appropriate that when the Queen visits parts of the UK, she meets local politicians, democratically elected, pursuing their democratic political goals by peaceful means.
Mr Paterson added that it built on the success of the Queen's visit to the Republic of Ireland last year.
Queen meets Martin McGuinness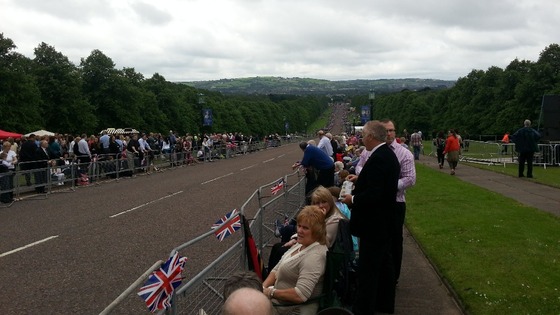 The Queen is expected to visit Stormont later today.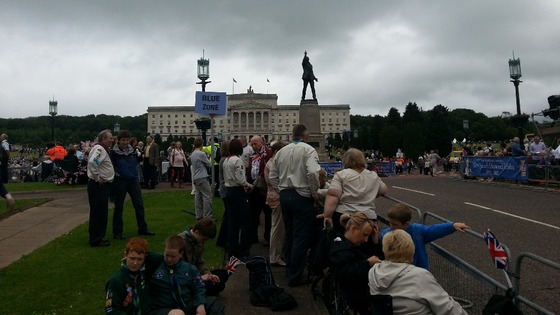 Queen meets Martin McGuinness
It is understood that during the VIPs' initial private meeting, Mr McGuinness welcomed both the Queen and President Higgins in Irish.
The Deputy First Minister is said to have commented briefly on the Queen's visit to Dublin last year, and in particular her comments regarding all the victims of the conflict.
A Sinn Fein spokesman said: "He emphasised the need to acknowledge the pain of all victims of the conflict and their families."
Mr McGuinness is said to have spoken to the Queen of the significance of her visit, and of the need for it to be built upon in the time ahead.
Sinn Fein said Mr McGuinness told the Queen that their meeting was a "powerful signal that peace-building requires leadership".
The Deputy First Minister also praised the role of the President in today's encounter, and welcomed that the engagement took place at an event celebrating culture across Ireland.
Load more updates
Back to top