snowbound residents of western New York awoke to as much as another foot of accumulation with another 30 inches (76 cm) expected.
Read the full story ›
Parts of the northern Pennines are under a blanket of snow after the Met Office issued an amber warning for much of the Scottish Highlands and northern England.
Advertisement
The Met Office has issued a yellow warning for snow for much of the Scottish Highlands and northern England for Sunday and Monday.
Strong wind is expected on both days in Orjney, Shetland, the Highlands and Strathclyde, as well as heavy rain in southern England on Sunday.
The Niagara Falls on the US-Canada border could as well be in the Arctic this week after temperatures plummeted to record lows across the continent.
Giant ice boulders have been formed along the shores of Lake Michigan, as freezing conditions in the US continues to impact the Midwest.
Footage of the ice boulders, which have formed in the freezing waters of Lake Michigan, was captured in Glen Arbor and shared on the town's local Facebook page.
The giant ice balls started as small chunks of ice, before growing layer by layer in sub zero water, with some locals claiming they are as big as 50cm in diameter.
The rare nationwide chill which has been caused by the so-called "polar vortex" - an Arctic low pressure system - is expected to keep a grip on much of the country for at least another day, with cutting winds and blizzards posing the most danger.
Advertisement
Hell has finally frozen over - at least as far as a US town is concerned where temperatures have plummeted well below freezing.
The small town of Hell in the state of Michigan saw temperatures drop to -20C and the 600 residents in the area have had to deal with deep snow that has left many vehicles stranded.
As much of the US experiences a dangerous and severe cold spell, does the UK have anything to worry about?
Read the full story ›
NBC News affiliate WGRZ has tweeted a picture of wintry conditions in Buffalo, New York, today as the cold snap which has seen temperatures plummet to -14C in the city.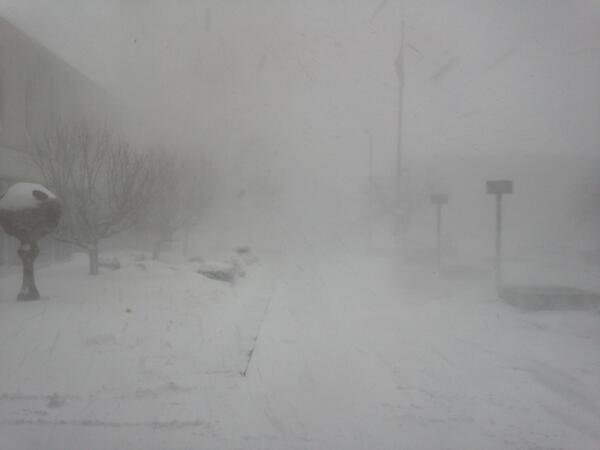 New York's Central Park hit a record low temperature for January 7 of -16C (4 degrees Fahrenheit) but with winds gusting to 32 miles per hour conditions felt far colder, according to the US National Weather Service.
Load more updates