Hell has finally frozen over - at least as far as a US town is concerned where temperatures have plummeted well below freezing.
The small town of Hell in the state of Michigan saw temperatures drop to -20C and the 600 residents in the area have had to deal with deep snow that has left many vehicles stranded.
Advertisement
As much of the US experiences a dangerous and severe cold spell, does the UK have anything to worry about?
Read the full story ›
NBC News affiliate WGRZ has tweeted a picture of wintry conditions in Buffalo, New York, today as the cold snap which has seen temperatures plummet to -14C in the city.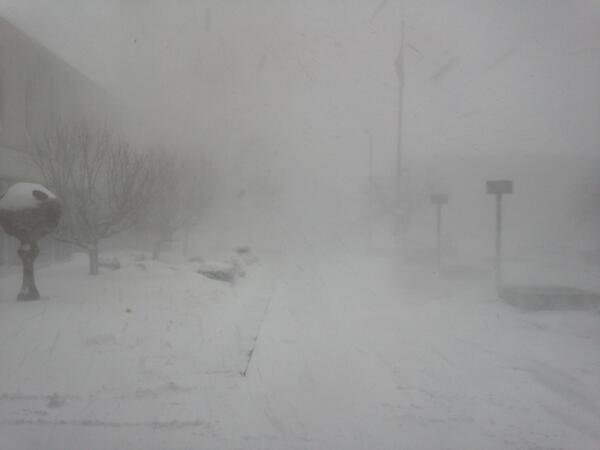 New York's Central Park hit a record low temperature for January 7 of -16C (4 degrees Fahrenheit) but with winds gusting to 32 miles per hour conditions felt far colder, according to the US National Weather Service.
The Arctic front sweeping across the United States has reportedly got so cold that the small town of Hell in Michigan has "literally frozen over".
Advertisement
The US National Weather Service has produced a graphic explaining the 'polar vortex' which has brought record low temperatures to many parts of the United States.
At least four people have been killed as an Arctic front continues to grip the United States bringing the coldest temperatures in two decades.
The weather-related deaths reported include a 48-year-old Chicago man who had a heart attack while shoveling snow on Sunday and an elderly woman who was found outside her Indianapolis home on Monday.
Five facts about the US cold snap:
At -38C, Babbitt, Minnesota has been colder than Mars in recent days. It was also the coldest place in the United States on Monday according to the National Weather Service.
People have been warned frostbites could set in on uncovered skin within minutes if they go outside.
Some 4,000 flights were canceled and 7,500 delayed, according to FlightAware.com, which tracks airline activity.
Temperatures were 11 to 22C below average in parts of Montana, North and South Dakota, Minnesota, Iowa, Wisconsin, Michigan and Nebraska.
The coldest temperatures in years and gusty winds were expected as far south as Brownsville, Texas, and central Florida, the National Weather Service said.
A blast of Arctic air that has gripped the vast middle of the United States has forced a polar bear at a Chicago zoo indoors, according to local media reports.
Anana, a polar bear at Lincoln Park Zoo has not yet grown a layer of blubber that bears need to insulate themselves against arctic winter temperatures and will be staying warm inside a "climate-controlled" area.
"In the wild, they would seasonally eat seals and fatten themselves up with that blubber," Lincoln Park Zoo spokeswoman Sharon Dewar told CNN.
But zookeepers "don't feed them seals or fatten them up," she said.
The U.S. cold snap outdid freezing weather in Almaty, Kazakhstan, where it was -22C and Mongolia at -23C.
More than half the flights at Chicago's O'Hare International Airport were canceled as fuel supplies froze, leaving crews unable to fill aircraft tanks. The afternoon temperature in Chicago yesterday dipped to minus -24C.
Load more updates