Temperatures plummeted to lows of -25C during a huge snow storm in America.
Drifts of snow and low visibility have caused travel chaos, with 10,000 flights delayed or cancelled.
ITV News Lewis Vaughan Jones reports:
Advertisement
A heavy snowstorm and dangerously cold conditions gripped the north-eastern United States leading to delaying flights, paralysing road travel and closing schools and government offices across the region.
Massachusetts was hard-hit by the first major winter storm of 2014, getting nearly 14 inches of snow (35 cm), while some towns north of Boston saw close to two feet (60 cm).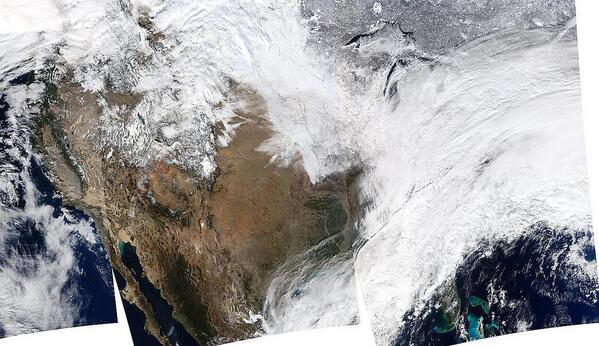 A major blizzard that has hit the northeastern coast of the United States has caused travel chaos with over 1,000 flights delayed or cancelled and major roads closed.
The north-eastern United States is being battered by blizzard-like conditions, causing more than 1,000 flight delays and cancellations, paralysing road travel, and closing schools and government offices.
The first major winter storm of 2014 brought bone-chilling temperatures and high winds from the lower Mississippi Valley to the Atlantic coast, with nearly 2ft (60 cm) of snow falling in some areas of Massachusetts.
Much of the US north-east saw heavy snowfall and plummeting temperatures late on Thursday and early on Friday morning, said Jared Guyer, a meteorologist with the National Weather Service.
The weather service said the mass of Arctic air would drop temperatures to levels 20 to 30 degrees below normal, with record lows possible on Friday.
Advertisement
Local authorities and transport companies should face fines if they fail to provide adequate care for stranded passengers, the head of the Commons transport committee has said.
Louise Ellman told Daybreak adverse weather conditions "can be predicted" and it was "the responsibility" of the authorities to "make provision" during disruption.
"Passengers want to know what it is happening. People are reasonable and they do realise where there is bad weather, there will be disruption.
"But they do need to know what is happening and know when that disruption is likely to end."
Local councils were "as prepared as ever" to deal with bad weather with "1.4 million tonnes of salt stockpiled" to grit roads with, the Local Government Association (LGA) said.
Peter Box, the chairman of the Local Government Association's economy and transport board said councils were prepared for snow.
Councils will treat as many roads as possible and have also filled thousands of community grit bins and recruited volunteers to help people clear pavements, paths and side streets when needed.

It is pleasing that this report acknowledges the need to raise awareness that there is no law against people clearing pavements or public spaces.
– Peter Box of the Local Government Association
Road, train and plane operators must work more closely with the Met Office and other forecasters if travel disruption is to be avoided in winter months, a group of MPs has said.
It is vital passengers receive up-to-date information of changes and disruption whenever possible.
More needs to be done to keep pavements clear of snow and ice.
Adverts broadcast across the whole of the UK should be used to educate people on how best to clear ice and snow from outside their homes.
The Civil Aviation Authority (CAA) needs to get better at communicating with airport passengers and make sure travel information is shared at airports across the UK
The Highways Agency should make real-time travel information more accessible by reviewing barriers on this data and identify the best technology to do so.
The Office of Rail Regulation needs to put pressure on rail companies to develop clear policies on working out how long disruption will last.
More must be done to manage Britain's transport system during the winter months as the disruption just before Christmas showed delayed trains and buses were "not just caused by snow", MPs said.
Floods and gales plagued travellers during the Christmas rush, not just snow and ice, the transport committee said.
Launching the report today, Mrs Ellman said: "Disruption to transport is not just caused by snow. We saw recently the impact of severe storms and flooding on transport services.
"At Gatwick, thousands of passengers were stranded over the Christmas period due to a power failure during stormy weather. The CAA must get to the bottom of what went wrong and how airports across the country can avoid similar situations in the future."
Load more updates