Snow falls in many parts of country as temperatures are set to plummet with sleet creating hazards on the roads
Read the full story ›
A "state of emergency" has been declared in Kentucky today after a winter storm stranded hundreds of drivers on interstate highways.
Drivers were stuck on highways for up to 12 hours after becoming stuck in 21.5 inches of snow.
Kentucky Governor Steve Beshear declared a state of emergency and the National Guard was deployed to assist the stranded after the winter storm hit.
The storm, which spread from Texas to New England, closed hundreds of school districts and caused the cancellation of nearly 4,000 flights.
According to NBC News, state police said that 30 miles of Interstate 65 and 50 miles of I-24 were still impassable by the afternoon.
Advertisement
Outbreaks of rain and strong winds will spread across the UK through Saturday night into Sunday, with some wintry showers in north and west.
Read the full story ›
Severe weather warnings have been issued for large parts of the UK as forecasters predict heavy snow in the coming days.
Wintry showers are expected to hit northern England, Scotland and Northern Ireland on Wednesday and Thursday.
The Met Office has issued a yellow warning - which means be aware - and called on the public to prepare for disruption to travel.
Forecasters expect 2-5cm of snow to accumulate locally at low levels while higher ground above 150 metres could see in excess of 10cm. Visibility could be significantly reduced at times with strong and gusty winds likely to accompany snow showers.
A statement by the Met Office's chief forecaster read: "An active cold front is expected to push south-east across the UK during Wednesday introducing an increasingly cold and unstable air mass.
"Showers will become frequent and heavy, increasingly falling as snow in the north and west, and driven well inland by strong to gale force north-westerly winds. Accumulating snow is likely, especially overnight."
The cleric has ruled against the building of snowmen as he said it was a version of a depiction of a person with a soul, which is sinful.
Read the full story ›
Clear skies allowed a satellite image to be taken, showing snow in the Pennines, north Midlands, Northern Ireland and Scotland yesterday.
Read the full story ›
Advertisement
The Met Office have confirmed today that the current cold weather alert will remain in place until Wednesday.
The weather and climate service posted an update on Twitter advising Britons of the ongoing Level 3 weather conditions: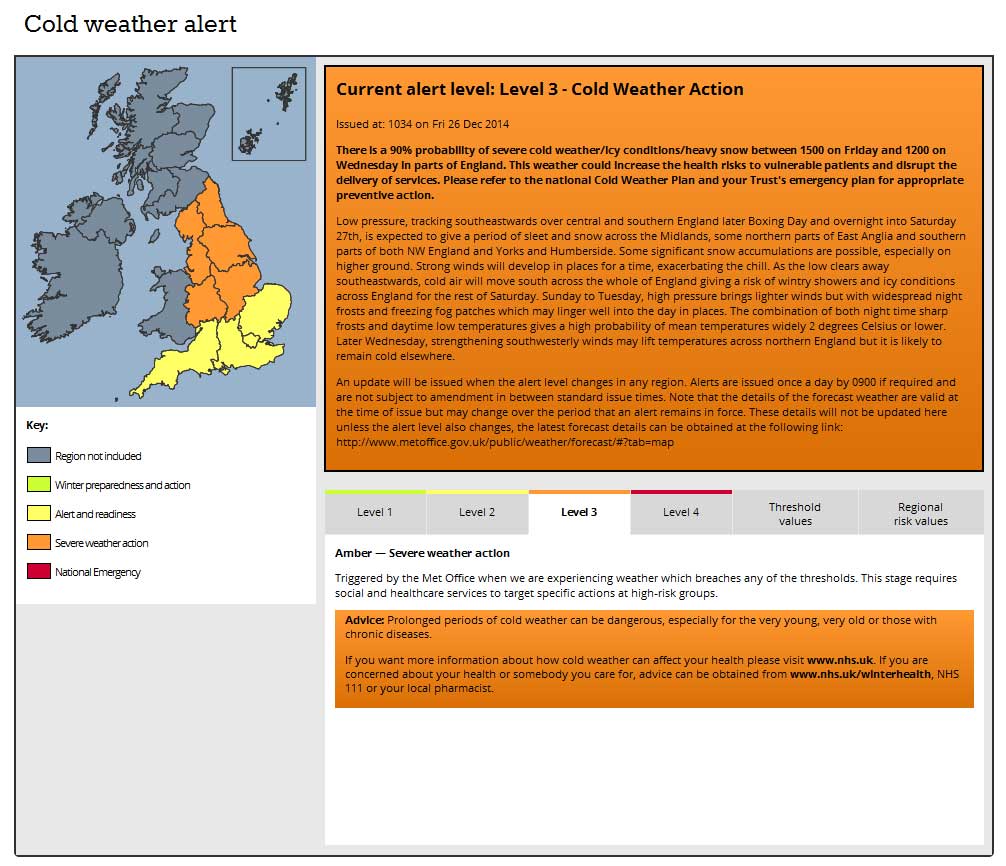 Last night temperatures across the UK fell to the lowest of the year with the mercury plunging as low as -8.7 (16.3F) in places such as Katesbridge, Co Down.
A weather warning for ice is in place today, including in the east Midlands, as freezing temperatures and offshore rain showers increase the risk of slippy surfaces.
A chilly night with widespread frost and fog in some parts of the UK which will be slow to lift in the morning.
Read the full story ›
Temperatures are expected to plunge over the next three days as 2014 gets set to end on a cold note.
Temperatures are expected to drop to a low of -10C (14F) overnight - the coldest it has been all year - 48 hours after snowfall affected travellers in parts of northern England, Scotland and the Midlands.
Last night was very cold, but it didn't quite break the record due to some cloud cover. We had lows of -7C (19.4F) in parts of Northern Ireland, which was about as cold as it got. But we are expecting -10C potentially tonight in northern Scotland or Northern Ireland."
– Simon Partridge, Met Office Forecaster
Bookmakers have installed odds of 5/1 that snow will fall in London on New Year's Day, with odds of 9/4 and 3/1 for Edinburgh and Belfast, respectively.
Load more updates