US train operator Amtrak is reporting disruptions to its north-east services due to the extremely low temperatures.
Due to extreme cold forecasted to impact the Northeast, #Amtrak will operate a modified schedule on the NEC & Empire Line on Tues, Jan.7.
Services have been suspended between Philadelphia and Baltimore, although it was not clear if this was weather-related.
Acela/Northeast Regional service is temp suspended btwn PHL/BAL due to mechanical problems involving the overhead electrical system.
More than 9,000 flights have been cancelled in the US in the past four days as a result of the severe weather and record low temperatures, Bloomberg reports.
Most of the cancellations were in the Chicago airport, with O'Hare International and Midway International accounting for 1,500 cancellations.
Advertisement
Around 3,364 flights were cancelled and 3,155 delayed due to plummeting temperatures in the US, FlightAware.com reported.
Major US airline JetBlue Airways today grounded flights for 17 hours at four of the busiest airports in the country.
More than half of the flights in or out of Chicago's O'Hare International Airport were cancelled after temperatures in the Windy City plunged to -15.
The polar vortex, or polar pig, as it has been dubbed by some media commentators, is:
A large dense area of cold air formed in a polar winter
Normally found rotating hurricane-like around the North or South Pole
A low pressure area with winds that can exceed 100mph
Around -80 degrees Celsius
Strong enough to sustain its own low pressure, sealing in cold air like a fridge
Tens of thousands of feet above the atmosphere
Able to cause extremely cold conditions if its vortex is disturbed or deteriorates
Rarely found in inhabited areas, but has moved south like an Arctic cyclone
Possibly further south than normal due to a build up of warmer areas in Greenland or Alaska.
Chicago residents braved the outdoors today as a blast of Arctic air grips the mid-section of the US.
America is expecting its coldest temperatures in two decades, with meteorologists warning that temperatures were dangerously cold and life-threatening in some places.
Temperatures of -18 were recorded in Chicago - nicknamed "Chiberia" - St. Louis and Indianapolis, with the chill set to bear down on eastern and southern states as the day wears on.
Images by the National Oceanic and Atmospheric Administration show the polar vortex moving towards the east of the US today.
Advertisement
As the US battles sub-zero temperatures, ITV News Washington correspondent Robert Moore illustrates just how cold it is in Minnesota.
Read the full story ›
Temperatures on the East Coast of the US have plummeted, with Chicago hitting lows of -15 this morning. The previous record for the Windy City was -14 in 1988.
NBC affiliate NBC Chicago tweeted a picture of Lake Michigan that appeared to show steam covering the Great Lake.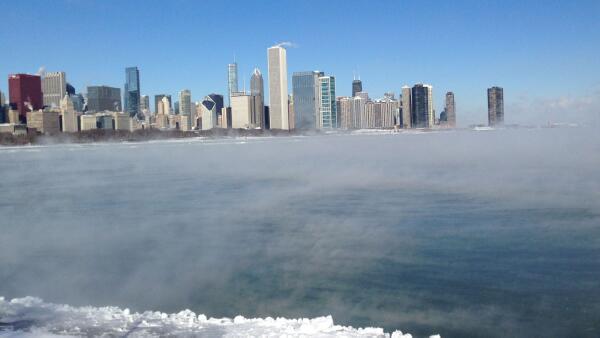 Chicago resident Jim Lakely posted a city-view picture that appeared to show the city's frozen river:
The anticipated 'polar vortex' is set to blast much of the country, with NBC reporting that "every state except Hawaii" is expected to face freezing temperatures today.
Large parts of the United States are bracing for freezing cold as a polar vortex is expected to drive temperatures to as low as -50C.
In Chicago, residents have been battling the elements as at least 20 centimetres of snow fell on Sunday.
The coldest place in the US after temperatures plummeted in the "polar vortex" is north Minnesota which currently stands at -34 degrees Celsius, according to a map published by NBC News.
Temperatures on the map are in Fahrenheit
Load more updates