Snowmen have been appearing after a 100-mile wide corridor of snow swept across the UK
Read the full story ›
Advertisement
As snow sweeps across parts of the UK, some people have been posting pictures of snow on social media.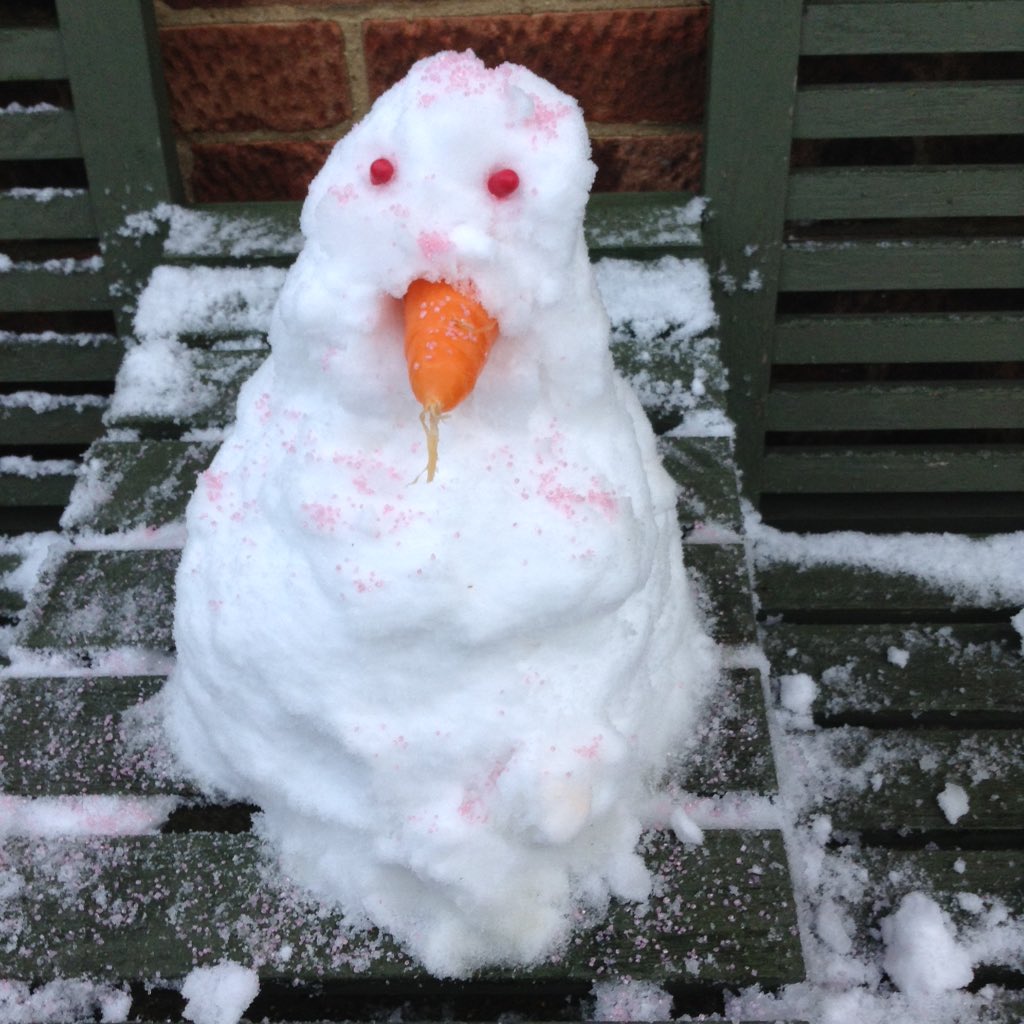 Yellow warnings have been issued for snow and ice covering the South East, London, through to Birmingham, and into areas such as Liverpool, Leeds and Sheffield, up into the North West and parts of Scotland
Travellers have been told to expect icy conditions across a swathe of the country as a 100-mile wide corridor of snow has seen some Britons waking up to frosty conditions.
There are 12 yellow warnings for snow and ice in place across the South East, London, Birmingham, and into areas such as Liverpool, Leeds and Sheffield, up into the North West and parts of Scotland.
The Met Office said snow had been "expected to fall along a relatively narrow corridor" and forecaster Sophie Yeomans said "that band of sleet and snow is staying over the country, but it is dying out".
Of the band of snow which has moved eastwards across Britain, she said: "In low-lying areas some people might be waking up to 2-4cm of snow and possibly more, 5-10cm, on the higher ground. There could be a dusting for many places."
Swathes of Britain have been blanketed in snow with forecasters warning more is on the way.
Twelve yellow "be aware" alerts for ice have been issued across Scotland, north-west England, the Midlands, southern England and London.
Many families have been playing outside, taking to the slopes of the Brecon Beacon National Park in Wales to toboggan and build snowmen.
There is a fine balance in who will get to see snow through the rest of today and tonight.
Read the full story ›
Advertisement
The Met Office has issued a yellow warning as a corridor of snow is expected to move from western Scotland down to southern England.
Read the full story ›
Snow falls in many parts of country as temperatures are set to plummet with sleet creating hazards on the roads
Read the full story ›
A "state of emergency" has been declared in Kentucky today after a winter storm stranded hundreds of drivers on interstate highways.
Drivers were stuck on highways for up to 12 hours after becoming stuck in 21.5 inches of snow.
Kentucky Governor Steve Beshear declared a state of emergency and the National Guard was deployed to assist the stranded after the winter storm hit.
The storm, which spread from Texas to New England, closed hundreds of school districts and caused the cancellation of nearly 4,000 flights.
According to NBC News, state police said that 30 miles of Interstate 65 and 50 miles of I-24 were still impassable by the afternoon.
Outbreaks of rain and strong winds will spread across the UK through Saturday night into Sunday, with some wintry showers in north and west.
Read the full story ›
Load more updates