Police chased Kamar Farooq through Birmingham and Solihull at almost four times the legal limit - at times on the wrong side of the road.
Read the full story ›
The woman, believed to be in her 20s, suffered a suspected broken leg and pelvis after falling 25ft (7.6 metres).
Read the full story ›
Advertisement
A 24-year-old man is continuing to be questioned on suspicion of murder following the death of a woman in Marston Green.
Anne Dunkley died of injuries during what police have described as a disturbance at her home in Elmdon Road at around 1.20pm on Friday.
West Midlands Police said a 24-year-old was arrested on suspicion of murder after being detained nearby soon afterwards.
A man aged 38 was in hospital with facial injuries sustained in the same incident but has since been released.
Hundreds are mourning the death of a former teacher described as a 'pillar of the community' who was killed in an attack at her home.
Read the full story ›
Pig heads have been dumped outside a building days after it was claimed it was being used as a mosque.
Read the full story ›
Nick Clegg has met locals in the West Midlands with his party's candidate for Solihull, Lorely Burt.
The Liberal Democrat leader spoke to children as a new scheme to protect hedgehogs was launched.
A project to create the UK's first dedicated hedgehog conservation area was launched as part of efforts to reverse declines in populations of the prickly creature.
Warwickshire Wildlife Trust's scheme, funded by the British Hedgehog Preservation Society, will also work with the local community to raise awareness of the animals' plight and bring in hedgehog-friendly measures such as creating small holes in fences.
Advertisement
Prime Minister David Cameron and his wife Samantha surprised diners in Solihull by dropping into fast food chain Five Guys for burgers.
Read the full story ›
A police force have used a picture of Gollum as they try to find the owner of a ring recovered from a jewellery store.
The Lord of the Rings character is wearing a Burberry cap and some gold jewellery in the picture tweeted by Solihull Police:
We're looking for the rightful owner of the suspected stolen ring, already had to turn this man away: http://t.co/2pC3rAx6Af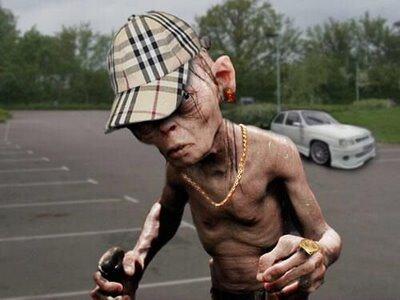 Police believe the ring may have been stolen and are trying to track down its rightful owner.
Earlier the force had tweeted more details:
We are trying to reunite this precious ring with it's rightful owner, do you recognise it? http://t.co/GzjycxIwAr
The Midlands force have been known to take a light hearted approach to their Twitter feed, having previously told burglars they could be given an iPad if they admit their crimes.
Two off-duty officers dressed as zoo animals arrested a violent man yesterday, police said.
Off duty officers dressed in Zebra & Monkey onesies arrest a violent man in the street - @solihullpolice keeping you safe whatever it takes.
Solihull Police later tweeted a picture of their employees' costumes, saying that although they were off duty, "justice never rests."
Sneak photo of our crime fighters cunningly disguised as Zebra & Monkey – we may be off duty but justice never rests. http://t.co/HbCi9cYaCh
A woman has said she is sick with worry after her bank in Birmingham lost a safety deposit box containing up to £20,000 of family heirlooms.
Staff at the branch of NatWest bank where the box was supposed to be in safe-keeping told 69-year-old Hayat Panwar they could not find it when she went to collect the contents for a wedding.
It contained several sentimental items including her father's gold pocket watch and wedding jewellery made from Indian gold given to her by her late mother and grandmother.
Mrs Panwar said she broke down in tears when she was told the news at the branch in Solihull.
She said: "I cried, I was so upset. It makes no sense to me - how they could lose it? How can you trust a bank that loses something like that?"
She said her health has suffered and she has been "sick with worry" since being told of the loss in November 2012.
After almost six months of investigations, NatWest has so far been unable to trace the deposit box and has apologised.
Load more updates