ITV News understands that the man arrested in connection with the 15 people found in a lorry in Somerset is the driver.
ITV News producer Sandi Sidhu has tweeted:
Man arrested by Avon and Somerset police is the driver of the lorry, police say he is from Germany.
ITV News understands the lorry carrying the 15 passengers belongs to a firm called Thermotraffic and that it stopped in Calais before reaching the UK.
ITV News producer Sandi Sidhu has tweeted:
I'm told that the lorry belongs to Thermotraffic came frm Europe and had stopped in Calais. It was supposed to be carrying general cargo
Police have said the vehicle "originated in mainland Europe" and that it "has been seized as part of our investigation".
Advertisement
A German national has been arrested on suspicion of facilitating the unlawful entry of people into the UK after a lorry containing 15 people from Eritrea and Kashmir was discovered at a service station in Ilminster, Avon and Somerset Police said.
A reporter for Chard and Ilminster News has tweeted this photo purporting to show the closed service station at Southfield roundabout.
A large heavy goods vehicle can be seen in the background surrounded by police and ambulances.
The scene at Southfields Roundabout services. Police cordoned off a HGV. Appears to be around 20 people inside it. http://t.co/aUTBj5wVHG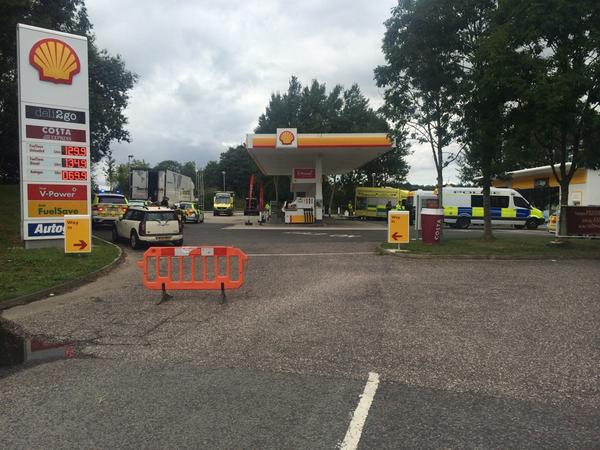 None of the people found travelling in a lorry in Somerset are expected to require hospital treatment, a spokesman for South Western Ambulance Service has said.
Paramedics were treating 15 individuals - 12 males and three males - at the scene after they showed signs of dehydration.
Two ambulances and two rapid response vehicles responded to a call at 3:13pm this afternoon.
Advertisement
Avon and Somerset Police say they have stopped a lorry containing 20 people suffering from possible dehydration.
The vehicle was stopped at a service station off the A303 at Southfields roundabout near Ilminster, Somerset at about 1pm.
"Their health and welfare is paramount as we try to piece together with the immigration authorities exactly what has happened," a police statement said.
A mass ascent saw balloons take to the skies of Somerset as part of the Bristol International Balloon Fiesta.
Then and now pictures reveal the extent of damage floods had on the village of Muchelney in Somerset earlier this year.
Read the full story ›
Prince Charles is set to return to the flood-hit village of Muchelney in Somerset.
The visit comes five months after the Prince of Wales saw the impact of flooding on agriculture and the livelihoods of people on the Somerset Levels.
The Prince used the emergency boat service - the only means of travelling in and out of Muchelney at the time - and a tractor to meet people in their own homes.
He also criticised efforts to help those affected by the floods, saying: "The tragedy is that nothing happened for so long."
Load more updates