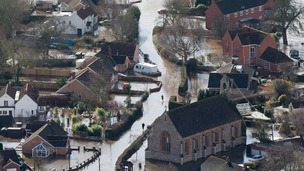 Dredging has begun in Somerset, around the River Parrett, which has sparked celebrations among some residents.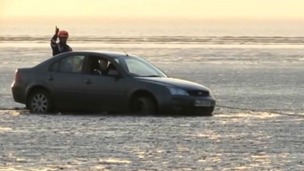 A day out at the beach didn't end quite as expected for a family who had to be rescued when their car got stuck in soft sand in Somerset.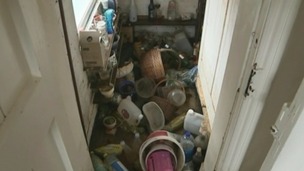 Moorland residents count the cost of the floods to now face an impossible dilemma between abandoning their homes or risk costly renovations.
Live updates
Ed Miliband to call for faster flooding insurance claims
A number of large pumps are being moved into place on the banks of the River Parrett at Dunball near the Somerset town of Bridgwater in an attempt to relieve weeks of flooding.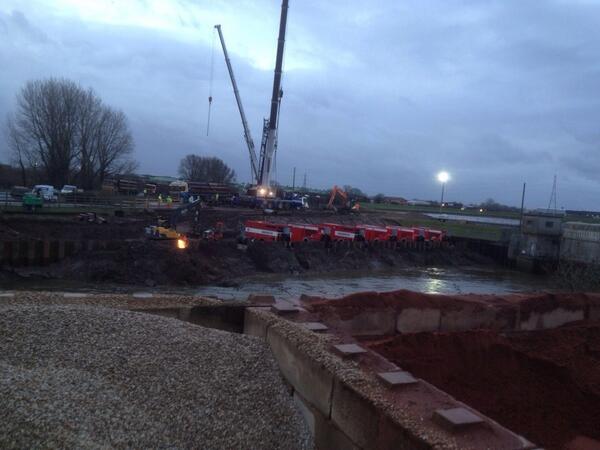 Read: Home protected by clay wall has 'days' before flood hits
Ed Miliband to call for faster flooding insurance claims
Devon and Somerset Fire and Rescue had to tow a special service vehicle after it became stuck while driving through flooding in Burrowbridge, Somerset.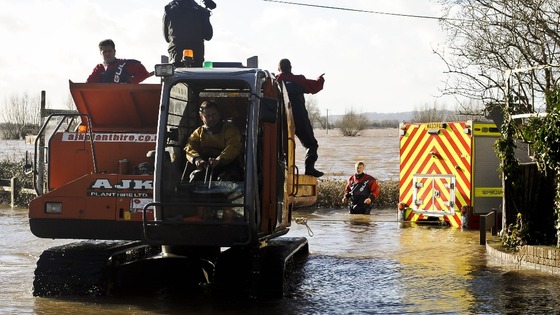 Advertisement
Ed Miliband to call for faster flooding insurance claims
Sam Notaro built a giant wall of clay and soil to protect his home in the village of Moorland on the Somerset Levels in a battle to stem rising flood waters.
For a while it looked as though the wall was holding, but five days after pictures of the house that had become an island appeared, the water has found its way to the Notaro's door.
Gallery: Somerset resident battles to save his house from flooding with huge wall
ITV News reporter Dan River has been back to see how Sam is keeping the water at bay, as he continues to build up the wall and protect his house.
Sam says that as the water continues to rise up to six inches every day: "I reckon we've got two days, max.
"Anything's possible, you've just got to be a bit more determined. We're lucky to be in the position to do it. Friends, family and everyone, keeps you driving on."
Asked about the rest of the village, he says: "My heart goes out to the villagers. Terrible, terrible. For me at the moment it's about looking after my home. My partner and my baby's away, I just want them to come back to a home. "
Asked if he thought it might have been easier to wait and let the insurance sort out the house once the water had receded Sam said: "In hindsight that'd probably of been a lot easier, but once you start you've got to finish it haven't you? Anyone would."
Ed Miliband to call for faster flooding insurance claims
Two days after they were forced to evacuate all of their animals from the rising floodwater, a pair of Somerset farmers say that solders have arrived to help.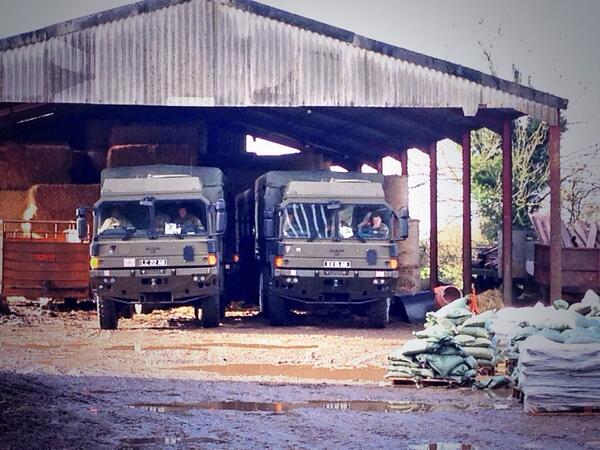 The pair, who describe themselves on Twitter as a "farming couple living and working on a farm soundred [sic] by vast amounts of water", live on one of several farms that were forced to evacuate.
Yesterday, they tweeted: "Farm is so eerie now, no animals left. I don't really know what to say anymore."
Ed Miliband to call for faster flooding insurance claims
Royal Marines will continue building sandbag defences in the Somerset village of Moorland today, where many residents have been evacuated after flood defences broke.
Yellow marking overnight outside houses in the Moorland area. This is where sandbagging by marines will take place today #somersetlevels
Ed Miliband to call for faster flooding insurance claims
The Environment Agency's South West office reports that a temporary flood barrier in Bridgwater, Somerset has been vandalised.
Our temporary flood defences in Bridgwater have been vandalised! If you see anything suspicious please call @crimestoppersuk 0800555111
Advertisement
Prime Minister ' very sorry' for flood suffering
Deputy Prime Minister Nick Clegg has said that the "government needs to strain every sinew" to help the people affected by the flooding in southern England.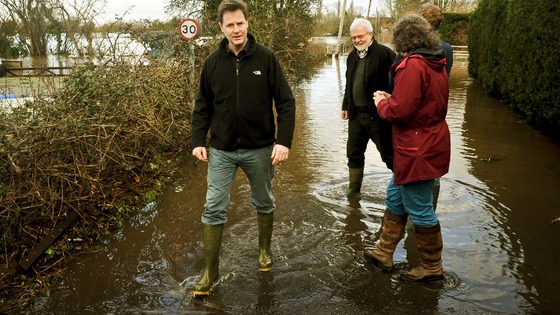 Speaking on a visit to Somerset this morning, Mr Clegg said he hadn't come earlier because he was "anxious that we don't do anything to impede the emergency effort".
Asked whether the government response had been slow, he said: "I think everyone is having to respond to something that we have never encountered before".
Somerset village evacuated after flood defences breached
Engineering works continue in Dawlish to repair the sea wall on which the main rail line connecting Cornwall with the rest of the country sits.
But successive bands of rain are expected to continue until at least Tuesday, putting the recovery efforts at risk.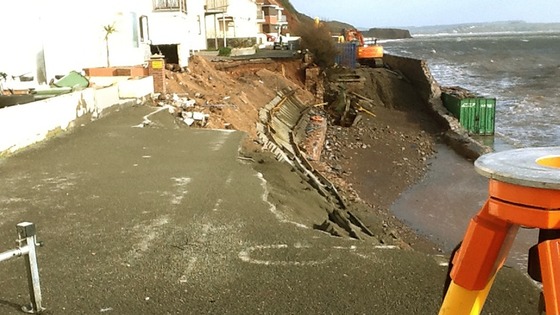 High tides and stormy seas destroyed around 80 metres of the wall, causing a significant stretch of the railway to collapse into the sea.
The road adjacent to the railway and several houses has also been damaged, as was Dawlish station itself and several other sites in the area.
Somerset village evacuated after flood defences breached
FLAG (Flooding on the Levels Action Group) tweeted its thanks to volunteers who supported the flood relief effort in Somerset on Friday after more specialist pumping equipment was taken to the area.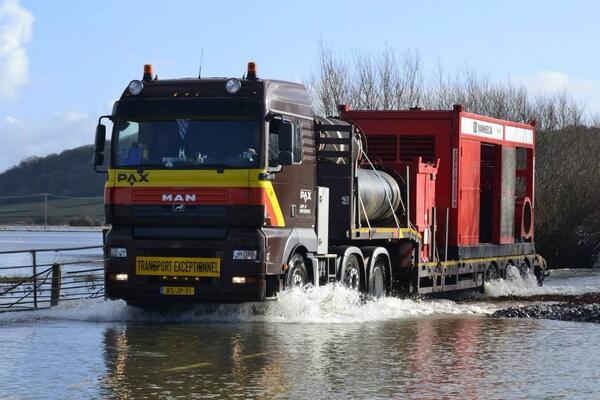 Watch: Somerset flood victim: 'I've lost everything'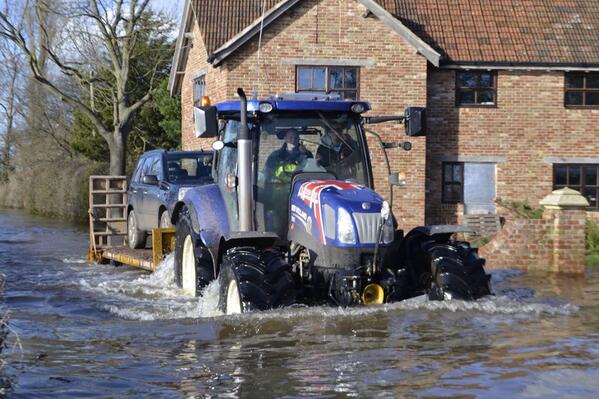 Read: Somerset village nearly empty after residents evacuated as flood waters rise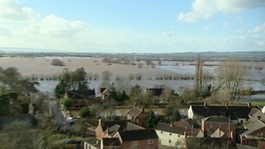 One resident built a giant clay wall to protect his house, but other locals could do nothing to stop the rising waters.
Read the full story
Load more updates
Back to top