A German national has been arrested on suspicion of facilitating the unlawful entry of people into the UK after a lorry containing 15 people from Eritrea and Kashmir was discovered at a service station in Ilminster, Avon and Somerset Police said.
A reporter for Chard and Ilminster News has tweeted this photo purporting to show the closed service station at Southfield roundabout.
A large heavy goods vehicle can be seen in the background surrounded by police and ambulances.
The scene at Southfields Roundabout services. Police cordoned off a HGV. Appears to be around 20 people inside it. http://t.co/aUTBj5wVHG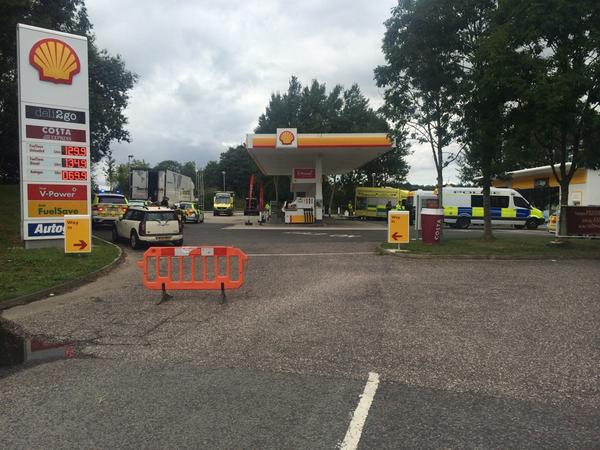 Advertisement
None of the people found travelling in a lorry in Somerset are expected to require hospital treatment, a spokesman for South Western Ambulance Service has said.
Paramedics were treating 15 individuals - 12 males and three males - at the scene after they showed signs of dehydration.
Two ambulances and two rapid response vehicles responded to a call at 3:13pm this afternoon.
Avon and Somerset Police say they have stopped a lorry containing 20 people suffering from possible dehydration.
The vehicle was stopped at a service station off the A303 at Southfields roundabout near Ilminster, Somerset at about 1pm.
"Their health and welfare is paramount as we try to piece together with the immigration authorities exactly what has happened," a police statement said.
A mass ascent saw balloons take to the skies of Somerset as part of the Bristol International Balloon Fiesta.
Then and now pictures reveal the extent of damage floods had on the village of Muchelney in Somerset earlier this year.
Read the full story ›
Advertisement
Prince Charles is set to return to the flood-hit village of Muchelney in Somerset.
The visit comes five months after the Prince of Wales saw the impact of flooding on agriculture and the livelihoods of people on the Somerset Levels.
The Prince used the emergency boat service - the only means of travelling in and out of Muchelney at the time - and a tractor to meet people in their own homes.
He also criticised efforts to help those affected by the floods, saying: "The tragedy is that nothing happened for so long."
A charity abseil down the side of a hospital has been postponed due to fears seagulls would dive-bomb fundraisers.
The 100-foot abseil, down Yeovil District Hospital, in Somerset, was due to take place tomorrow to raise funds for a new special care baby unit.
But organisers were forced to cancel the event when a seagulls' nest containing baby chicks was discovered yards from the launch site during final preparations.
A spokeswoman for the Flying Colours campaign, which aims to raise £500,000 for the unit, said the event would take place once the birds had moved on.
"The seagulls are fiercely protective of their offspring, and even during the inspection the inspectors were dive-bombed by the seagulls," she said.
Video footage shows emergency services at Wells Cathedral in Somerset after a woman fell 30ft inside the cathedral's bell tower.
The 60-year-old became trapped between two walls 150ft up before she was winched up to the roof by fire crews and airlifted to safety in a helicopter.
A woman was trapped 150 ft up in Somerset's Wells Cathedral after she fell through a void in a wall.
The 60-year-old fell 30ft and became trapped in a void between two walls in the cathedral's bell tower.
She was winched up onto the roof and given pain relief, before being airlifted by helicopter to Frenchay Hospital in Bristol.
A Wells Cathedral statement said: "No details are yet available as to how the incident occurred but all further high parts tours and cathedral tower tours are cancelled until further notice while a review of the incident takes place."
Load more updates