Live updates
Energy boss: 'More could have been done'
#UKStorm All Southeastern lines reopened other than Sittingbourne - Sheerness and Otford - Maidstone East
Energy boss: 'More could have been done'
Southeastern is unlikely to be able to run any metro or mainline services until at least midday tomorrow, the rail operator has said.
@networkrail will advise us when it's safe to run train services tomorrow after storm has passed - not likely to run services until midday
"Network Rail will be out at first light checking the track for any damage, flooding and fallen trees and will advise us when it is safe to start running train services," a statement on Southeastern's website said.
Southeastern said it expects to be able to run some high-speed shuttle services between Ashford and St Pancras International in the morning, but advised passengers to check before setting out.
Advertisement
Energy boss: 'More could have been done'
Southeastern reports that services remain disrupted across its entire network due to the poor weather:
(1/6) Owing to poor weather conditions all lines are affected. Services across the whole Southeastern network may be cancelled or delayed.
Girl born on commuter train
It emerged that Miss Banks had earlier been seen at Tunbridge Wells Hospital but was sent away as she was not in labour and contractions had not started.
Ms Banks was appropriately assessed at Tunbridge Wells Hospital, was not in labour and no contractions had started.

As is standard practice, she was told to return home and re-attend the hospital once labour had begun. We would always encourage women to return to their home and not to travel further afield than is strictly necessary.

The trust is pleased that a member of its staff, who was in the vicinity at the time, safely delivered baby Phoebe and we would like to pass on our congratulations to the couple.
– Maidstone and Tunbridge Wells NHS Trust spokesperson
Girl born on commuter train
Commuter Neil Perkins, 22, a recruitment consultant from Maidstone, was sitting close to Miss Banks before she went into labour. He said his "jaw dropped" when he realised she had given birth.
He said:
We got to West Malling and the train stopped. The driver asked for anyone who was a doctor or nurse to make themselves known, and I thought someone had been taken ill.

I jumped off the train and I saw everyone running to the carriage behind us. I called my mate to see if he could pick me up and then the lady started screaming. They were big screams.

I was a bit worried for her, but the driver ran up and said not to worry, someone had just gone into labour.
The lady was screaming quite loudly, and me and a South African lady were saying that the ambulance needs to hurry up.

Then, minutes later, I heard a lady shout out 'It's a girl!' I was just in shock.

As I walked down I could see the mum wrapping the baby in a jumper or something and giving it a cuddle.

It was madness, then the ambulance turned up. It was a really exciting moment. I have never witnessed anything like it.

I hope the girl gets free train tickets for life.
Girl born on commuter train
Meridian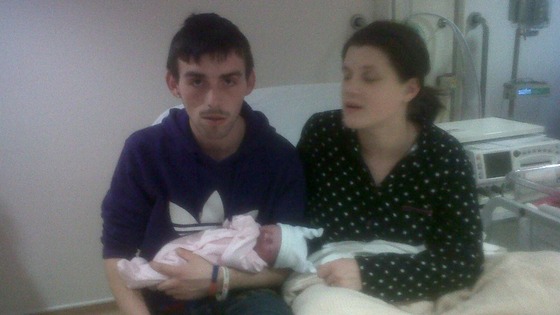 The father of a baby girl born on a train packed full of commuters during rush hour in Kent has said: "It feels like I'm on cloud nine."
Allan Stanley, 21, was travelling back to his mother's home with her and his partner Sonia Banks, 22, when the contractions started.
Moments later, on Thursday night's 18:18 London to Kent train, Miss Banks gave birth to a "perfectly healthy" 6lb 13oz baby called Phoebe.
Advertisement
Girl born on commuter train
A man claiming to be the uncle of baby Phoebe, who was born on a commuter train from London Victoria to Kent yesterday evening, has tweeted to say his niece is "well and safe."
#skypapers baby phoebe is well and safe now mum and dad are enjoying the birth of there daughter and am i as im now a uncle for the 2nd time
A "serious fire in an electrical substation" is causing major disruption on the Southeastern train network, the company said on their website.
There are currently problems across many lines as a result of signalling problems caused by lightning strikes. A serious fire in an electrical substation is causing major disruption on the network. And all services into and out of Victoria have been suspended.

The emergency services are currently tackling the blaze.

We're sorry your journeys will have taken longer this evening. Network Rail is working to re-set signals and will work to repair damage as quickly as possible but it's likely that disruption will continue for the rest of today's service.
– Southeastern
Back to top