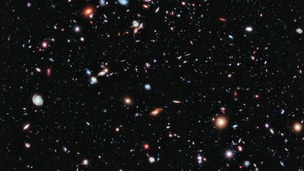 Astronomers have found evidence that an Earth-like planet may have hosted life hundreds of millions of years ago.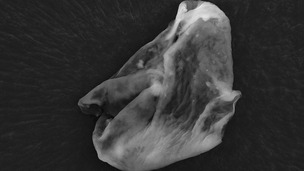 Scientists believe they have found the first evidence of life arriving to Earth from space, which could 'change our view of biology'.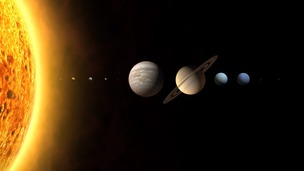 Mars has been identified as the "best bet" for human life when soaring temperatures on Earth make it inhabitable.
Live updates
Astronomers have spotted what appear to be two super massive black holes at the heart of a remote galaxy, circling each other like dance partners.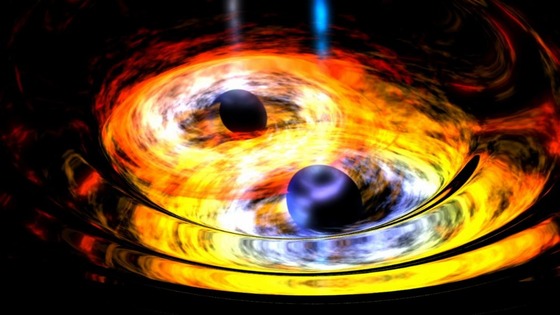 "At first we thought this galaxy's unusual properties might mean it was forming new stars at a furious rate," said Peter Eisenhardt, at NASA, "but on closer inspection, it looks more like the death spiral of merging giant black holes."
Follow-up observations revealed unusual features in the galaxy, including a lumpy tail of matter, or jet, thought to be the result of one black hole causing the jet of the other to sway.
"We think the jet of one black hole is being wiggled by the other, like a dance with ribbons," said Chao-Wei Tsai, "If so, it is likely the two black holes are fairly close and gravitationally entwined."
The findings could teach astronomers more about how super massive black holes grow by merging with each other.
Almost every large galaxy is thought to harbour a super massive black hole filled with the equivalent in mass of up to billions of suns.
Scientists are having to reconsider their initial diagnosis that Comet Ison broke up as it approached the sun after a "faint smudge" appeared to suggest that part of it had survived.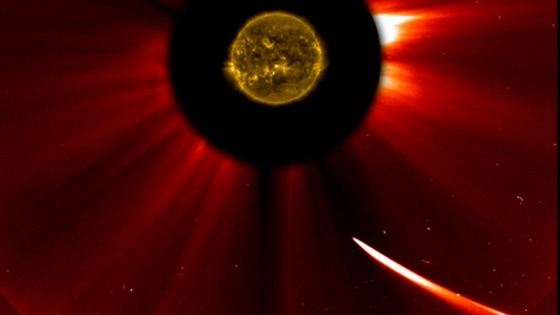 Both NASA and the European Space Agency assumed the comet had "died a fiery death" when it disappeared from view overnight.
But Karl Banttam writes on the Nasa Comet Ison Observing Campaign blog: "We are seeing something beginning to gradually brighten up again."
He said it did appear that "some small fraction" of the comet has survived intact, but that it was too early to tell whether it will last more than a few days, or if it will be visible in the night sky.
Advertisement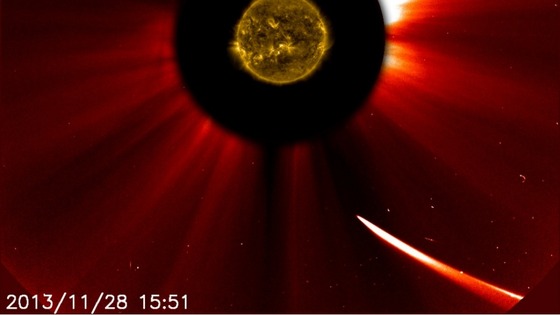 A comet's 5.5-million-year journey to the inner solar system has apparently ended during a suicidal trip around the sun, leaving no trace of its once-bright tail or even remnants of rock and dust, scientists said.
The comet, known as ISON, was discovered last year when it was still far beyond Jupiter, raising the prospect of a spectacular naked-eye object by the time it graced Earth's skies in December.
Comet ISON passed just 730,000 miles from the surface of the sun at 18:37 GMT on Thursday.
At closest approach, it was moving faster than 217 miles per second through the sun's atmosphere.
At that distance, it reached temperatures of 2,760 degrees Celsius - hot enough to vaporize not just ices in the comet's body, but dust and rock as well.
A comet set to brush past the sun this evening could provide a dazzling Christmas spectacle in the sky - providing it can avoid total obliteration during its close encounter with the star.
Comet Ison, which left the solar system more than five million years ago, will graze the outer layers of the sun at 1837 GMT.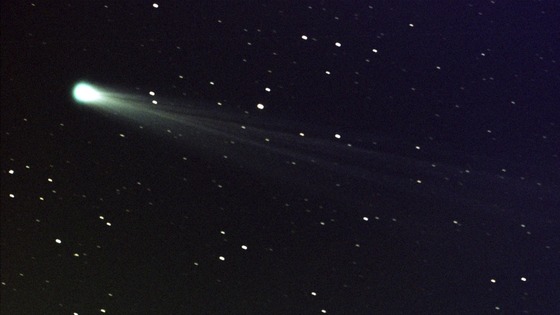 If enough of the comet survives temperatures exceeding 2,700C, it could be one of the brightest seen from Earth this century.
However, it could be ripped apart by the sun's gravity and searing heat, leaving sky watchers with nothing to look at.
Astronomer Dr Dan Brown, from Nottingham Trent University, said: "People at home can capture a glimpse if it survives. Just look out for it half an hour before sunrise from December 1 onwards. It will be visible low in the east-south-eastern horizon."
Experts say the comet's size will decide its fate, which will not be known until it emerges - or not - from its solar encounter.
NASA has launched a rocket set for Mars to study the red planet's atmosphere.
Read: Olympic torch in historic spacewalk on Russia trip
The Maven spacecraft is due to reach Mars next Autumn following a journey of more than 440 million miles.
Scientists want to unravel the mystery of the planet's drastic radical climate change, with Mars being warm and wet in its first billion years to cold and dry today.
The mission, which has cost $671 million (£417m), is NASA's 21st to the red planet since the 1960s but it is the first dedicated to studying the Martian upper atmosphere.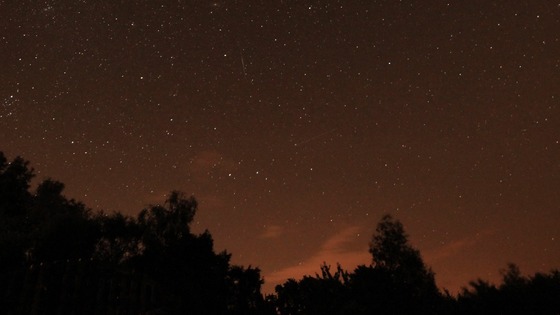 One in five stars similar to the Sun is circled by an Earth-like planet that might be habitable, scientists believe.
Researchers came to the conclusion after reviewing four years' worth of data from the American space agency Nasa's Kepler space telescope.
It means our galaxy, the Milky Way, could potentially be teeming with Earth-like life.
Erik Perigura, from the University of California at Berkeley, said: "What this means is, when you look up at the thousands of stars in the night sky, the nearest sun-like star with an Earth-size planet in its habitable zone is probably only 12 light years away and can be seen with the naked eye.
"That is amazing."
Advertisement
Citizen astronomers have discovered a seven planet solar system in the 'Kepler field' in a part of space known as KOI-351.
According to a scientific paper, published by Cornell University Library, the system "bears some resemblance to our own solar system, with the inner five planets ranging from Earth to mini-Neptune radii and the outer planets being gas giants".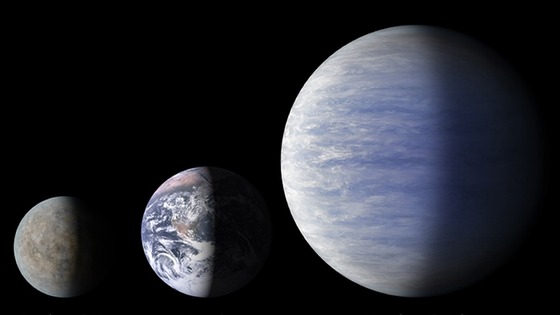 The Planet Hunters citizen science programme reported the "discovery of 14 new transiting planet candidates in the Kepler field", which were missed by the so-called "Kepler Transit Planet Search (TPS) algorithm".
The programme was set up to allow volunteers to trawl through vast amounts of public data from Nasa's Kepler space telescope.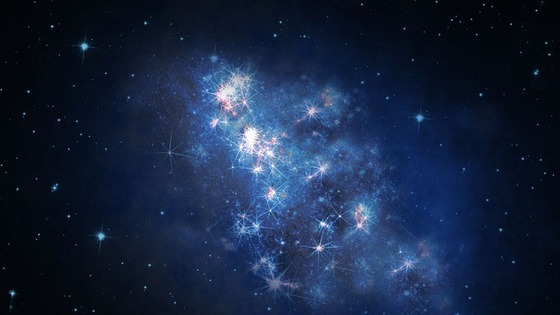 Astronomers say they have detected the most distant galaxy to date after spotting it through NASA's Hubble Space Telescope.
The galaxy, which has the code name z8-GND-5296, is made up of stars whose light began travelling to Earth 700 million years after the so-called 'Big Bang'.
Studies have revealed the galaxy is rich in metal, generating a huge number of new stars.
Scientists say the discovery will enable them to study the earliest formation of galaxies and explore how they've evolved throughout the age of the universe.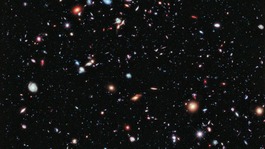 Astronomers have found evidence that an Earth-like planet may have hosted life hundreds of millions of years ago.
Read the full story
NASA has released footage of a cargo ship being grabbed by the International Space Station.
New unmanned commercial cargo ship Cygnus was grabbed by a robotic arm operated by astronauts.
Although it brings more than half a ton of meals for astronauts onboard, Cygnus is on a demonstration mission to prove its technology..
Load more updates
Back to top