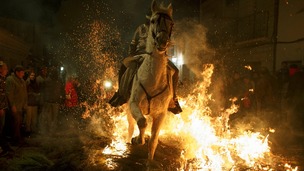 In a village near Madrid, people ride horses through fire to celebrate the Luminarias religious celebration.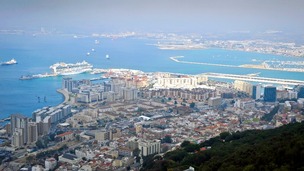 The Foreign Office lodged a formal complaint with Spain after a British diplomatic bag was opened by a Spanish border guard.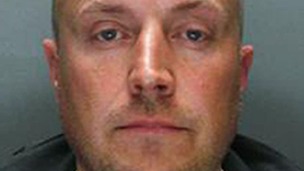 An "unlucky 13" of Britain's most wanted criminals who are thought to be hiding in Spain has been unveiled today.
Live updates
Clashes in Madrid between police and protesters
Tens of thousands of protesters from across Spain converged in Madrid on Saturday calling for an end to EU-imposed austerity.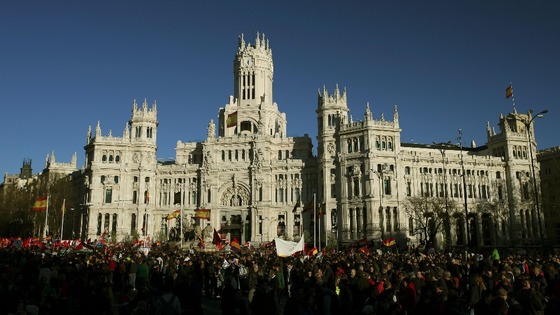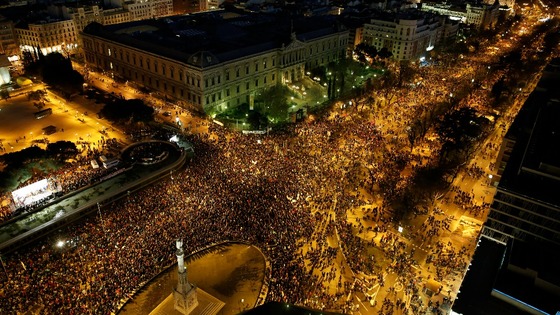 The so-called "Dignity Marches" in support of the country's worst-off urged the conservative government not to pay its international debts and to tackle unemployment of 26 percent.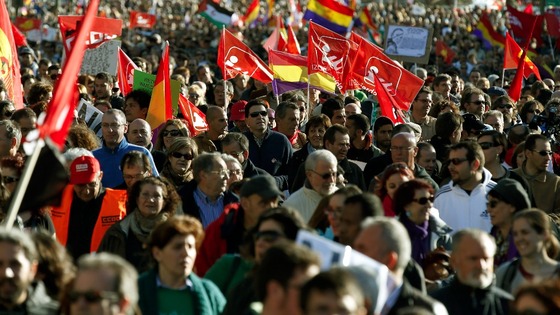 The OECD says the economic crisis has hit Spain's poor more than in any other country in the group.
Shocking footage has emerged after a man tried to smuggle a 19-year-old African immigrant into Spanish territory.
The video released by Guardia Civil shows the young man, who is thought to come from Mali, appearing dazed as officers uncover him in the suitcase.
A 39-year-old Moroccan man was arrested after dropping the bag and fleeing when asked for a baggage check, officials said.
The incident occurred on the North African border of Morocco and the Spanish enclave Melilla.
Advertisement
A Briton is thought to have keen kidnapped in Spain by men posing as police officers.
The parents of Merseyside man Francis Brennan, 25, have appealed for information about his disappearance last month.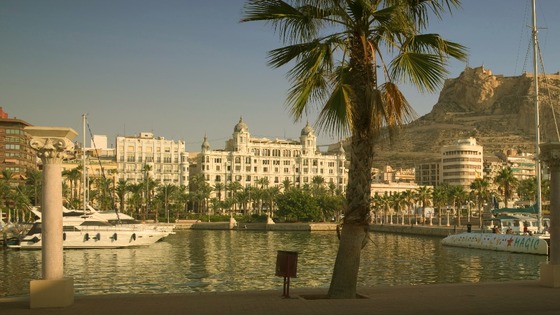 Mr Brennan was last seen in Alicante on January 24 when he was stopped in a friend's car by several men who posed as officers. The Spanish authorities believe he was then taken against his will.
Mr Brennan fled the UK for Spain ahead of a sentencing date last October for an assault he committed in the Thames Valley area in 2012.
Detective Superintendent Richie Carr, from Merseyside Police, said: "We do however believe he has been taken against his will and we and his family are hopeful that someone in the criminal fraternity here in Merseyside has information that could help bring about the safe return of Francis."
Gibraltar's Chief Minister has expressed his pride at the draw for Euro 2016 after the British overseas territory was forced to switch groups following its brief pairing with Spain.
The blind draw in Nice, France saw the territory, which will compete in qualifying for the very first time, briefly drawn in the same group with Spain before they were moved for "political reasons".
Fabian Picardo, tweeted:
Exciting day. Exciting draw. Proud of GFA's involvement in Euro16. Love the group we are in. Can't wait for the games. All of them!
Gibraltar will now face Scotland, the Republic of Ireland, Germany, Poland and Georgia in Group D when fixtures begin in September.
For the latest football news visit ITV Sport
Gibraltar has been moved after it was selected to be in a group with Spain during the Euro 2016 football tournament draw.
The blind draw in Nice, France, briefly saw the British overseas territory paired up with the current European and world champions in Group C.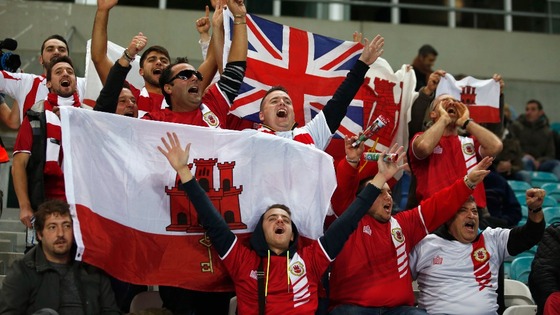 But European football's governing body UEFA had already announced in December that Gibraltar and Spain would be kept apart amid continuing political tensions over the territory's sovereignty.
Gibraltar was switched to Group D, where they will face Scotland and the Republic of Ireland among others.
See more on the draw from ITV Sport
A man who was among Britain's most wanted criminals has been arrested in Spain. David Mather, 57, from Manchester, was captured during a joint operation with the Spanish National Police on Friday morning, the National Crime Agency (NCA) said.
Read: Britain's 'unlucky 13' - most wanted criminals thought to be hiding in Spain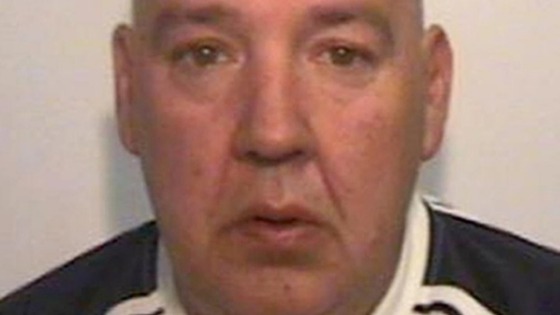 Armed officers swooped while he was travelling in a car through La Linea close to the border with Gibraltar.
Mather was convicted in his absence in January 2013 of conspiracy to import heroin and was sentenced to 18 years. Extradition proceedings are now under way.
Mather featured in the Operation Captura "unlucky 13" campaign which is a scheme to trace criminals who are thought to have fled to Spain.
Advertisement
Armed Basque separatist group ETA will pledge to put its weapons 'beyond use', Spanish newspaper El Pais reports.
The report comes ahead of first news conference from the international commission set up in 2011 to monitor ETA's ceasefire. The group will report their findings this afternoon.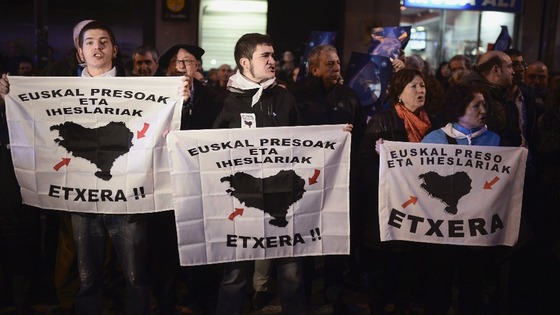 ETA is responsible for the death of 800 people over four decades. The group, which seeks independence for the Basque region of northwestern Spain and southern France, publicly proclaimed a ceasefire two years ago, but has so far made no moves to decommission.
The group has been weakened by a number of high profile arrests and flagging support across the Basque region.
Salmond: No state would block Scotland's EU membership
No EU member state has indicated it would seek to block Scottish membership First Minister Alex Salmond has claimed.
This is despite Spain's prime minister's warning to Scotland that it would not automatically become a member of the EU if it voted for independence in November last year.
Spain's Princess Cristina to testify in fraud probe
As Spain's Princess Cristina testifies before a judge in a corruption case, the royal family's popularity is Spain is at record low.
The once-revered King Juan Carlos is seen as woefully out of step with a nation suffering economic hardship.
An opinion poll released last month put the king's popularity at a record low, with almost two thirds of Spaniards wanting him to abdicate and hand the crown to his son.
Spain's Princess Cristina to testify in fraud probe
Spain's Princess Cristina gave testimony before a judge in a corruption case that has deepened public anger over graft among the ruling class and discontent with the royal family.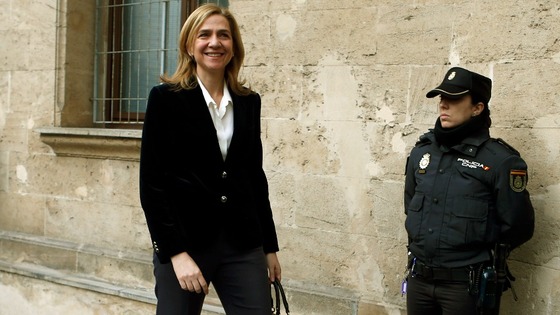 Cristina, the younger daughter of King Juan Carlos, faces preliminary charges of tax fraud and money laundering linked to her use of funds from a shell company she co-owned with her husband Inaki Urdangarin.
Mr Urdangarin is charged with crimes including embezzling 6 million euros of public money.
Load more updates
Back to top