Spain's King Juan Carlos said he is abdicating to "ensure stability" in the country.
In a televised statement, he said: "My son [Crown Prince] Felipe, who is the heir to the throne, is the incarnation of stability.
"When I turned 76 in January, I decided it was the moment to prepare passing the baton to someone who can ensure stability".
He ended the broadcast with the words: "I will always hold Spain in the depths of my heart".
King Juan Carlos, who has abdicated from the Spanish throne, has been "a great friend of the United Kingdom" and did "so much during his reign to help Spain's successful transition to democracy", David Cameron said.
Advertisement
King Juan Carlos has decided to abdicate from the Spanish throne for political reasons, rather than as a result of declining health, according to sources close to the Spanish royal family.
The monarch reportedly decided in January that he would pass on the crown to his son, Felipe, but delayed the announcement until the conclusion of the European Parliament elections.
Following the surprise announcement of his abdication, we take a look at King Juan Carlos I's reign on the Spanish throne.
Read the full story ›
The Twitter account of Spain's royal family has published photos of King Juan Carlos I offering his letter of abdication to the country's Prime Minister, Mariano Rajoy.
Juan Carlos, who has been on the throne almost 40 years, will be replaced by his son, Crown Prince Felipe.
Spain's Prime Minister, Mariano Rajoy, has said now is "the best moment for change", following the decision of King Juan Carlos I to hand over the throne to his son, Crown Prince Felipe.
Addressing reporters this morning, Mr Rajoy said: "His majesty, King Juan Carlos, has just communicated to me his will to give up the throne. I'm convinced this is the best moment for change."
Mr Rajoy said the surprise decision was due to personal reasons.
Advertisement
Crown Prince Felipe, 46, will take over the Spanish throne following the abdication of his father, Juan Carlos I.
Spain's Prime Minister, Mariano Rajoy, said a new constitutional amendment would be proposed to allow Juan Carlos to abdicate.
Spain's King Juan Carlos I is to abdicate, the Spanish Prime Minister, Mariano Rajoy, has announced.
Spanish police have stopped two suspected drug traffickers attempting to smuggle cocaine in a ham and cheese sandwich.
In a picture posted on Twitter, Polica Nacional said they uncovered the 100 gram haul after stopping the pair at a bus station in Benidorm.
Detenidos 2 traficantes de cocaína en la estación de autobuses de Benidorm. Pasaban 100 gr. d droga oculta en bocatas http://t.co/yut687Hj7k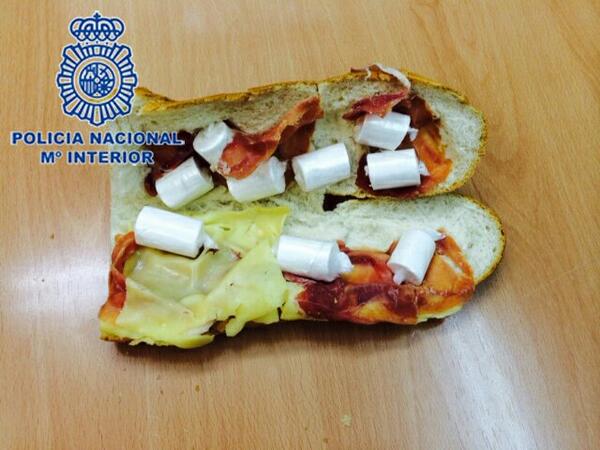 A jewellery store in Bristol owned by a British businessman shot dead at his home in Spain remained shut over the weekend following his murder.
Andrew Bush's Gold Trader store at The Galleries shopping centre had its shutters down and carried a sign confirming it had been temporarily closed.
While living in southern Spain, the 48-year-old also reportedly owned several businesses in the city, including a pawn shop, a tanning and waxing shop, a limo hire firm and a wholesalers.
Load more updates