Three people have reportedly died after a plane crashed one mile north of Seville's San Pablo airport today.
The Spanish emergency services department confirmed three people were killed and two seriously injured after the plane went down, Reuters reports.
It is believed two people who were on the flight are still unaccounted for.
The Ministry of Defence has said that as a precaution the UK's Airbus A400M aircraft operations have been suspended in the wake of a military plane crash in Spain involving the same model.
We are aware of reports that an A400M has crashed in Seville. As a precaution, the UK's A400M aircraft operations have been paused.
– MoD spokesman
Advertisement
Spanish Prime Minister Mariano Rajoy has confirmed that between 8 and 10 people were on board a military plane which crashed north of Seville's San Pablo airport today.
Rajoy also confirmed that all those on board the crashed plane were Spanish nationals and are believed to have been airbus employees, Reuters reports.
Rajoy said: "We express our deepest sympathy. They were fellow countrymen."
A military plane has crashed near Seville airport on Saturday, Reuters reports, citing Spain's defence ministry.
As many as seven people were on board, El Pais newspaper reported.
The ministry was not able to confirm whether there were any casualties from the crash.
Airport officials spotted the child inside a pull-along case as the luggage passed through airport scanners.
Read the full story ›
The Spanish football federation has suspended all games past 16 May in a dispute over television rights.
Read the full story ›
Advertisement
A strange fish has alarmed holiday makers in Magaluf this week, with many believing that a Great White Shark is prowling the warm waters.
Read the full story ›
Spanish emergency services have safely evacuated about 150 people from a ferry that caught fire whilst crossing the Mediterranean.
The vessel was travelling from the island of Mallorca to the Spanish port of Valencia, government and port authorities said.
There was no immediate information on whether there were injuries, but said three of the ferry's crew members were taken by a helicopter to a hospital.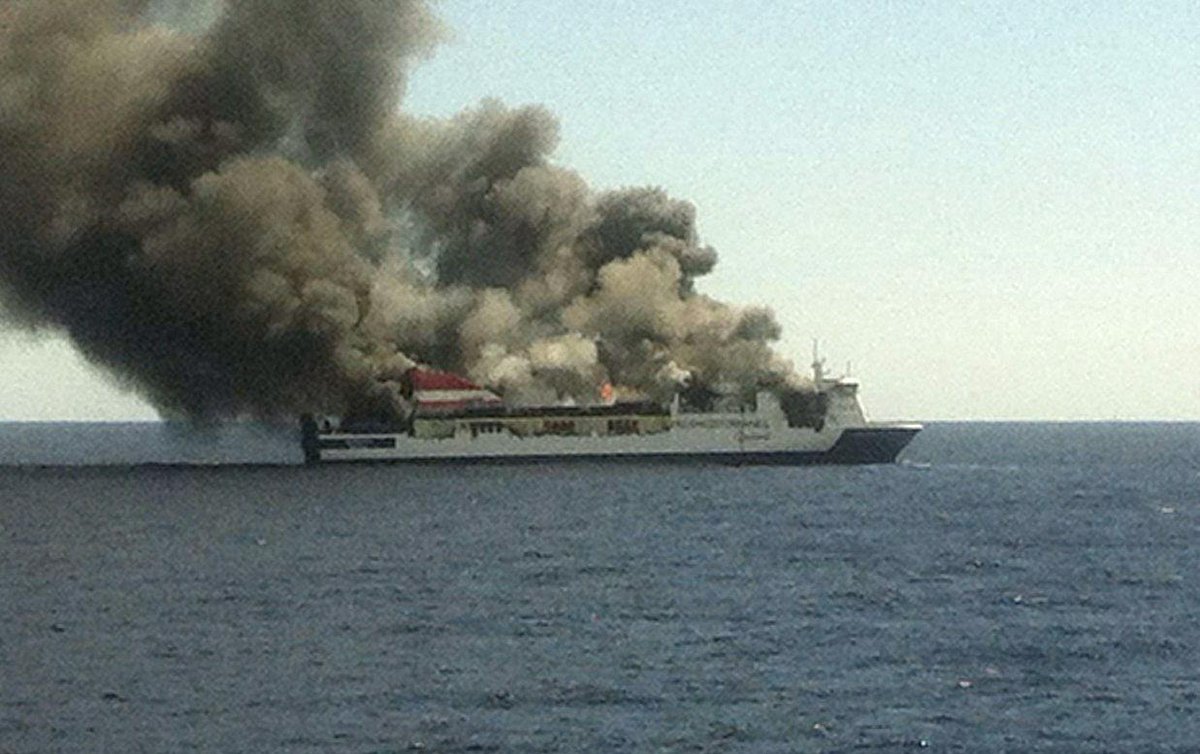 Images show the ship engulfed in black smoke. Passengers and crew left the vessel in lifeboats and were picked up by several ships.
The port authority said 170 passengers were rescued but sea rescue services could not confirm the number.
The burnt-out ferry could sink where it was abandoned, 35 miles off the Mallorcan coast, the Balearic Island port authority said. The source of the blaze is being investigated.
A 13-year-old boy has been arrested in connection with an attack at a Spanish school which left one teacher dead, and four people injured.
Police would not confirm whether the boy was a student at the public high school Barcelona where the attack took place.
It is believed that the four other victims at the school, for 12 to 16-year-olds were two more teachers and two students.
Spanish television is reporting that the boy was carrying a knife and a crossbow, although this is yet to be confirmed by police.
Pictures from the scene show students and parents standing at the scene.
Spanish police have arrested a boy suspected of having killed a teacher and wounding several other people in Barcelona.
A police spokesman said it appeared the attacker had used a crossbow, although this was not confirmed.
It was not confirmed whether the boy was a pupil, as claimed in local media.
Load more updates