Spain defender Gerard Pique has said he will quit international football following the 2018 World Cup after admitting the criticism he received over modifying his national team shirt this weekend was the final straw.
The Barcelona defender came under fire on social media for cutting short the long sleeves of his shirt for Spain's World Cup qualifier in Albania, with suggestions it was done to avoid wearing the band showing the country's flag colours of red and yellow.
Pique has been booed by Spain fans in the past for comments about Real Madrid and other subjects, and the 29-year-old has said enough is enough and announced after Sunday's 2-0 win in Shkoder his intention to leave Julen Lopetegui's team in two years' time.
He said in quotes reported by AS:
Yes, it's tiring. The World Cup in Russia is going to be my last tournament with the Spanish national team and I hope it will go calmly.

This is not a decision I've taken today, but from a while back. I've always tried to give it everything, I think there can be little doubt about that.

There are clearly people who feel it would be better if I'm not here. I'm excited about playing in Julen's team and for that reason I'm not going to pack things in today. We've started together and we'll finish together.
– Spain and Barcelona defender Gerard Pique
Advertisement
Four people have died and 47 others were injured after a train derailed in northern Spain.
The train driver and a ticket collector were among those killed.
Rescue crews searching through the wreckage suspect there may be a fifth victim inside.
The train was carrying around 63 passengers and two crew members when it derailed in O Porriño, a town in the Galicia region and close to the Portuguese border, at 9.30am local time.
The train had three carriages, and the front car came off the tracks completely and hit an electricity pylon next to the line, crushing the engineer's cab and leaving the car leaning on its side.
The two other cars partially came off the tracks.
Adif railway infrastructure company said it has opened an investigation into the crash which occurred on a straight stretch close to O Porriño station.
The train - which was just 20 minutes into its journey - was travelling from Vigo to Porto, in neighbouring Portugal, and belonged to Portuguese company Comboios de Portugal.
Thousands of people have been evacuated after a huge fire broke out in the eastern Spanish town of Javea.
The blaze destroyed at least 20 houses in the town on the outskirts of Benidorm.
Planes flew overhead dropping water and people are being temporarily housed in schools, restaurants and hostels.
Claire Edwards, 39, a presenter on Overseas FM who lives in Javea, said: "This morning it was like waking up in Vietnam with so many aircraft in the skies."
Volunteer firefighter Leo Gomez, from Benissa, said a lot of people were made homeless.
He said: "Luckily I do not have housing in the burned area. The experience was very sad to see how something so beautiful is destroyed before you without doing more."
"The feeling of being there was terror, helplessness, fear, a set of bad feelings by not being able to do more - images that will never be forgotten," he continued.
Radio One DJ Chris Stark was caught in the incident and posted updates on Twitter.
This is crazy. I think my car and maybe my apartment is on fire. I hope everyone in Javea is ok https://t.co/gbYjTEZuj0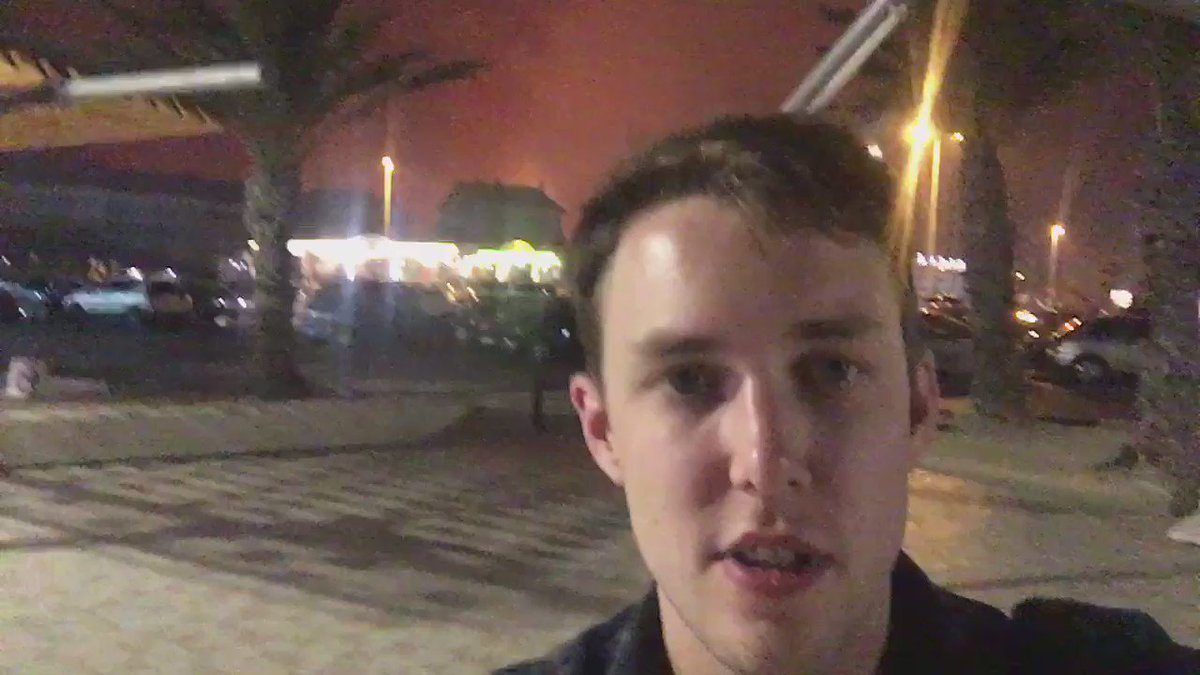 Local authority official Jose Maria Angel said the fire was likely an act of arson and that the culprits deliberately choose the hottest day of the year.
He said: "Everything appears to indicate that the forest fire that has affected various residential areas around Alicante could have been intentional."
Spanish authorities said more than 200 firefighters with 65 vehicles were sent to deal with the fire.
The walkers told their rescuers they intended to walk 20 miles, but they got lost along the way and soon ran out of food and water.
Read the full story ›
Julen Lopetegui has been confirmed as Spain's new head coach, replacing Vicente del Bosque.
The former goalkeeper, who played for both Real Madrid and Barcelona, has previously coached a number of the Spanish youth teams, from under-19s to under-21s, as well as Porto.
Advertisement
A matador in Spain was gored to death by a bull in the first incident of its kind in the country since 1987.
Read the full story ›
Six people were gored and eight others have been injured on the second day of the annual bull-running festival in Pamplona, Spain.
More than 1,000 people took to the streets for the second run of the week-long festival.
Just moments into the event, several bulls became separated from the herd, and began charging at people in the crowds.
The Spanish Red Cross said six people had been gored and eight others were taken to hospital for treatment after being injured in the race.
A number of runners, as well as the bulls, repeatedly slipped and fell on the rain-slicked cobbles.
The infamous 'running of the bulls' event at the San Fermin festival in Spain has started.
Read the full story ›
Expats living in Spain have said they are angry at the vote to leave the EU and fear for their future prospects living in the EU.
There will be no immediate changes to the circumstances for British expats in Europe, the prime minister said this morning.
However, their future is uncertain as they may no longer enjoy the right to live and work in EU countries.
John and Miriam, who relocated to Malaga 12 years ago, said they are "angry" at the vote to leave the EU.
Miriam said she has health conditions and the Brexit may mean she has to return to live in the UK to access healthcare.
John said: "I felt a real mix of shock and anger. Angry because, for me this the wrong result. I feel people who voted to exit voted for the wrong reasons."
Load more updates