The Spanish football federation has suspended all games past 16 May in a dispute over television rights.
Read the full story ›
A strange fish has alarmed holiday makers in Magaluf this week, with many believing that a Great White Shark is prowling the warm waters.
Read the full story ›
Advertisement
Spanish emergency services have safely evacuated about 150 people from a ferry that caught fire whilst crossing the Mediterranean.
The vessel was travelling from the island of Mallorca to the Spanish port of Valencia, government and port authorities said.
There was no immediate information on whether there were injuries, but said three of the ferry's crew members were taken by a helicopter to a hospital.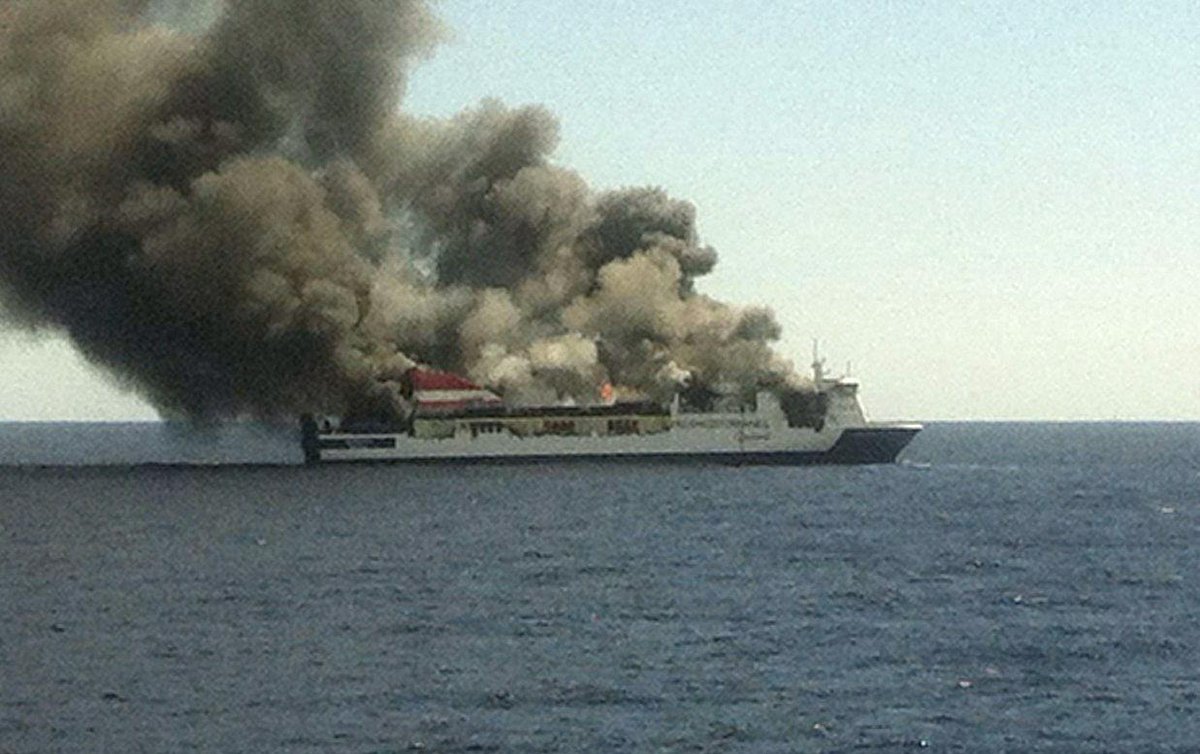 Images show the ship engulfed in black smoke. Passengers and crew left the vessel in lifeboats and were picked up by several ships.
The port authority said 170 passengers were rescued but sea rescue services could not confirm the number.
The burnt-out ferry could sink where it was abandoned, 35 miles off the Mallorcan coast, the Balearic Island port authority said. The source of the blaze is being investigated.
A 13-year-old boy has been arrested in connection with an attack at a Spanish school which left one teacher dead, and four people injured.
Police would not confirm whether the boy was a student at the public high school Barcelona where the attack took place.
It is believed that the four other victims at the school, for 12 to 16-year-olds were two more teachers and two students.
Spanish television is reporting that the boy was carrying a knife and a crossbow, although this is yet to be confirmed by police.
Pictures from the scene show students and parents standing at the scene.
Spanish police have arrested a boy suspected of having killed a teacher and wounding several other people in Barcelona.
A police spokesman said it appeared the attacker had used a crossbow, although this was not confirmed.
It was not confirmed whether the boy was a pupil, as claimed in local media.
Late Beatles star John Lennon's first wife Cynthia has died, her family said.
In a statement, they said she passed away today at her home in Spain.
Advertisement
Spanish police are trying to piece together the circumstances that led to the murder of an elderly British couple found shot dead in their villa in Alicante.
Former Olympic diver Peter Tarsey and his wife Jean, both 77, were found with gunshot wounds on a sofa in the property, which was up for sale.
Neil Connery, ITV News Correspondent, reports:
A man who was found shot with his wife in their villa in Alicante is believed to have been a former Olympic diver.
Peter and Jean Tarsey, both 77, were found dead together with gunshot wounds on the sofa at their home in Xalo, near Benidorm.
Spanish police said that while they had not ruled anything out, the couple appeared to have been murdered.
Mr Tarsey competed in the 1956 Melbourne Olympics for Great Britain at the age of 19.
He also represented England at the Commonwealth Games in 1954 and 1958, according to the Sport Reference website.
Spain's national police force has named the British couple found dead in Alicante as ex-pats Peter and Jean Tarsey.
The 77-year-olds were found dead together with gunshot wounds, according to the Guardia Civil.
A post mortem is now due to take place.
At around 4.15pm yesterday, some friends of the couple went to their villa because they had not been seen for a few days.

They found the door was open and there were no signs of a break-in.

The couple, who had been living in Spain for 18 years, were found dead with gunshot wounds on the sofa.

The Guardia Civil is now awaiting the results of post-mortem examinations and investigations continue.
– Guardia Civil spokeswoman
A British couple have been found dead in Spain. The Foreign Office said the couple were discovered in the town of Alicante on the south eastern coast, a popular destination for tourists and expats.
We can confirm the death of two British nationals in Alicante, Spain. We stand ready to provide consular assistance.
– Foreign Office
Load more updates