A jewellery store in Bristol owned by a British businessman shot dead at his home in Spain remained shut over the weekend following his murder.
Andrew Bush's Gold Trader store at The Galleries shopping centre had its shutters down and carried a sign confirming it had been temporarily closed.
While living in southern Spain, the 48-year-old also reportedly owned several businesses in the city, including a pawn shop, a tanning and waxing shop, a limo hire firm and a wholesalers.
Spanish police have begun a hunt for the killer of a British millionaire jeweller who was shot in the head in an ambush at his mansion on the Costa del Sol.
Local reports claim Andrew Bush, 48, was brutally murdered at the five-bedroom property near the resort of Estepona after returning home with his girlfriend on Saturday morning.
A source close to the investigation was quoted as saying police are seeking a woman, believed to be Mr Bush's ex-girlfriend, on suspicion of murder.
Advertisement
The Spanish ships which entered British waters off Gibraltar acted in an "unlawful" and "dangerous" way, the Foreign Office has said.
"Not only were the actions of the survey vessel unlawful, but it was accompanied by a Spanish Guardia Civil vessel whose dangerous manoeuvring presented a significant safety concern on the waters," Europe minister David Lidington said.
The incursion by a Spanish ship into British waters off Gibraltar is "provocative", "unlawful" and "a violation of our sovereignty", the Europe minister David Lidington has said.
David Lidington was speaking after a Spanish state research trip entered British waters along with a vessel belonging to the Guardia Civil, the part of Spain's police force responsible for protecting the coastline.
According to the United Nations Convention on the Law of the Sea, the waters around Gibraltar are indisputably British territorial waters, under United Kingdom sovereignty, in which only the United Kingdom has the right to exercise jurisdiction.

Her Majesty's Government takes a grave view of any attempt by Spain to exert authority or control within British Gibraltar territorial waters and considers such incursions as a violation of our sovereignty.

I strongly condemn this provocative incursion and urge the Spanish government to ensure that it is not repeated.
The Foreign Office has summoned the Spanish ambassador after a "serious Gibraltar incursion", Reuters reports.
Spanish historians Margarita Torres and José Ortega del Río believe a 2,000-year-old chalice is the Holy Grail, now hundreds of people have now flocked to see it in Leon, Spain.
The authors of the book 'Kings of the Grail' claim the cup was used by Jesus Christ at the Last Supper which was given as a gift to Spanish King Fernando I by a Muslim ruler.
Their studies led them to identify a part of the princess's goblet and a missing fragment as described in the parchments.
The director of the basilica's museum, Raquel Jaén said the cup was taken off display to find a location that could hold larger crowds.
"It was in a very small room where it was not possible to admire it to the full," she told AFP.
The historians said that the two Egyptian parchments they found in 2011 at Cairo's University of Al-Azhar set them on an investigation debunking some of the 200 supposed Holy Grails around Europe too.
The twelfth-century cup was donated by one of the five children of Ferdinand I to the Basilica of San Isidoro de León in Spain, where it remains.
Advertisement
The joy of a journalist as he was reunited with his son has been captured on camera. He was one of two Spanish journalists who had been kidnapped in Syria six months ago by radical Islamist rebels have been released.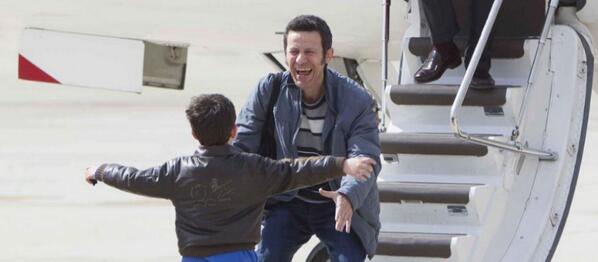 Spanish newspaper El Mundo's Middle East correspondent Javier Espinosa called the newspaper's newsroom late on Saturday to say he and freelance photographer Ricardo Garcia Vilanova had been released and to inform their families.
Spain's Foreign Ministry confirmed the men had been freed.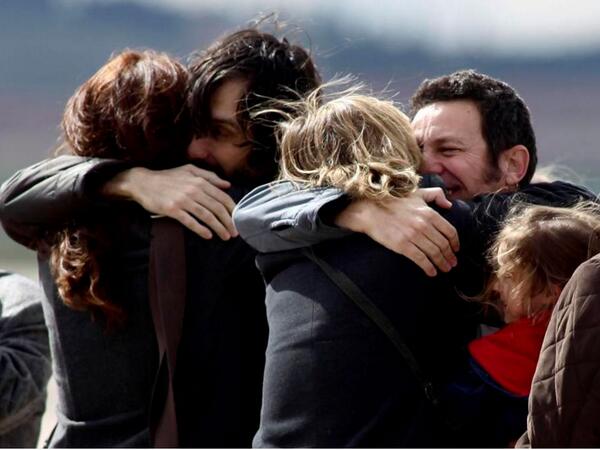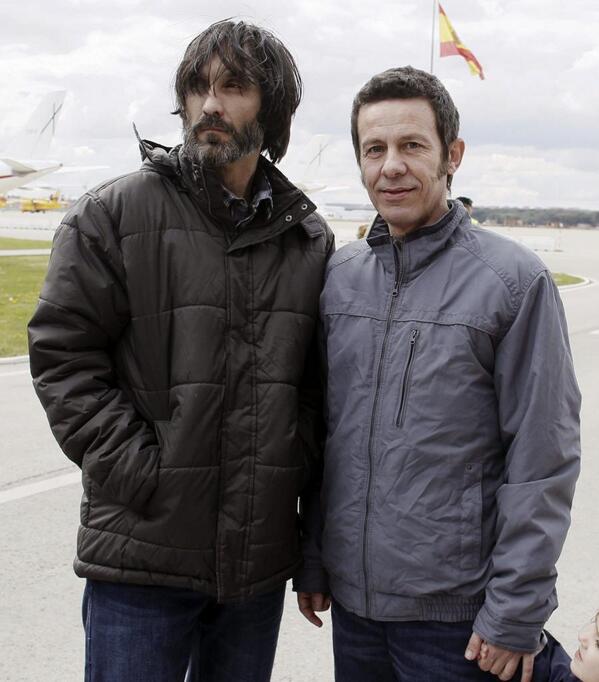 Former prime minister Adolfo Suarez, who steered Spain through one of the most turbulent periods in its political history after the death of dictator Francisco Franco, died on Sunday at the age of 81, state television reported.
Hundreds of thousands of Spaniards rallied in Madrid against poverty and EU-imposed austerity in a largely peaceful protest later marred by violent clashes in which police fired rubber bullets, according to Reuters.
Central government representative Cristina Cifuentes said 19 protesters had been arrested and 50 police officers had been injured, one of them seriously, in the clashes.
Clashes between demonstrators and riot police erupted in Madrid, as tens of thousands of people took over the Spanish capital to protest against EU-imposed austerity.
Police presence was heavy among groups carrying republican and communist flags, banners calling for an end to cuts in the health service, education and affordable housing.
Load more updates