St Patrick's Day is being celebrated across the globe as people mark Ireland's national day and patron saint.
Read the full story ›
Aerial video footage captured the moment the river was dyed a lurid green to celebrate the traditional Irish festival.
Read the full story ›
Advertisement
The Duke and Duchess of Cambridge attend the Irish Guards St Patrick's Day Parade in Aldershot.
Read the full story ›
The Duke and Duchess of Cambridge will be the guests of honour at the Irish Guards' St Patrick's Day Parade. William will attend as colonel of the regiment and Kate will present traditional sprigs of shamrock to officers and guardsmen at their base in Aldershot, Hampshire.
The royal couple will watch as the Band of the Irish Guards marches on to the parade square at Mons Barracks followed by 300 soldiers. They will be joined by Domhnall, the regiment's Irish wolfhound mascot, who will receive his own sprig of shamrock from the Duchess.
Tens of thousands of people lined the streets of London to watch the Mayor's St Patrick's Day parade. Dressed in green, and holding Irish flags, onlookers were treated to pageantry, floats and marching bands. The crowds also gathered in Trafalgar Square to see live Irish music and dancing.
Advertisement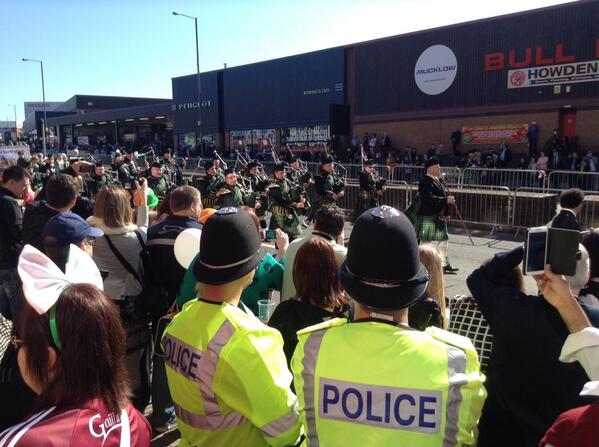 St Patrick's Day festivities have begun in New York City as the parade made their way up Fifth Avenue. Both the New York Fire Department and NYPD joined in on the annual event.
Iconic landmarks around the world have been lit up in green to celebrate St Patrick's Day on Sunday.
Read the full story ›
Egypt's pyramids and sphinx have been illuminated in green light to mark St Patrick's Day tomorrow.
They are one of almost 70 famous landmarks around the world that are being lit up to celebrate Ireland's National Day, according to Tourism Ireland.
Other green landmarks include Sydney Opera House, the London Eye, Niagara Falls, the Leaning Tower of Pisa and Anfield Stadium in Liverpool.
Are you planning to celebrate? Please send your pictures to yourstory@itn.co.uk
Load more updates