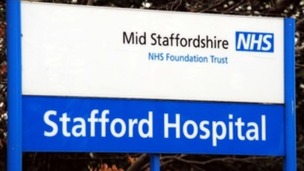 Two senior nurses from Stafford Hospital have been struck off after a tribunal found their fitness to practice was "impaired".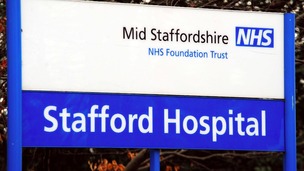 Managers at Stafford Hospital accept that there were problems on some of the wards. But they say it's now one of the best in the country.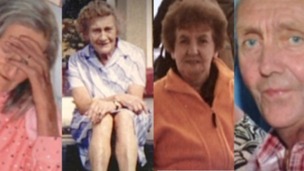 Relatives of patients who died at Stafford Hospital have been speaking out about the appalling standards of care they received on the wards.
Live updates
'Fear and intimidation' in NHS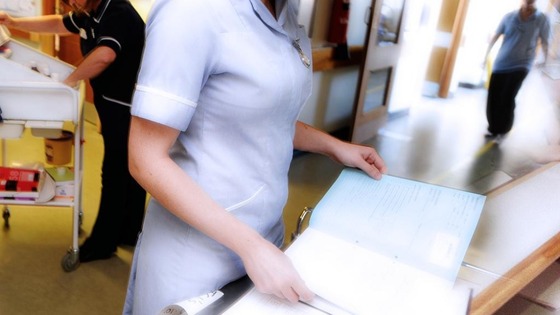 The Royal College of Nursing is calling on the government to extend whistleblowing legislation to student nurses.
The union claims that the current Public Interest Disclosure Act doesn't cover training nurses who raise concerns about patient care.
The government said it would consider the proposal, as it seeks to implement some of the recommendations made in the public inquiry into the poor standards of care at Mid Staffordshire NHS Foundation Trust.
'Fear and intimidation' in NHS
Speaking to ITV News, Dr Peter Carter, Chief Executive and General Secretary of the Royal College of Nursing said sometime things will go wrong in the NHS. But it was important to create a culture where it can be put right.
Advertisement
Marchers back Stafford Hospital
Central
One campaigner involved in the march held to save Stafford Hospital says people should look at Stafford Hospital now, not to the past.
Marchers back Stafford Hospital
Central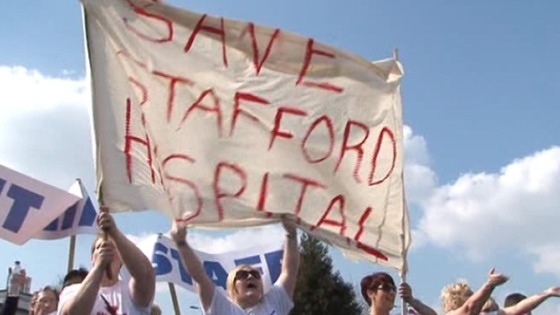 Thousands of people have taken to the streets in Stafford to protest over threatened cutbacks to acute services at Stafford Hospital. Protesters say they fear the cuts will lead to losses of life and will put other local hospitals under strain.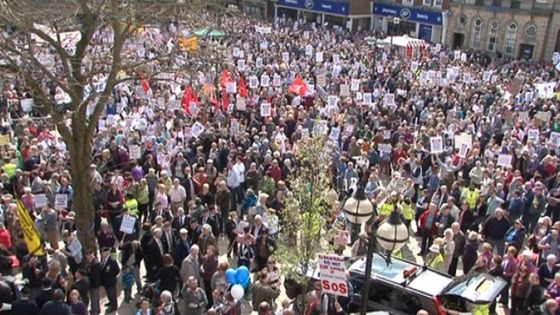 Protesters filled the Market Square and many surrounding streets, they marched to the hospital approximately one mile away.
For years Stafford has faced criticism over poor standards of care, which has been blamed for hundreds of patient deaths.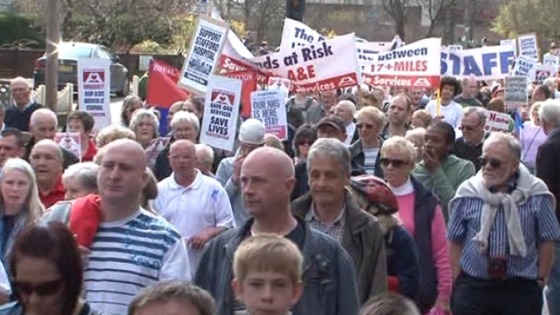 But marchers say the hospital has greatly improved and the threat of acute services being moved elsewhere will leave people in the town in danger.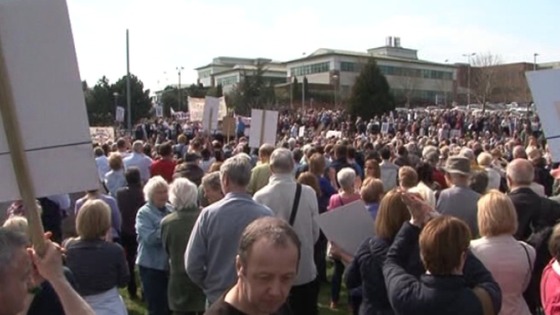 The hospital is currently in special administration the administrators say they are aware of the strength of feeling locally and are setting up public meetings to hear people's views.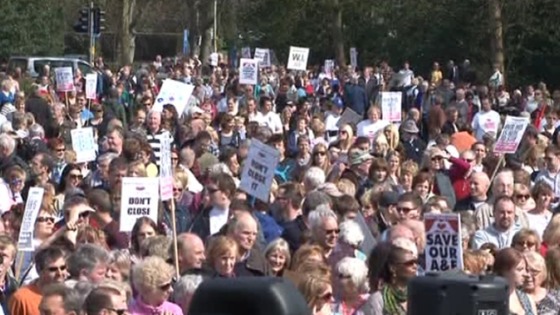 Marchers back Stafford Hospital
Central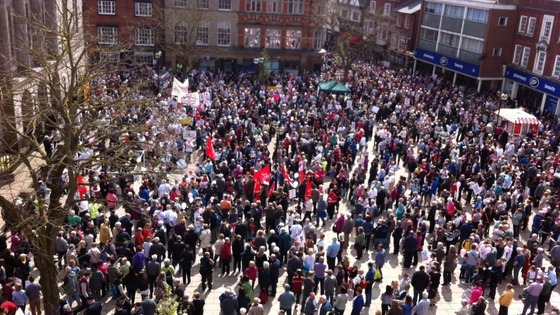 Thousands of local people have arrived in Stafford today to march in support of Stafford Hospital.
The march starts from Stafford Market square at 14:30. It has been organised by a community group, with the support of local MPs and Stafford Borough Council.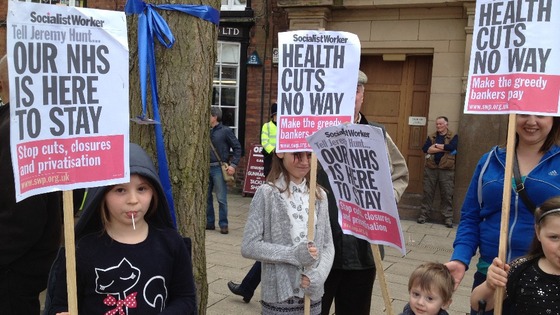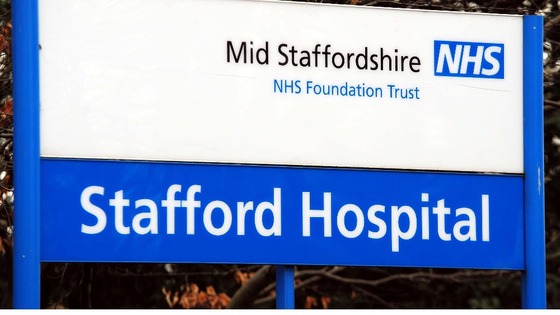 Thousands of campaigners battling to keep major services at the scandal-hit Stafford Hospital will take to the local streets today to protest against a withdrawal of services, including maternity care.
Health regulator Monitor has given two special administrators 45 working days to produce a plan for the sustainable reorganisation of future services.
Today's rally has been organised by the Support Stafford Hospital campaign group, which is lobbying for the retention of local services, including paediatric inpatient care.
Advertisement
Marchers back Stafford Hospital
The Mid Staffordshire NHS Foundation Trust has become the first foundation trust in the country to be put into administration.
Special administrators will take over the running of the scandal-hit trust from today.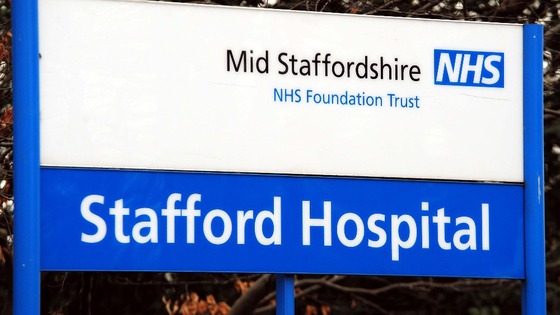 The current executive team will report to the trust special administrators, clinician Dr Hugo Mascie-Taylor and Alan Bloom of Ernst and Young, Regulator Monitor said.
Special administrators would be given 45 working days to design a way of providing services to patients in the area "that is sustainable in the long term".
Marchers back Stafford Hospital
Central
Marchers back Stafford Hospital
Central
Today's news is deeply worrying for patients, staff and local people. More than 15,000 local residents have already signed a petition calling for the hospital to keep its acute services. It is vital that these views are listened to and acted upon at all stages of the consultation process.

Hospital staff and managers have put many hours of hard work into trying to turn this hospital around after the tragic lapses of care that occurred.

There is money available to bail out banks, there should be money available to bail out vital local services such as hospitals. The government must step in.
– Christina McAnea, UNISON head of Health
Marchers back Stafford Hospital
Central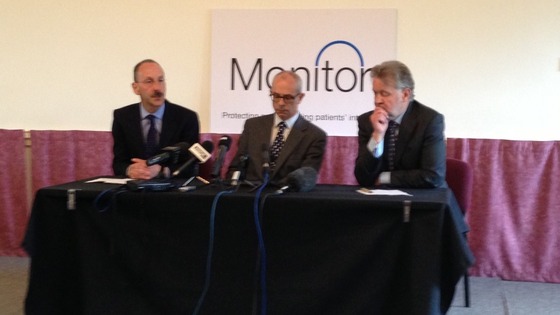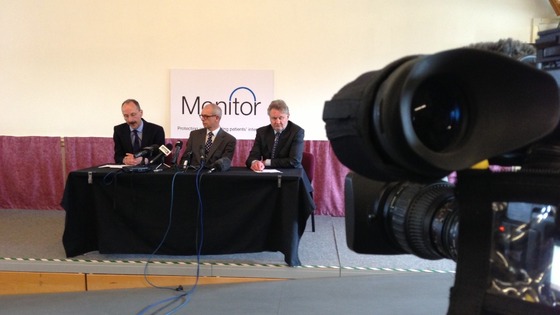 Load more updates
Back to top