Tony Dyson's special effects were enjoyed in the Superman and James Bond series, but the 68-year-old was best known for his beeping droid.
Read the full story ›
Star Wars actress Carrie Fisher has slammed body shamers who criticised her appearance in the latest film in the saga.
Read the full story ›
Advertisement
'Star Wars: The Force Awakens' racked in $1.1 billion (£674m) in cinemas around the world in a record 12 days since its release.
Read the full story ›
Star Wars: The Force Awakens has hauled in an estimated $250 million at worldwide box offices so far this weekend, according to distributor Disney.
The seventh Star Wars movie is expected to sell close to $220m worth of tickets in the US and Canada this weekend, beating the record $208.8 million, Disney said.
The Force is truly strong with one happy couple after they tied the knot whilst queuing for the first showing of the latest Star Wars film.
Read the full story ›
She then challenged Star Wars fans to count how many puns she included in her broadcast.
Read the full story ›
Advertisement
Star Wars fans have been eagerly awaiting the UK premiere of The Force Awakens - but it was Carrie Fisher's dog who stole the show.
The Princess Leia actress walked the red carpet with her pet pooch Gary - and at one point it looked like she nearly took a tumble.
But not one to worry about the paps Carrie promptly got on the floor with Gary rather than posing for pictures.
The seventh installment of Star Wars: The Force Awakens hits UK cinemas from today, December 17.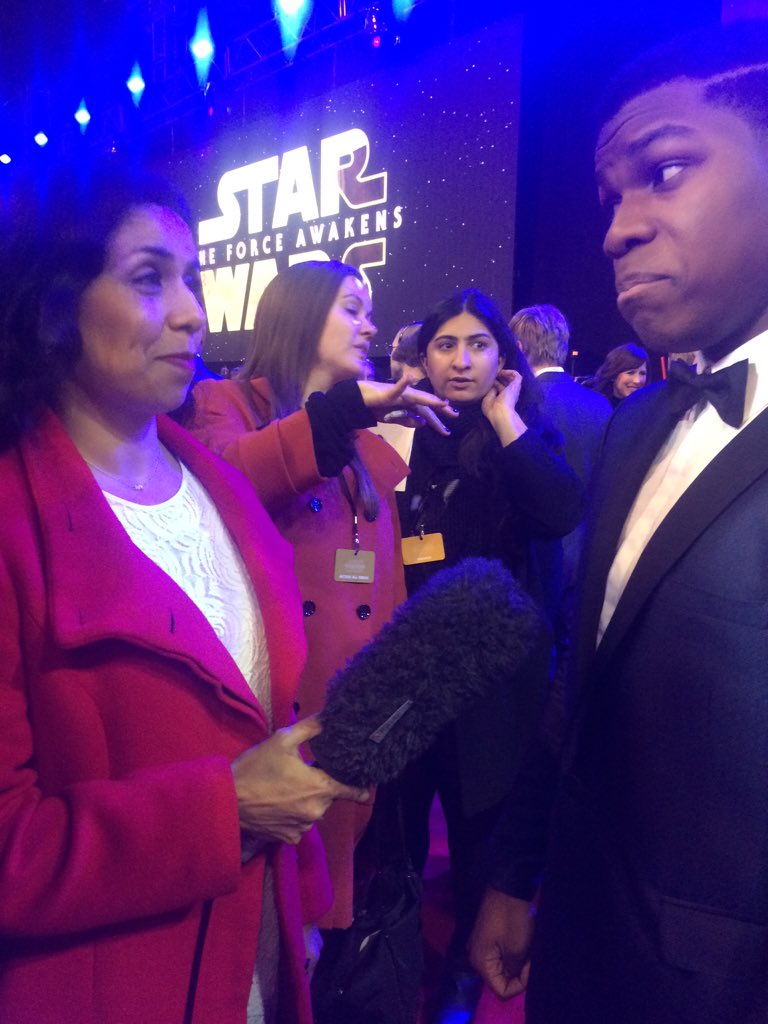 Critics are saying The Force Awakens is set to be the highest grossing film in history.
It could be the first film to make £2 billion at the box office and seeing the reception at the premiere tonight, that looks very likely to happen.
BB-8 is the newest droid in the new Star Wars movie and is expected to gain a legion of fans - ITV News' Nina Nannar appears to be one.
Load more updates